User Management Administration & Reporting
Whitepaper
Cloud First IT: Managing A Growing Network of SaaS Applications
For both IT administrators and business executives, Okta provides one service from which you can manage people, applications, and policies and get the insight you need across all of your web applications.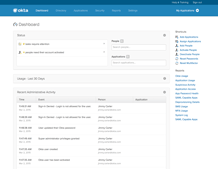 User management administrative dashboard
User Management Administrative Dashboard
The first thing you see when you log into Okta as an administrator is the dashboard. The dashboard contains a summary of key okta and application usage and activity statistics, notifications of any problems or outstanding work to be completed, as well as shortcuts to the most commonly performed tasks.
Centralized Application Management
The Applications tab gives administrators one view across all of their cloud and web applications. Adding applications is as simple as selecting a pre-integrated application from the Okta Application Network and performing the additional configuration that is specific to your organization.
Okta supports multiple instances of an application so that if you have different divisions of the company using separate application instances or you have both a test and production version of a SaaS application — you can manage those all centrally from within Okta.
Each individual Application has its own administrative homepage, which provides a summary of the current integration settings across single sign-on and user management as well as a view to recent log activity and the current people who have an application assigned to them.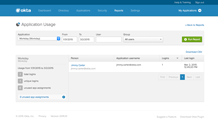 User management centralized application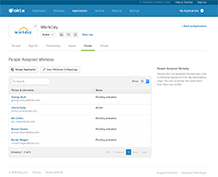 User management centralized application dashboard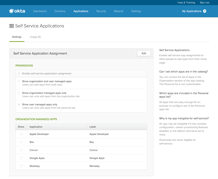 User management self-service
Self-Service Applications for End Users
Also on the applications tab, Okta gives you the ability to extend the Okta Application Network to end users and bring the consumer app store model to your enterprise web and cloud applications.
IT can choose to expose only the core business apps so that users can request and add just those apps. For personal apps, IT can also make the entire Okta Application Network available to users, giving them the ability to choose from thousands of applications. And, of course, for those IT departments that don't want to expose self-service at all Okta user management provides the ability to disable this feature.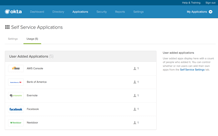 User management self-service end-use
For end users, usage of personal applications is completely anonymous within the Okta service. IT will not know who or how often they are using the application via Okta. For IT, aggregate usage reporting across those personal apps provides insight into the most popular self-provisioned applications so they can identify applications that should be centrally managed and supported.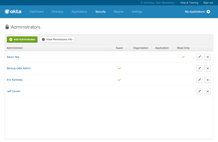 User management role based administration
Policy and Role Based Administration
Within the security tab you can manage policies governing things like passwords and session timeouts and also configure administrative privileges for Okta.
The Okta administrative permissions model is designed to provide granular control of access to, and administrative rights for, the individual capabilities of the Okta user management service.
Super Administrators have the broadest scope and can create Okta users and assign application administrator privileges to any application. Organization Administrators can create and edit Okta users, manage password resets and edit Okta customization settings. For individual Application owners, Application Administrators can create and edit instances of one or more assigned applications and manage users for those applications.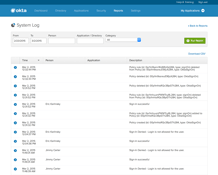 User management cross application
Cross Application Logging & Reporting
The Okta service also offers a centralized system log that captures a comprehensive set of activity events across both Okta and the integrated applications.
In context views of the log are provided throughout Okta and the central log can be easily searched and filtered to quickly find information and facilitate troubleshooting.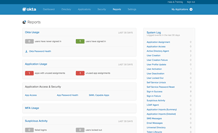 User management cross application use
Okta also includes a full reporting experience that spans all integrated applications, no separate reporting solution needed. The pre-canned reports help you track activity, ensure compliance and monitor application usage and ROI.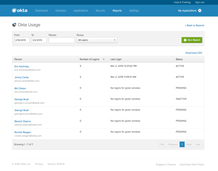 User management cross application dashboard
The Okta sign-in activity report gives you one central view into login activity for the Okta service that is easy to search and sort.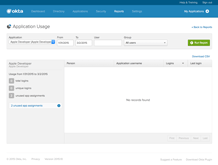 User management cross application utilization report
The pre-canned seat utilization report in the Okta service helps you manage the ROI of your SaaS applications.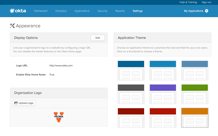 User management organizational customers
Organizational Customizations
Within the settings tab you can customize all the components of Okta identity management that are unique to your company. For example, you can pick a custom theme for the end-user homepage and upload your corporate logo. Contact information for your organization is also kept here for technical and billing purposes.