Not Your Father's Identity and Access Management Service
You'll see that we announced a self-service Free Trial of our identity and access management service this morning. So what's the big deal? There are a lot of companies who offer free trials of their products, right? Well, we would venture to say that there's not a lot companies who are offering enterprise-class, IT solutions that you can get running on your own in less than 30 minutes -- without ever talking to a sales engineer. That was the design point for our Free Trial.
We can do this because early on, we spent a lot of time architecting and building a pure 100%, on-demand identity management service. And within the product team, we have been manically focused on delivering an intuitive user experience – for both IT administrators and end users -- who use our service daily. There is no hardware required to get going with Okta, no software to install, and definitely no long professional services projects required. You get value out of the gate.
Further, Okta's affordable price point facilitates the adoption of reliable and secure enterprise class identity and access management by organizations that previously could not have afforded it.
Our customers chose to build their IT infrastructure out of public cloud services because they liked the ease of use, time to value, and low cost of those business applications. We think of Okta, and our Free Trial, as delivering on those same promises – but with a solution targeted at helping IT and end users get the most out of their other cloud investments.
It can take less than 30 minutes to get started, but as an IT administrator, you get a full 30 days to try Okta to experience the centralized control and management of your web apps - be they in the cloud or behind the firewall. You get robust integration with Active Directory. You get analytics and reporting across all of your apps to help you maximize usage and ROI. You get centralized visibility into application access for your compliance needs. And of course you can effortlessly roll out single sign-on for all of your end users.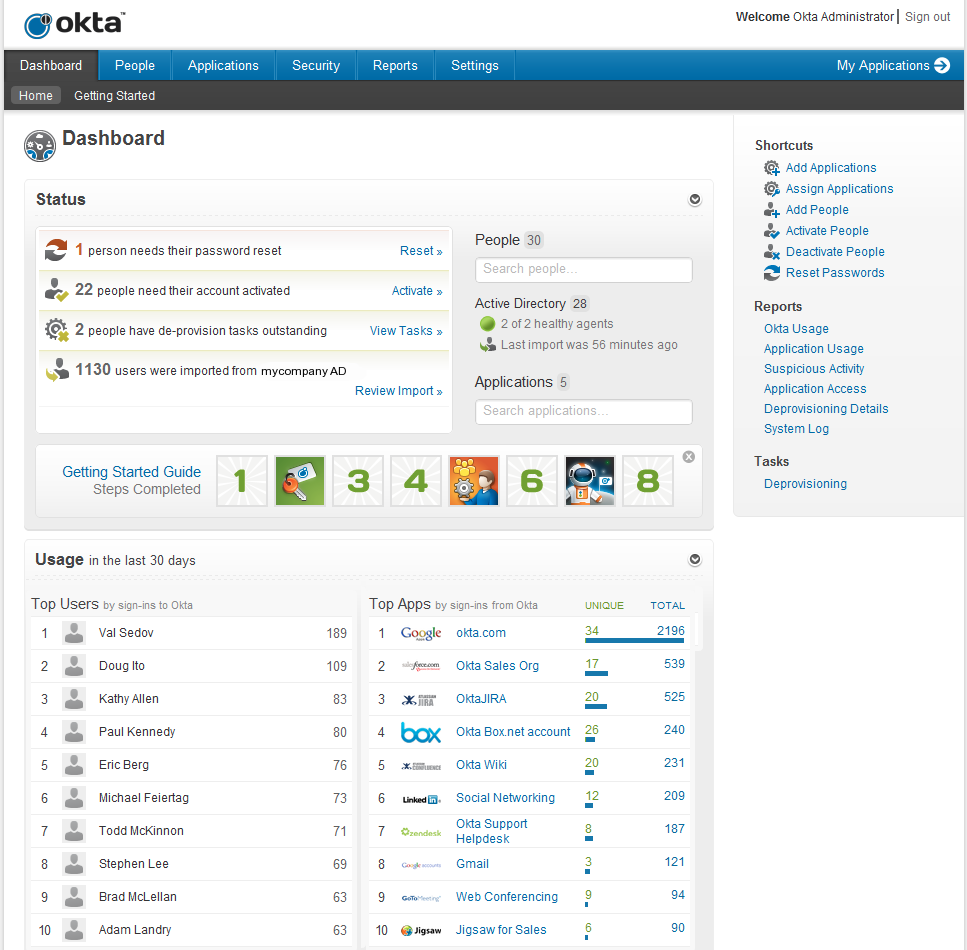 Okta: Control for IT Admins. Single sign-on for end-users. All your web apps, covered.
On average, Okta deployments cost 80% less and take 90% less time to set up and manage, compared to legacy on premise software. Yes, 80% less cost and 90% less time. Don't believe it? Register now and try us out.
You won't find legacy identity and access management solutions offering a free trial --- because they can't. You can't install their servers, software, databases, integrate their reporting modules, build and test for redundancy, integrate with your Active Directory services, spin up a professional services project to integrate new and custom web apps and maintain a highly available infrastructure as a free trial. With these solutions, it might take you anywhere between 12-15 months just to get up and running.
And for those other vendors in the market who position themselves as a pure cloud service…my question to them is – Why don't you offer a free trial too?
At Okta, we don't think IT should have to put up with clumsy user interfaces, long services engagements, hosted enterprise software or hardware purchases and outrageous price tags just to get "enterprise class" functionality. We are committed to delivering you an enterprise-class service at an affordable price, with an experience that you will want to write home about.
Sound interesting? Sign Up for our Free Trial Today!