How Three Large Enterprises Built Custom Integrations to Optimize Their Performance
Many new and emerging organizations operate solely—or at least primarily—on the cloud. It's the new status quo that's proving to be both efficient and secure.
For older businesses that are still operating on legacy, on-prem systems, the cloud offers the promise of added flexibility, scalability, and reduced operational costs. But migrating isn't easy and it must often be done in stages so as to not significantly disrupt day-to-day operations.
Meanwhile, organizations are managing more identities than ever, including employees, customers, and partners. To ensure these identities are kept secure, they'll need to leverage ID management technology that can support existing on-prem IT infrastructure while also being agile enough to incorporate future technologies.
Where legacy IT infrastructure poses a challenge
Every customer is unique, and after 10 years of business, we've seen just about everything. There are a number of challenges that our customers experience when it comes to migrating and managing their users.
Since many organizations will have experienced a merger or acquisition at some point in their development, it's very common for them to have multiple user stores.

These "islands of identity" result in untrusted domains and users being managed differently across each user store.
Consolidation of these "islands" is both time-consuming and expensive, so it's not a priority.

Many of the traditional systems for CRM, ERP, retail, and supply chain are still on-prem systems.
As organizations move to the cloud, they are perpetually trying to solve for these challenges. Okta understands that to be the leading identity standard, it needs to be able to integrate with the tools that our customers have today as well as what they will have tomorrow.
Connecting a more secure future
With 18 proven integration patterns built specifically for connecting legacy and even custom-built infrastructure, Okta is prepared to support custom integrations.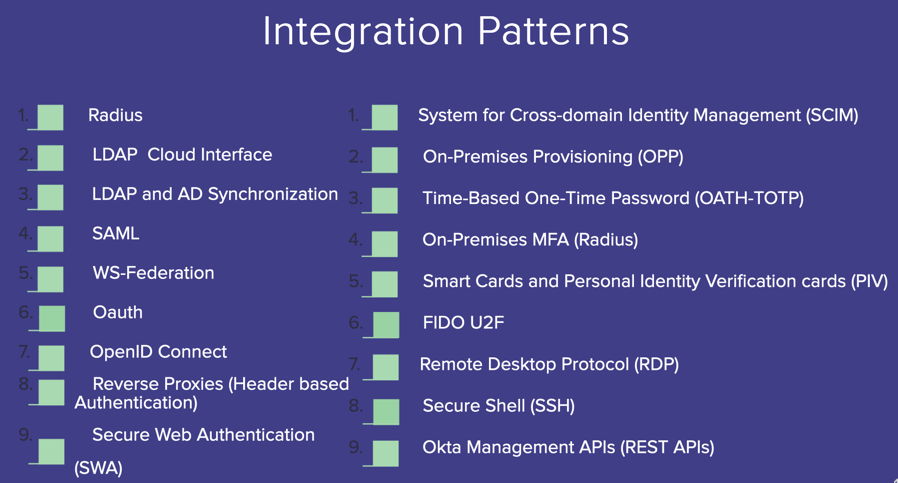 Many of the patterns we offer solve authentication use cases, others solve both authentication and authorization use cases, while others solve more complex lifecycle management, including provisioning and deprovisioning to downstream systems. To date, we've had the opportunity to work with a number of our customers to integrate with their existing tools and drive efficiencies in their organizations.
Take Allergan, for example, a pharmaceutical company that used to spend too much time—up to 28 days—provisioning its sales staff, impacting their ability to do their job. The company solved its lengthy onboarding process by implementing a custom integration between Okta and Aquera's SCIM Gateway to automate provisioning. This resulted in a 48% reduction in new hire tickets. Since becoming Allergan's identity provider in 2010, Okta has situated itself at the center of the company's identity and access management ecosystem and works with Aquera to provide Single Sign-On (SSO), Multi-factor Authentication (MFA), API, and Lifecycle Management to a workforce of 23,000 people.
Another one of our customers, Wiley, is a 200-year-old publisher now developing digital content and education products. The organization was experiencing issues tied to manual lifecycle management processes, which could take up to two day to provision new employees. To streamline their lifecycle management in a way that met the organization's unique requirements, Wiley created a custom-build SCIM platform that integrated Okta and SAP SuccessFactors. With this implementation, users are now onboarded across all enterprise applications in less than two hours and new hire tickets have been reduced by 60%.
When Okta was first brought on the scene Alliance Data—the engine that powers loyalty and marketing campaigns around the world—was experiencing significant issues that stemmed from an M&A approach that didn't include identity integration. As a whole, this made it difficult for the organization to have a comprehensive view of its workforce and meant that employees in different business units had varied user experiences. In order to mitigate these concerns and deliver a single user experience across the organization, Alliance Data developed a custom integration of Okta and SPGateway. This custom solution offered a Universal Directory and SSO functionalities while still integrating with the company's on-prem technology, and ultimately prepared the organization for its first cloud migrations to OCI and AWS.
For more insight into how organizations benefit from implementing custom Okta integrations read our Integration Patterns for Legacy Applications whitepaper.