Founders in Focus: Harry Hurst of Pipe
Each month we highlight one of the founders of Okta Ventures' portfolio companies. You'll get to know more about them and learn how they work with Okta. This month we're speaking with Harry Hurst, CEO of Pipe.
What is Pipe, and what is your mission?
Pipe is a trading platform that enables entrepreneurs to grow their businesses on their terms. By treating recurring revenue streams as an asset, Pipe allows companies to transform their recurring revenue into up-front capital, instantly. For entrepreneurs, that means more cash flow for scaling their business, without debt or dilution. For investors, Pipe has unlocked the largest untapped asset class: revenue. Whether you're an entrepreneur or an investor, Pipe is growth—on your terms.
What were you doing prior to Pipe that led you to this moment?
My co-founder Josh and I built our first venture-backed company in 2014. We raised several rounds of dilutive financing before being acquired by Fair in 2018. For our next venture, we wanted to build something that solved the problems we faced—owning less of the company than we could have—while still enabling founders to grow at venture scale. We spotted the first opportunity to do this in the SaaS market, and from there Pipe was born. Today we service companies with recurring revenue across many verticals, from SaaS, to wireless telco and direct-to-consumer subscription products.
What is Pipe's solution? What challenge does it solve?
Pipe solves the problem facing all companies with recurring revenues. They have to invest capital upfront to acquire customers (customer acquisition costs, or CAC) and then wait to get "paid back" over time, as their customers pay them month-to-month or quarterly. By providing a trading platform for these contracts, Pipe gives companies direct access to institutional investors who bid to purchase these contracts at a slight discount to their full annual value. It's as if all of your customers paid you upfront for the year, overnight. Companies use Pipe as a cash flow operating partner, typically trading the exact dollar amount they need each week, or each month as they continue to grow and scale.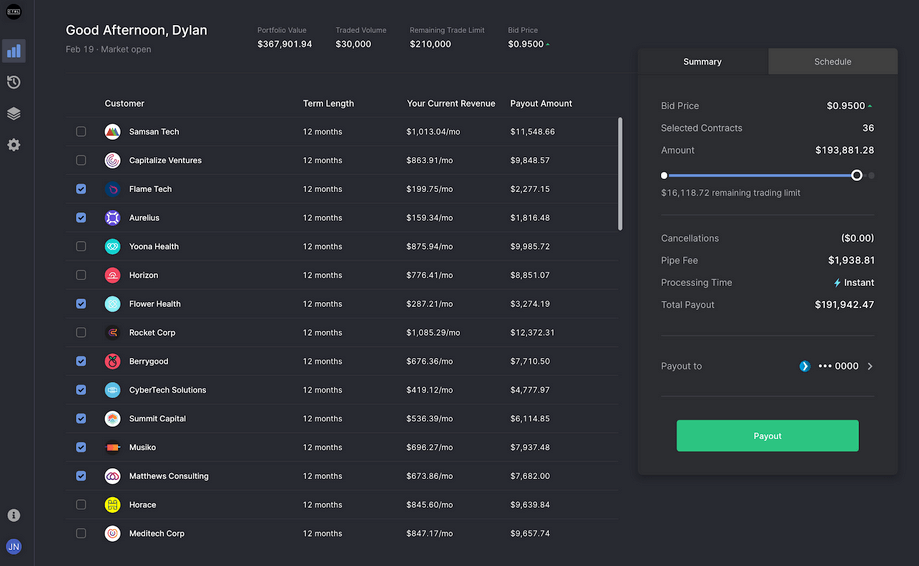 Why did Pipe want to work with Okta?
Security and data privacy is a mission-critical part of Pipe's business. As an Okta customer, we recognized the value of its solutions and felt there were clear synergies to work together to provide the same level of security to our customers as we scale.
Interested in joining Okta Ventures? Check out our FAQ here and feel free to reach out to our team or submit your business for review.