Fireside Chat with Oliver Parker: Introducing Okta's New SVP and GM of the Americas
As Okta's Chief Revenue Officer, I have the privilege of listening to customers and partners as they share their organization's vision. I get inspired by their goals and purpose. I'm also grateful to witness the role Okta plays in helping them innovate at speeds like never before. 
I'm not alone. It's what drives Okta's 5,000-plus employees around the world and keeps us all focused on serving our rapidly growing customer base of more than 15,000. 
Together we're facing a truly global shift, where identity is no longer a software decision but a strategic one. Today, identity underpins how every organization builds its digital products and services, whether workforce or consumer, vendor or partner. What has worked before isn't the way ahead. We think about identity differently at Okta, which is why we finished FY22 with $1.3B in revenue with a path to $4B in revenue in the next four years (FY26). 
The biggest way we make a difference for customers is by assembling a world-class team that always keeps them front of mind. People matter. And what better way to illustrate that impact than to introduce you to one of our most recent hires?
Please join me in welcoming Oliver Parker as our new SVP and General Manager of the Americas. Oliver is responsible for Okta's Americas strategy and execution, with an emphasis on building and growing a team centered around long-term customer and business value.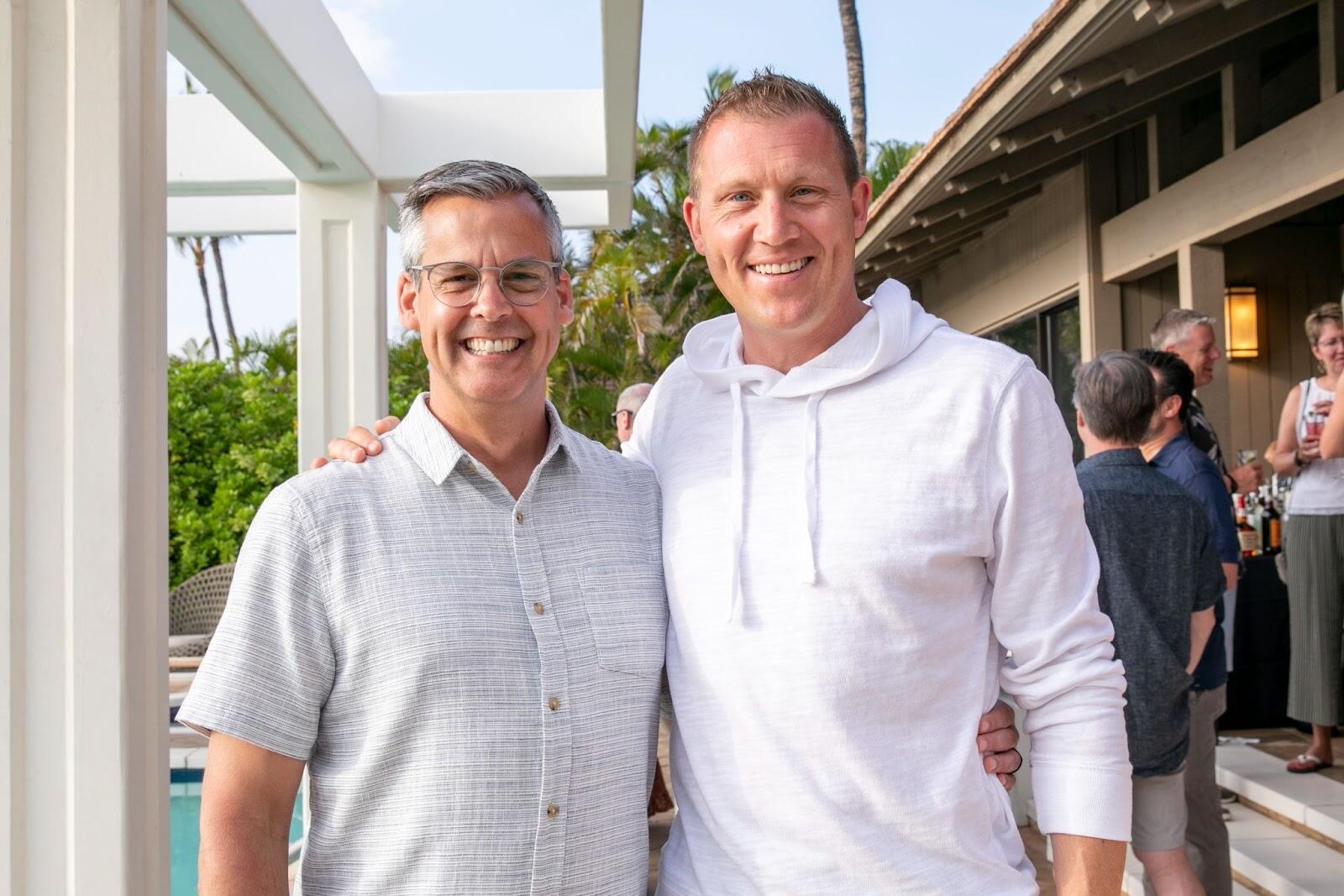 Okta's Chief Revenue Officer, Steve Rowland and Senior Vice President & General Manager of the Americas, Oliver Parker
I have known Oliver for several years, since we were teamed up as executive sponsors for the Splunk / Google Cloud Platform (GCP) partnership. He impressed me from the beginning with his business acumen and his ability to forge meaningful relationships with customers and partners. 
Oliver demonstrates a consistent drive for excellence and results, and builds the diverse and inclusive teams necessary for people to do their best work. Respected and admired, he's been described as the pacesetter because he motivates others while holding himself to the highest standards. 
But let's hear more from Oliver himself. I recently sat down with him to talk more about his background and approach. Here's that conversation, edited for length and clarity:
Steve Rowland: Let's start with the billion dollar question. Why Okta now? You've worked for big software and cloud companies; what made you decide to join Okta at this point in time? 
Oliver Parker: I have admired Okta for a while. Over the past few years, I've observed Okta's level of neutrality and capability in being a directory and an identity provider that is differentiated, user-centric, and works seamlessly. That's now expected of technology companies, but 10+ years ago, it wasn't always the case. 
From an identity and access standpoint, I truly believe in the market opportunity ahead and the company's vision to enable everyone to safely use any technology. I'm excited about everything Okta provides. Identity is truly a thread through the digital world, touching all corners of our personal and professional lives, and Okta provides simple and secure access to people and organizations everywhere.
What also stands out to me is Okta's leadership and their commitment to putting the customers at the center of everything they do, aptly evident because of one of the company core values of Love our customers. Oftentimes, organizations can become too inward-focused. They preach customer-first, but the reality is very different. And from my experience, this is especially true as they scale and grow.
A customer focused mentality has always been my approach, and it's great to know we're in sync on this. Plus, I think this is still early innings for Okta, and I can't wait to see what the future holds. 
SR: What are some things you learned from your prior experiences that you'll bring to Okta? 
OP: I learned early on in my career what it means to be customer-centric and what behaviors organizations can implement to optimize business outcomes and rapid growth for customers. 
It's critical for organizations to remain agile and empathetic. As a leader who has spent my career in customer-facing roles, I've learned that you have to maintain a high bar of service and engagement with customers as you scale and grow. I think of this as being able to deliver customer intimacy at scale — something I will continue to focus on in my role here at Okta. 
I've seen firsthand how building and scaling an organization resulted in rapid growth. Most recently, at Google Cloud, we took an amazing set of products and services and shifted our approach to sell, deliver, implement and support them in an enterprise-focused way. This meant serving customers cradle-to-grave as we scaled while also maintaining customer intimacy in every interaction of the consumer lifecycle. I believe many of these lessons learned and observations will become valuable as Okta grows and plays a more central role in a customer's foundational technology and business decisions. 
SR: How have partners and alliances played a role in your strategies? 
OP: Partners and alliances have played an integral role in my career and my past success, and I expect them to be just as critical here at Okta. You can't grow a business to $4 billion and beyond without a strong set of partnerships and a vibrant ecosystem. 
I've worked in the broader partner ecosystem space for several years. It's given me front-row visibility into what clients are looking for in a system integrator (SI) and, more importantly, how a vendor and a SI need to partner for the benefit of the customer. At Google Cloud, I spent a good deal of time working with our Independent Software Vendor (ISV) teams on GTM motions and jointly selling —which incidentally was how you and I connected. 
SaaS is a rapidly evolving space, and we need to evolve with it in order to keep up with changes in technology, adoption cycles, and expectations from customers. I'm thrilled to be working with our partner and alliances teams and spending time with Okta's current and future partners to build on the strong foundation that already exists today. 
SR: Where do you see the biggest challenges and opportunities for identity management?
OP: As cliché as it sounds, when a market is growing as rapidly as this one, I see any challenge as an opportunity. From only being here a short while, I think the biggest opportunity we have is how we tell our story to our customers and prospective customers. I believe Okta has an incredible story to tell. Leadership has focused their entire mission in life on creating a 'primary cloud for identity' so everyone can be free to safely use any technology. It's why Okta exists as a company.
"I believe Okta has an incredible story to tell. Leadership has focused their entire mission in life on creating a 'primary cloud for identity' so everyone can be free to safely use any technology. It's why Okta exists as a company." 
Okta's approach to identity is so different from the other big platforms and niche providers. Identity — and its deep integration with all other systems — provides the power of choice throughout the digital ecosystems. Putting identity in the hands of a big platform greatly limits choice and future. This is why it's so critical that Okta's mission is to serve as an independent and neutral primary cloud for identity. The Okta Identity Cloud allows for ease of use, governance, and security across the ecosystem. 
These are just a few reasons why Okta is considered a leader in the identity space. But don't just take my word for it; both Okta and Auth0 were recognized as leaders in the most recent Gartner Magic Quadrant report for Access Management. The organization has also been named a Customers' Choice in the 2022 Gartner Peer Insights "Voice of the Customer" report for Access Management, based on customer reviews of both Okta and Auth0. Okta is the only vendor recognized as an overall Access Management Customers' Choice and also as a Customers' Choice for all the segments evaluated.
This all comes back to my point earlier and understanding our customers' needs. Identity is critical to every organization and person on the planet. It's the glue that allows organizations to enable all their users to easily access and securely work across all of their applications, devices, and technologies. In today's rapidly changing digital era, it's our job at Okta to help our customers realize identity is no longer just a tool decision; it's a strategic one.
SR: We have an enormous opportunity to grow our Americas organization and are hiring for several roles this year. What do you love most about building and growing teams, and what does working for you and with you look like? 
OP: What I love most is seeing people realize their full potential. It's even more rewarding when they didn't think they could do it, but their perseverance and determination enabled them to operate and drive impact at a higher level. I believe we all have untapped reserves, and if we dig deep and persevere, we can accomplish amazing things. As a leader, I want everyone to feel they are a part of something bigger. I try to create a fun, innovative, and outcome-oriented atmosphere that is safe, inclusive, and values diverse perspectives.
"As a leader, I want everyone to feel they are a part of something bigger. I try to create a fun, innovative, and outcome-oriented atmosphere that is safe, inclusive, and values diverse perspectives."
I also keep on coming back to the Latin phrase, "qui non proficit, deficit," which means "he or she who does not advance goes backwards." I love this phrase as it's all about moving forward and not standing still. Continuous improvement is such an important characteristic to have in today's world and one that I stress upon my teams to ensure they feel like they're continuing to grow personally and professionally. 
Speaking of, we have a ton of open roles at the moment, so please join us! 
Rapid-fire question round:
Favorite hobby: Definitely exercise and spending time with my family. When I'm not working you can find me running, riding the trails, or skiing in the mountains with my youngest son. 
Favorite organization to support: Cancer research organizations such as the American Cancer Society are especially important to me.
Last show you watched: Yellowstone. I can't change a light bulb, but I think if Rip needed a stand-in, I might audition!
Last book you read or are reading: I'm in the middle of a great book by Ray Dalio called Principles for Dealing with the Changing World Order: Why Nations Succeed and Fail.
Something we can't find out about you online: During my college years, I spent my summers working as a bartender in the South of France.
I want to extend a thank you to Oliver for taking the time to chat with me about his past experience and the great opportunities that lie ahead. I look forward to seeing his continued success on the Okta team!