Magic Quadrant for Access Management (augustus 2019)
Okta is voor het derde opeenvolgende jaar benoemd tot leider in Gartner's Magic Quadrant for Access Management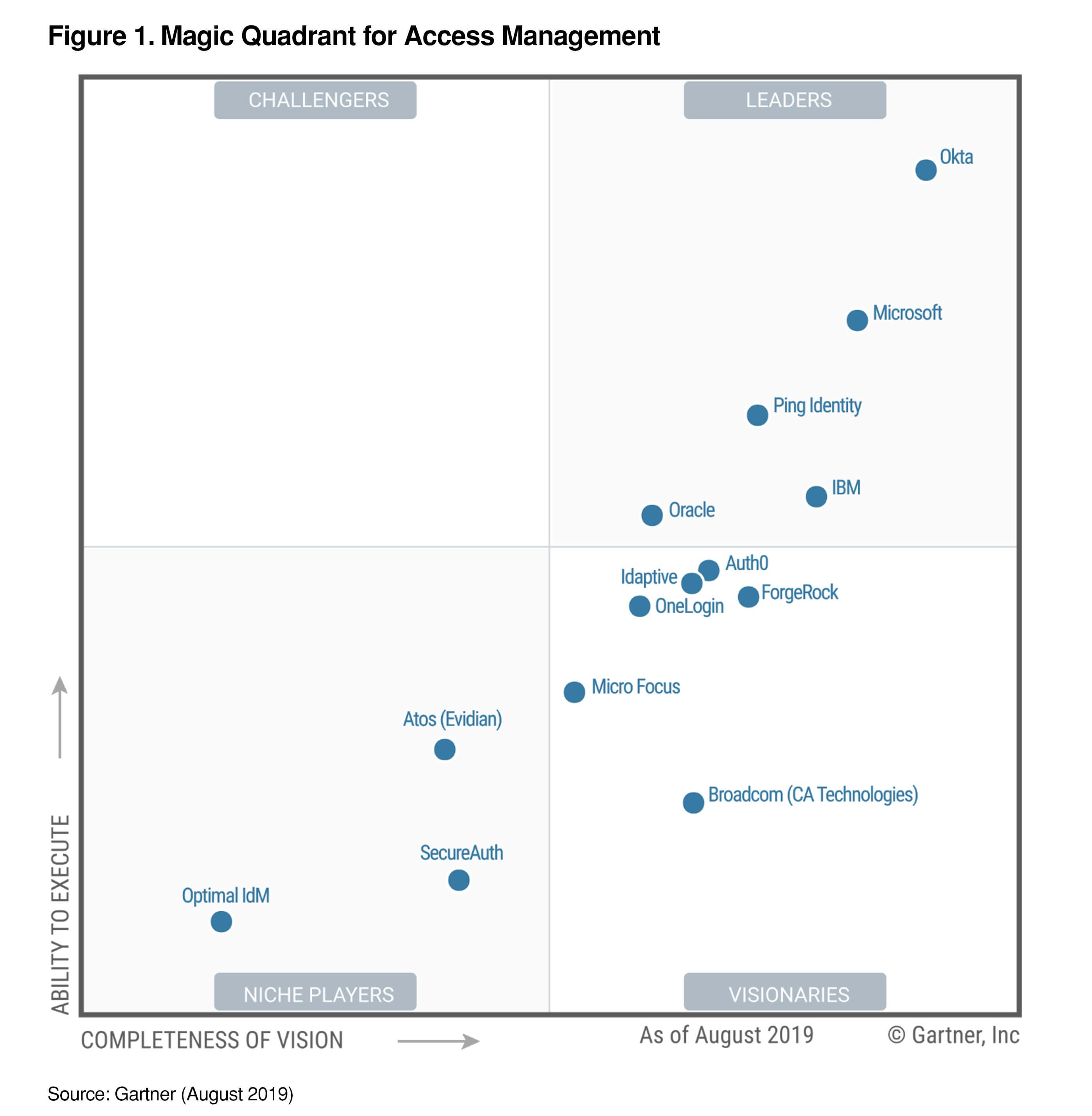 Gartner heeft Okta onlangs erkend als leider in 'Magic Quadrant for Access Management', augustus 2019. Okta is voor het derde opeenvolgende jaar het verst in zowel "de mogelijkheid om uit te voeren" als de "volledigheid van visie".
In juni erkende Forrester Research Inc. Okta als leider in The Forrester Wave™: IIdentity-As-A-Service (IDaaS) for Enterprise, Q2 2019.
In november 2018 noemde Forrester Research ook Okta als sterk presterend in haar rapport The Forrester Wave™: Zero Trust eXtended (ZTX) Ecosystem Providers, Q4 2018.In het onderzoek scoort Okta met de hoogst mogelijke score in de beoordelingscriteria "beveiliging van personeel/medewerkers", "ZTX-visie en -strategie" en "marktbenadering".
Eerder dit jaar organiseerde het bedrijf hun jaarlijkse gebruikersconferentie Oktane19in San Francisco, waar nieuwe producten en uitgebreide functionaliteiten werden aangekondigd. In het eerste kwartaal van dit jaar kondigde het bedrijf aan dat 6.550 organisaties Okta gebruiken om mensen en organisaties veilig met de juiste technologieën te verbinden.
Download het volledige Gartner-rapport voor meer informatie.
Let op: dit rapport is in het Engels
Gartner, Magic Quadrant for Access Management, Michael Kelley, Abhyuday Data, Henrique Teixeira, 12 augustus 2019
Deze afbeelding is gepubliceerd door Gartner, Inc. als onderdeel van een groter onderzoeksdocument en moet worden gezien binnen de context van het gehele document. Het Gartner-document is op verzoek verkrijgbaar bij Okta.
Gartner onderschrijft geen leverancier, product of service die wordt weergegeven in zijn onderzoekspublicaties en geeft gebruikers van technologie geen adviezen over het kiezen voor leveranciers met de hoogste beoordelingen of een andere benaming. De onderzoekspublicaties van Gartner bestaan ​​uit de meningen van de onderzoeksorganisatie van Gartner en mogen niet worden opgevat als feitelijke verklaringen. Gartner verwerpt alle garanties, expliciet of impliciet, met betrekking tot dit onderzoek, inclusief garanties van verkoopbaarheid of geschiktheid voor een bepaald doel.