Winners will be announced at Oktane17.
Nominations are now closed.
What are the Oktane Awards?
The Oktane Awards celebrate the individuals who equip their organizations with the right technologies to drive innovative solutions to today's business challenges.
These Awards recognize our brilliant and forward-thinking customers that are achieving ground-breaking results with Okta.
Who can submit a nomination?
We encourage all Okta customers, partners and employees to nominate a customer for an award. We want to hear about the awesome work you, a colleague, or an industry peer is doing that deserves recognition. In your submission please provide details that reflect why this individual stands out. If an individual excels in more than one category, you may nominate them for multiple awards.
What can you expect as an Oktane Award winner?
You'll receive recognition as an industry expert throughout the event along with admiration from your peers and social network long after. Winners will also receive a complimentary pass to Oktane18!
Nominations close July 21st and finalists will be contacted in early August. Winners will be announced during Oktane17.
IT PIONEER
Our Pioneer customers push Okta to blaze new trails. They challenge the status quo and drive great technological advancements for their companies -- and for Okta. For your submission, share details about the innovative and ground-breaking ways you are using Okta in your organization.
EVANGELIST
We're blown away by our customer advocates and many take advocacy to the next level. Have you earned frequent flier miles on behalf of Okta or does our team have you on speed dial when it comes to references? If you're a top participant in the Okta Advocacy Program, we want to thank you in a big way. Please include details regarding your advocacy or "random acts of evangelism" in your submission.
ATLAS
Atlas is the Greek god known for carrying the earth and the heavens on his shoulders. This category is for the customers who are effectively extending Okta and "doing it all" to cover both internal and external identity management. Share details on how you're managing the identities of not only employees, but also customers, partners or other external users.
LIGHTNING
We support swift changes here at Okta and many of our customers have succeeded in rolling out Okta to hundreds of employees and users in a matter of weeks - or even days. Fast deployments are no easy feat and we want to celebrate your speed and agility to make a big organizational change. Share details of your lightning fast deployment including number of users and number of days and your keys to success.
INNOVATOR
The Okta Innovators Award is inspired by the customers who have been around for more than 100 years, yet evolve rapidly, are keeping up with the cloud and mobile times to drive modern approaches to IT. These companies take on massive challenges by championing innovation and advocating for cloud solutions to their legacy IT environments.
BUILDER
This award recognizes the developers who are using Okta as the identity layer for their products and services to better serve the business. Customers in this category are using the Okta Identity Cloud to handle identity and access management so they can focus on building the features their customers care about most. Please provide details on your external-facing product or service and how you're using Okta to handle your identity challenges.
BELIEVER
This award recognizes a very loyal customer and true believer in the company, the solution and the future of Okta. If you have brought the power of Okta with you to a new company and have been successful with more than one Okta implementation, then this award is for you.
OKTA FOR GOOD
Every nonprofit is on a mission to make a difference, and at Okta, we want to help. While we are proud to enable the important work of our hundreds of nonprofit customers, this organization went above and beyond to use the Okta Identity Cloud to accelerate its mission and deliver lasting impact. If you think your nonprofit went above and beyond, then this award is perfect for you.
BOOSTER
This award recognizes the company that has demonstrated the biggest boost to how the Okta Identity Cloud, makes their organization more agile, productive and secure. If you helped untap Okta's full potential, then this award is for you.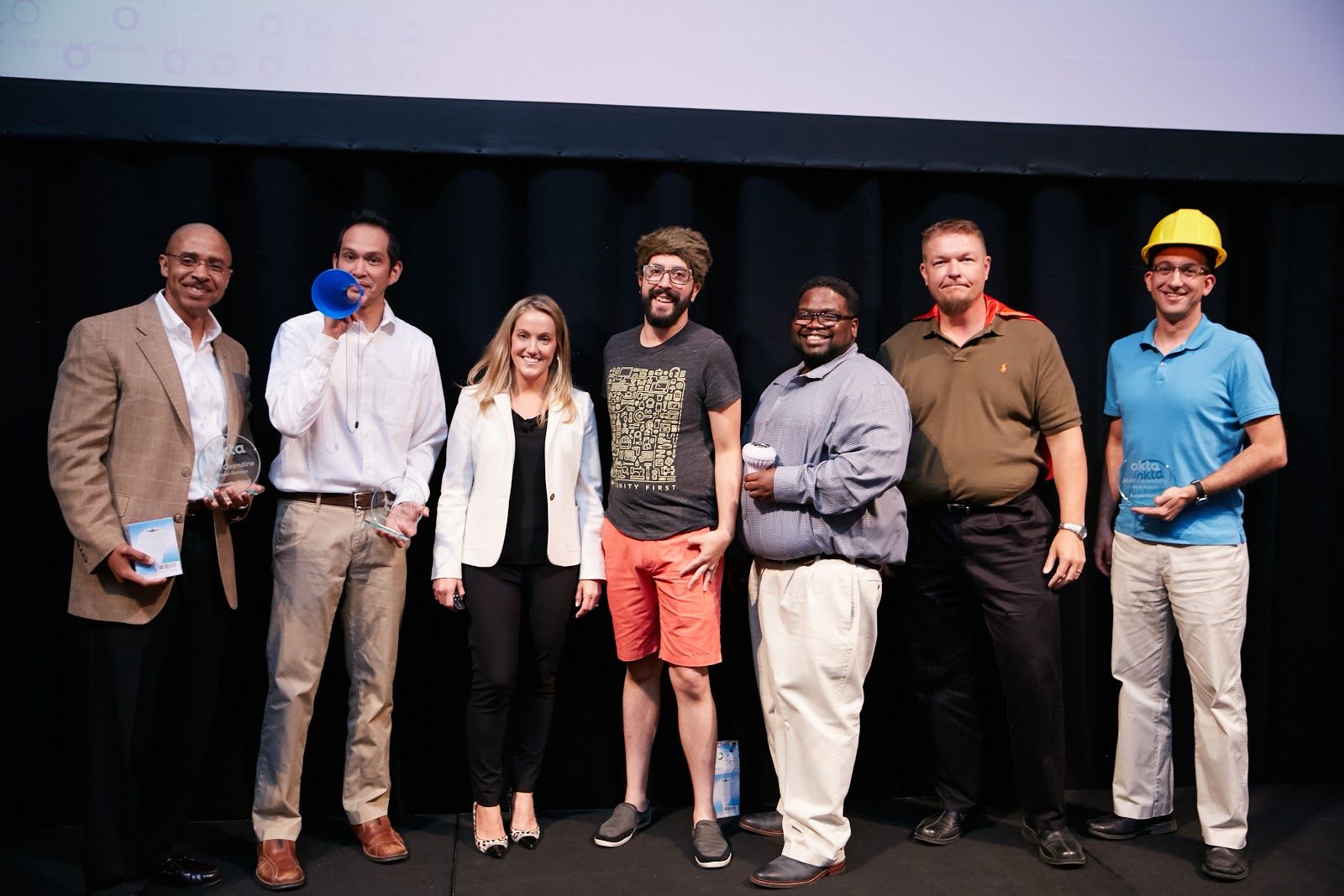 IT Pioneer: 77 Energy
Evangelist: Thoughtworks
Atlas: Experian
Lightening: Ecolab & Massdrop
Innovator: Brown-Forman & Pitney Bowes 
Believer: Gogo
Builder: MGM Resorts