The Oktane Awards
The Oktane Awards reflect on the impressive work our customers have done over the past year. They recognize the brilliant and forward-thinking individuals who equip their organizations with the right technologies to drive innovative solutions to today's toughest business challenges.
Nominations are now closed. Finalists will be notified by the end of February.
Who can submit a nomination?
We encourage all Okta customers, partners and employees to nominate a customer for an award. We want to hear about the awesome work you, a colleague, or an industry peer has done over the last year that deserves recognition. 
In your submission please provide details that illustrate why this individual stands out. If an individual excels in more than one category, you may nominate them for multiple awards
What can you expect as an Oktane Award winner?
Winners will receive recognition as an industry expert throughout the event along with admiration from their peers and social network long after. Winners will also receive a complimentary pass to Oktane20!
Nominations close February 8th and finalists will be contacted shortly after. Winners will be announced during Oktane19
Challenger
Customers who challenge the status quo and drive great technological advancements for their companies -- and for Okta. Please share details about the innovative and groundbreaking ways the nominee uses Okta in their organization.
The winner of this award went above and beyond modernizing their architecture to define the future of identity. They consistently drive their organization and Okta to think outside of the box.
Evangelist
Customers taking advocacy to the next level. They're so passionate about Okta, you'd think they worked for us! Please include details about the nominee's advocacy or "random acts of evangelism" in your submission.
The winner of this award will have participated in various act of advocacy throughout the past year including taking reference calls and speaking at events. Even behind the scenes, they are sharing their Okta success with customers, partners, and peers.
Boundless
Customers effectively extending Okta and "doing it all" to cover both workplace and customer identity management. Please share details on how the nominee manages the identities of not only employees, but also customers, partners or other external users.
The winner of the Boundless Award uses Okta as the identity standard for all aspects of their organization. Their entire extended ecosystem uses Okta to securely manage access to multiple applications.
Lightning
Customers who have succeeded in rolling out Okta to hundreds of employees, customers, and/or partners in a matter of weeks - or even days. Please share details of the lightning fast deployment including number of users, number of days, and the key metrics of success.
The winner of this award has deployed Okta within the past year at lightning speed thanks to their hard work, dedication, and efficiency.
Innovator
Companies who have been around for more than 100 years, yet evolve to keep up with the cloud and mobile times and ensure their organizations stay productive and secure with modern technologies. Please provide details about a champion who took on the massive challenge of advocating for new, modern solutions in their legacy environments.
The Innovator award winner drives their organization into the cloud and the future. This individual is constantly advocating for new technologies that enhance the business by increasing productivity and reducing costs.
Builder
Developers using Okta as the identity layer for their products and services so they can focus on building the features their customers care about most. Please provide details on the product or service and how it utilizes Okta to handle identity challenges.
The winner of this award doesn't focus on identity management, Okta's got that covered. This individual builds awesome experiences such as new applications, product updates, and more. 
Believer
Loyal customers and true believers of Okta who have brought the power of Okta to a new company and have been successful with more than one Okta implementation. Please include details surrounding all Okta implementations the nominee has championed.
The winner of this award believes that every organization can benefit from Okta. This individual recently changed companies and not only advocated for Okta but also helped facilitate a successful implementation. Okta must have been purchased or implemented within the past year. 
Okta for Good
Nonprofit customers using the Okta Identity Cloud to accelerate its mission and deliver lasting impact. Please share how the nominee is able to do more by leveraging best of breed technologies and how Okta helped. 
The winner of the Okta for Good award understands that nonprofits are not immune to data breaches and technology challenges, not to mention budget constraints. This individual has utilized technology to create seamless experiences for employees, volunteers, or donors, allowing the organization to focus on serving more people.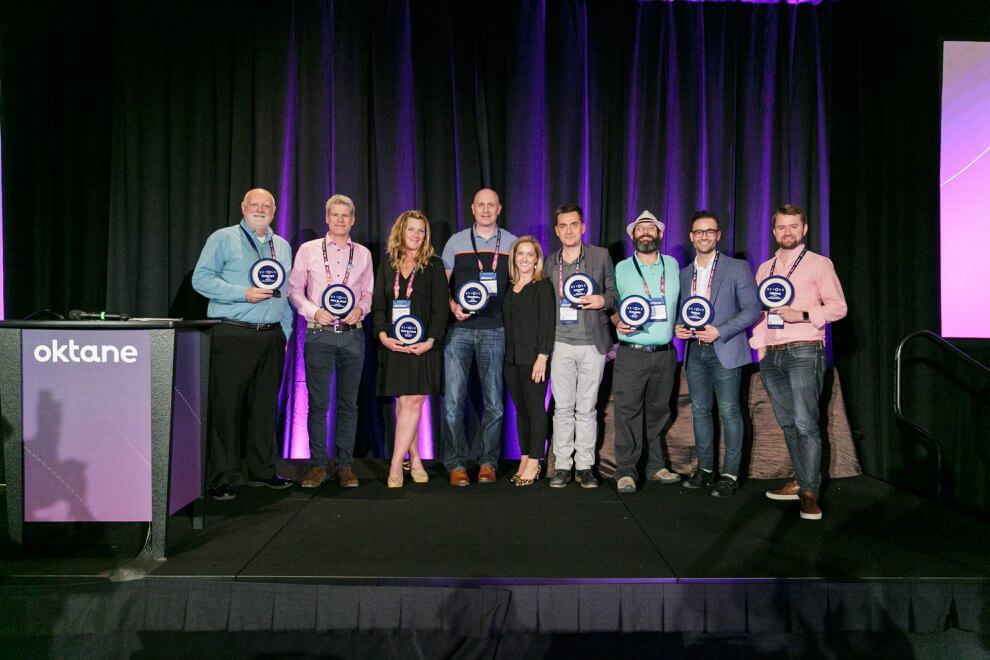 Challenger: Nikki Doty, Kar Auction Services
Evangelist: Jason Silvera, Informatica 
Boundless: Bill DuBois, Cardinal Health
Lightening: John Cunningham, Dentsu Aegis Network
Innovator: Jerome Torck, National Bank of Canada 
Builder: Alain O'Dea, Verafin
Believer: Damian Fasciani, CP IP Holdings 
Okta For Good: Mads Grandt, Norwegian Refugee Council; Christine Sullivan, City Year