Okta + Exabeam
Improve Security Intelligence and Response to Identity-based Threats
The Challenge
Credential-based attacks are the leading cause of successful data breaches
SecOps team must continually monitor an increasing barrage of security alerts for anomalous behavior
Triaging identity and security incidents via manual detection, prioritization, and remediation is highly manual and risky for SecOps
The Solution
Okta provides rich identity data to contextualize user behavior
Exabeam combines user and system data into a unified data lake for processing
State of the art security analytics help SecOps quickly spot anomalies and prioritize user-based threats
Remediation begins instantly, including team alerts and automated response policies
End-to-end detection, collection, and response are all coordinated in a single integration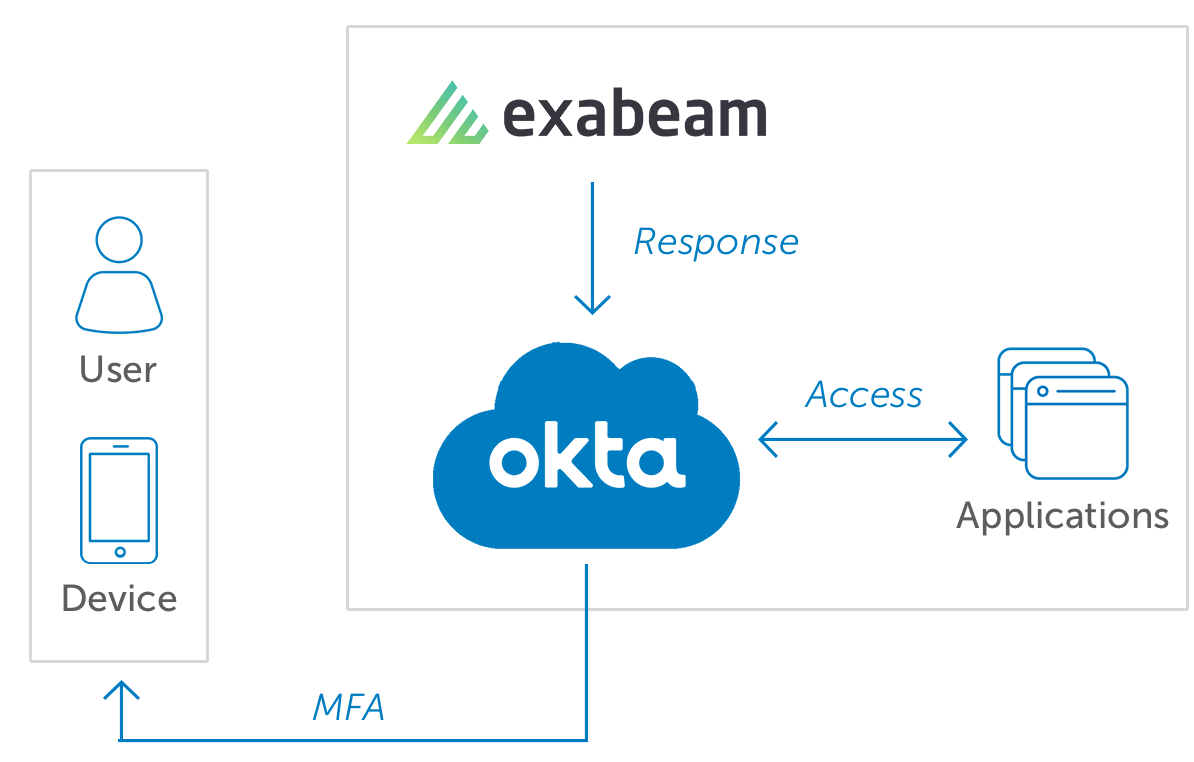 See clearly across your environment
The Okta + Exabeam integration gives you deep insights into user behavior, with Okta's contextual user data and system information all compiled into a single unified data lake for Exabeam to process. This detailed baseline of normal activity makes subtle anomalies and potential threats easier to detect. 
Protect your enterprise against security threats
Using advanced behavior modeling and machine learning, Exabeam quickly spots suspicious activity, compiles an incident timeline including Okta's authentication data, and coordinates an adaptive response framework with Okta to eliminate the threat. For example, Exabeam can automatically trigger Okta to prompt step up authentication or move a suspect account to a higher risk group.
Free up SecOps from manual monitoring and alert fatigue
Okta's contextual identity tools combine with Exabeam's powerful analytics tools to relieve SecOps of the burden and risk of manually monitoring security data. Data-driven incident timelines and quick, automated responses help protect against today's credential-based threats and free your SOC team to focus its efforts productively elsewhere.
Comprehensive, identity-driven security intelligence
Best-of-breed IAM integrated with next-generation SIEM for robust security
Contextual identity data joins security data to provide unprecedented visibility into baseline user behavior
Advanced analytics and threat detection tools quickly identify and prioritize anomalous, risky behavior
Automated incident response alerts teams and authorizes Okta to remediate with step-up authentication or account suspension