Safeguard Agency Missions with a Comprehensive ICAM Solution Set with Okta, SailPoint & Radiant Logic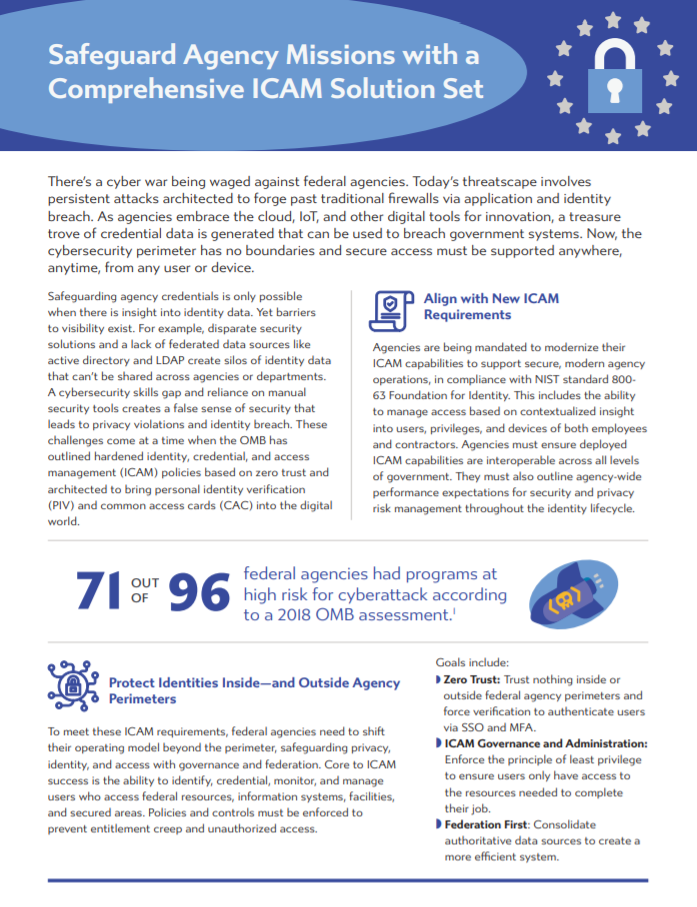 There's a cyber war being waged against federal agencies. Today's threatscape involves persistent attacks architected to forge past traditional firewalls via application and identity breach. As agencies embrace the cloud, IoT, and other digital tools for innovation, a treasure trove of credential data is generated that can be used to breach government systems. Now, the cybersecurity perimeter has no boundaries and secure access must be supported anywhere, anytime, from any user or device.
Federal agencies can accelerate ICAM compliance with a best-of-breed, integrated, and automated solution set designed to close security gaps. Carahsoft Solutions Portfolio simplifies ICAM with a multi-faceted approach involving security, governance, automation, controls, and federated identity based on virtualization. Carahsoft's ICAM solution set is available through its reseller partners on a variety of contracts, including Carahsoft's GSA Schedule 70, SEWP V, NASPO ValuePoint, National IPA, and numerous state and local contracts.