The Oktane Awards reflect on the impressive work our customers have done over the past year. They recognize the brilliant and forward-thinking individuals who equip their organizations with the right technologies to drive innovative solutions to today's toughest business challenges.
Nominations are now closed. Finalists will be notified by the end of February.
Who can submit a nomination?
We encourage all customers, partners, and employees to nominate an Okta customer for an award. We want to hear about the awesome work you, a colleague, or an industry peer has done over the last year that deserves recognition. 
In your submission please provide details that illustrate why this individual stands out. If an individual excels in more than one category, you may nominate them for multiple awards.
All nominees will be notified prior to January 10 and asked to provide additional details about why he/she should win the award. The content will be published on a public landing page during an open voting period to determine the winners.
What can you expect as an Oktane Award winner?
Winners will receive recognition as an industry expert throughout the event along with admiration from their peers and social network long after. Winners will also receive a complimentary pass to Oktane21!
Nominations close January 10. Winners will be determined via a public voting website which will open early February.
Cloud Conqueror
Organizations who have made significant moves toward a cloud-first environment after experiencing the growth and agility limitations of their existing on-prem systems. The winner of this award is constantly advocating for new technologies that increase productivity, enhance security, and reduce costs.
Please share details on how the nominee is modernizing their infrastructure by moving to the cloud, consolidating user directories, leveraging modern standards-based protocols such as OIDC and OAuth, and architecting for scale with microservices.
Evangelist
The award recognizes customers who go above and beyond to share the ways Okta impacts their organizations. The winner of this award is one of Okta's biggest advocates by speaking at events, connecting with peers, and constantly looks for ways to promote Okta's brand. 
Please share details on the various acts of advocacy the individual has participated in throughout the past year.
Protector
Organizations who are leveraging identity as the foundation for their modern, Zero Trust approach to security. The winner of this award is using enhanced functionality with best of breed applications to extend their security strategy across users, devices, and their networks. 
Please share details on how the nominee is enabling their organization to centralize identity and access controls, ensure strong authentication across all resources, reduce attack surface, gain visibility and control over API resources, and support rapid response to credential compromise through key integrations.
Lightning Deployment
Customers who have succeeded in rolling out Okta to thousands of employees, customers, and/or partners in a matter of weeks - or even days. The winner of this award has deployed Okta within the past year at lightning speed thanks to their hard work, dedication, and efficiency. 
Please share details of the lightning fast deployment including number of users, time to deploy, and any key metrics of success.
Customer Experience Expert
Companies are busy creating new and exciting ways to engage with customers online. In order to move at the speed of customer demand and increase ROI, they're modernizing infrastructure in the cloud. The winner of this award is transforming the way their customers can interact with their business through digital experiences. 
Please share details on how the nominee is utilizing modern identity to improve and secure the customer experience.
Change Maker
The winner of this award breaks down barriers and adopts new technologies that better equip the business to solve today's most complex challenges. This award recognizes individuals that drive change for their organizations with technology, helping their team and their organization work smarter not harder.  
Please share details on how the nominee securely manages access, increases IT efficiencies to minimize costs, and automates access to all the resources a user needs from Day One.
Business Value Driver
Customers who are measuring and maximizing ROI for their organizations through implementing Okta and capitalizing on our extensive integration network. The winner of this award quantifies and monitors value achieved with Okta and uses these findings to drive adoption and justify their technology spend.
Please share details on the business value realized with Okta, such as return on investment, time to deploy, cost savings, security improvements, etc.
Okta For Good
Nonprofit customers using the Okta Identity Cloud to create significant, positive impact in the world. The winner of the Okta for Good award understands that nonprofits do some of society's hardest and most important work, often with significant resource constraints. 
Please share how the nominee utilizes technology to create a more secure and seamless experiences for stakeholders (e.g. employees, beneficiaries, donors, volunteers, etc.), allowing their organization to achieve even greater impact.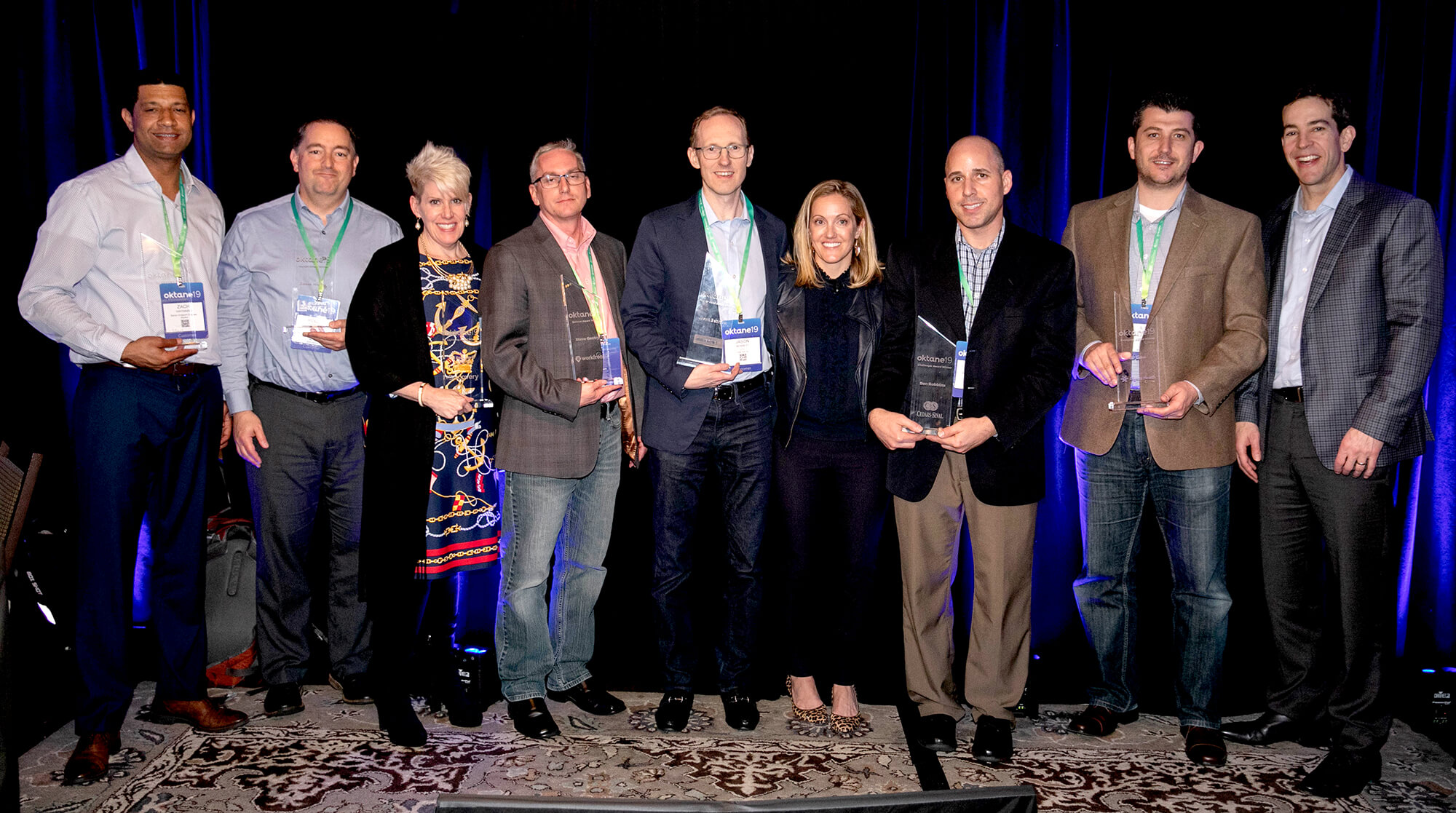 Challenger: Ben Robbins
Evangelist: Ilir Lako, Dignity Health 
Boundless: Cristian Pimente, ResMed
Lightning: Jill Porubovic, Discovery Communications
Innovator: Marlo Donate, Farmers Insurance
Builder: Rocco Martin, Umpqua Bank
Believer: Steve Gentry, Workfront
Okta For Good: Jason Bennett, Crisis Text Line