Products for Developers
Securely connect customers and partners to anything.
The Okta Platform is a complete identity fabric that connects all of your people, apps, services, and devices to enable secure, seamless, and efficient B2B and B2C engagement.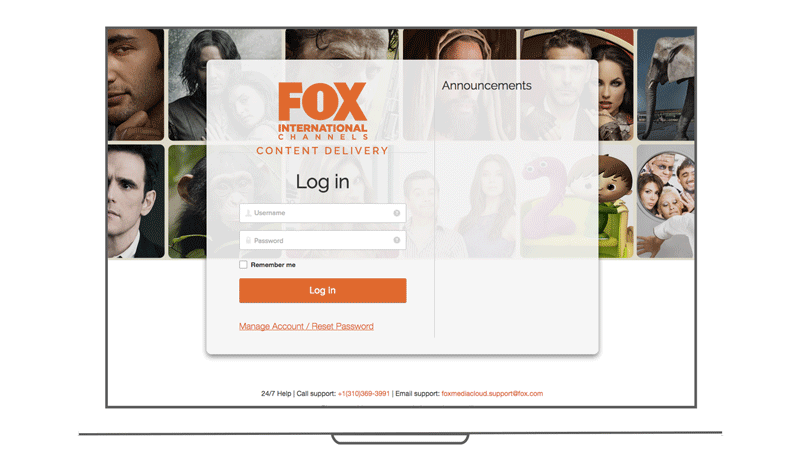 Complete Authentication
Unify and secure sign-in with complete, powerful options for primary and multi-factor authentication.
Plug-and-Play Sign-in Widget
We wrote sign-in for you. Drop in this fully customizable widget for all authentication and credential flows.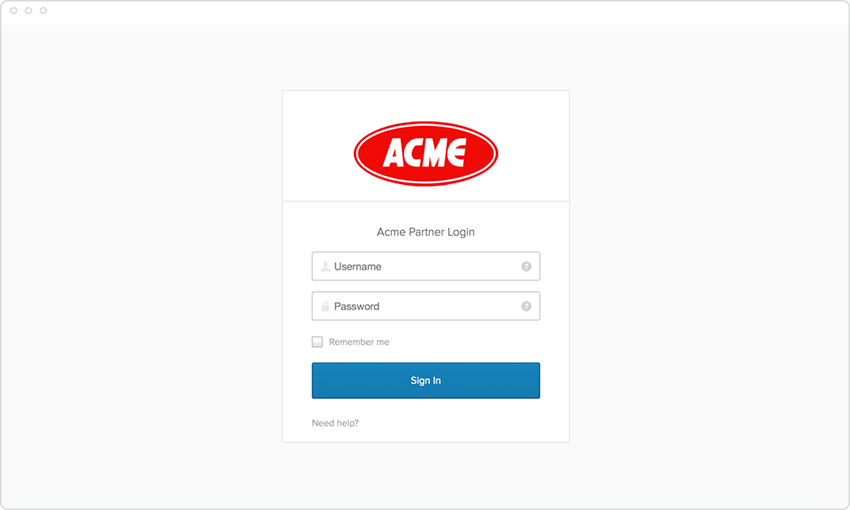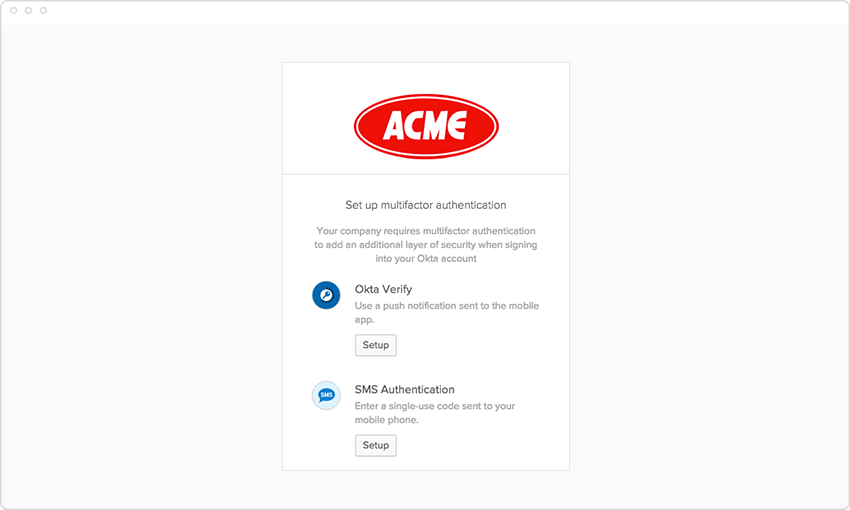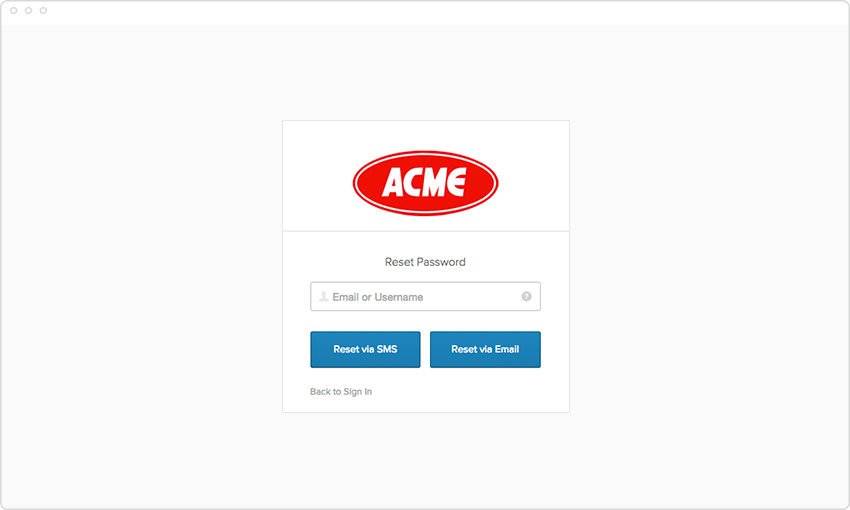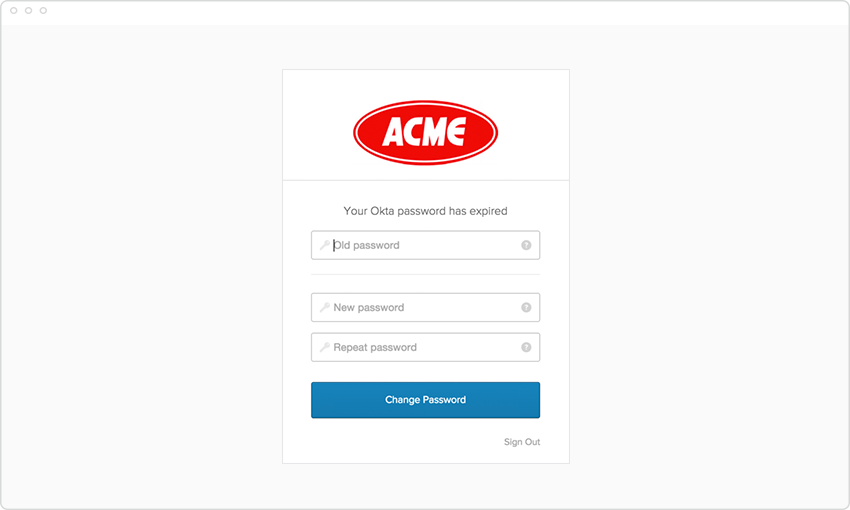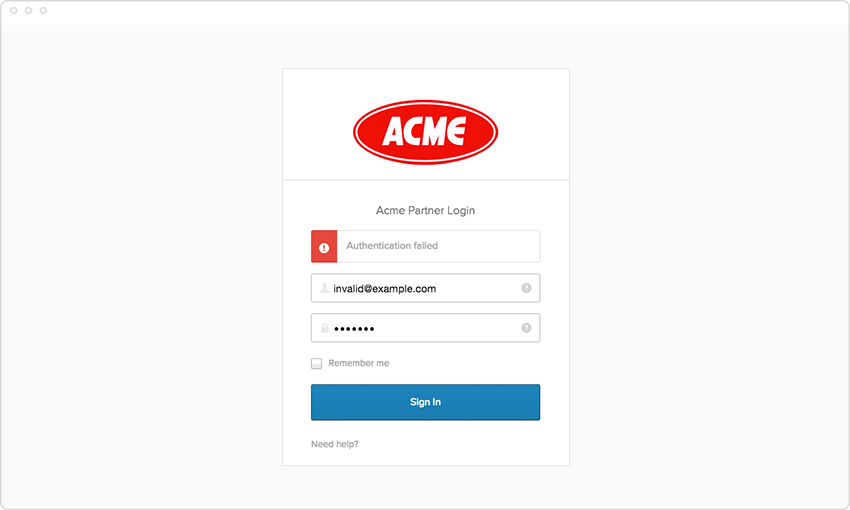 Primary Authentication and Credential Management
Secure basic authentication and password management via API or the sign-in widget.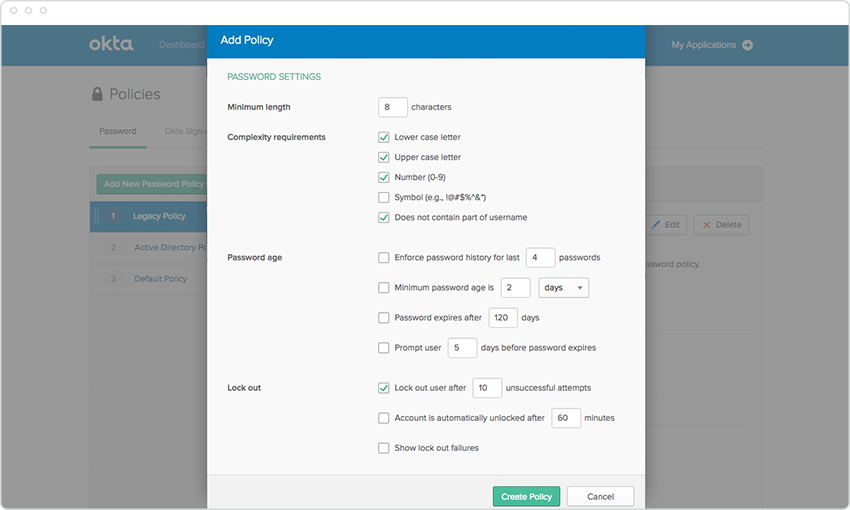 Group-based password and account recovery policy, with options for complexity and lockout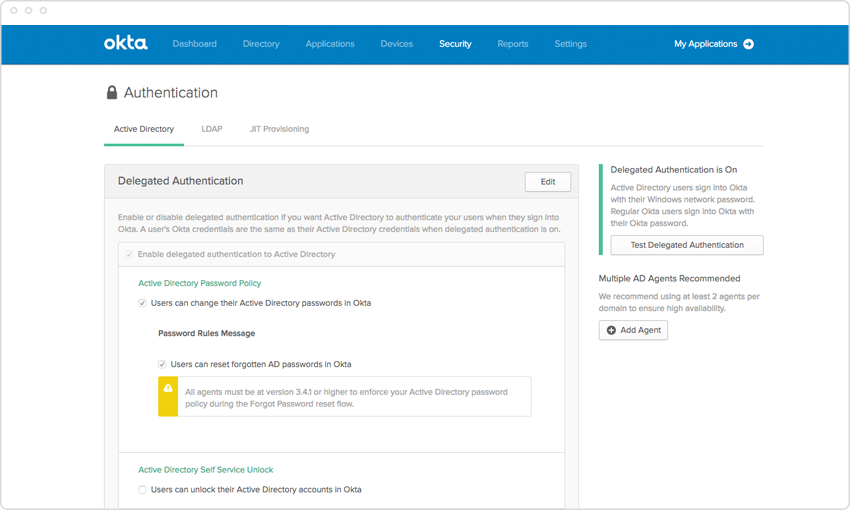 Active Directory and LDAP delegated authentication and password management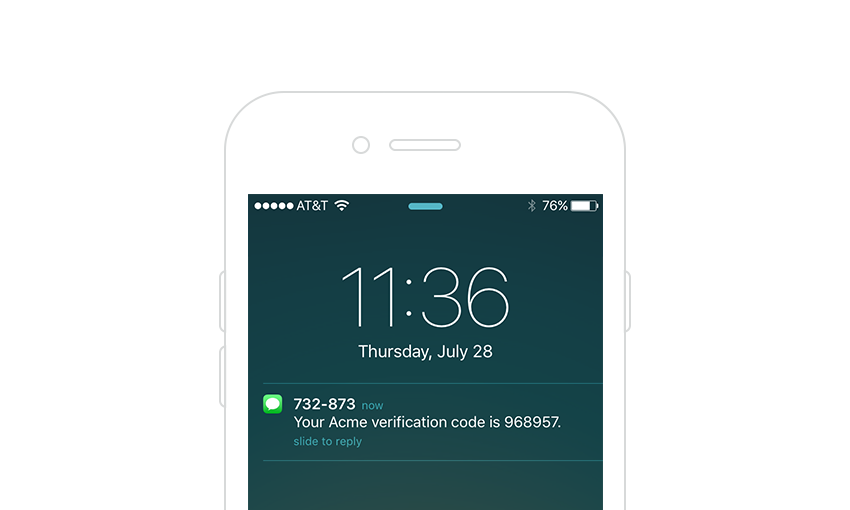 Password reset via customizable email or SMS
Social Login
Enables end users to log in with a user name and password they already know.

Captures social profile attributes and syncs them to Universal Directory
Creates users just-in-time or links to existing users with custom logic
Inbound Federation
Allows business partners and customers to sign in with their existing identity provider.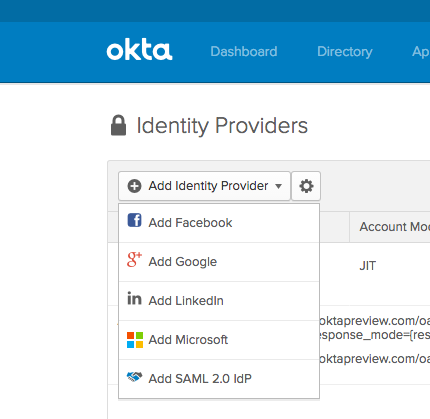 Accepts unlimited inbound connections via SAML or WS-FED
Creates users just-in-time or links to existing users with custom logic
Masters and syncs user profiles and group membership
A Comprehensive Set of Modern Factors
Offer a complete set of factors designed to provide user-friendly options for consumers and business users.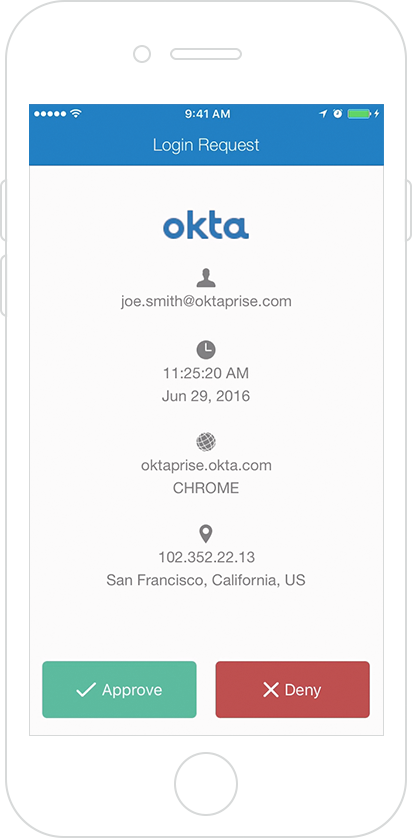 Okta Verify with Push
A mobile app that simplifies multi-factor authentication by requiring just a single tap
Verification happens out of band, adding an extra level of assurance
   One-Time Passcode 
User receives a single-use, time-based passcode via Okta Verify or Google Authenticator mobile apps
 SMS
Sends a customizable message and six-digit code to the user's mobile device
 Voice
User receives a call and is audibly given a six-digit one-time passcode. Passcode can be received over any phone (payphone, etc.)
 Yubikey
A small hardware device that connects via USB and provides a second factor with the touch of a button
Contextual Access Policies
Allow, deny, or step-up authentication based on contextual data about the user, device, network, location, and resource.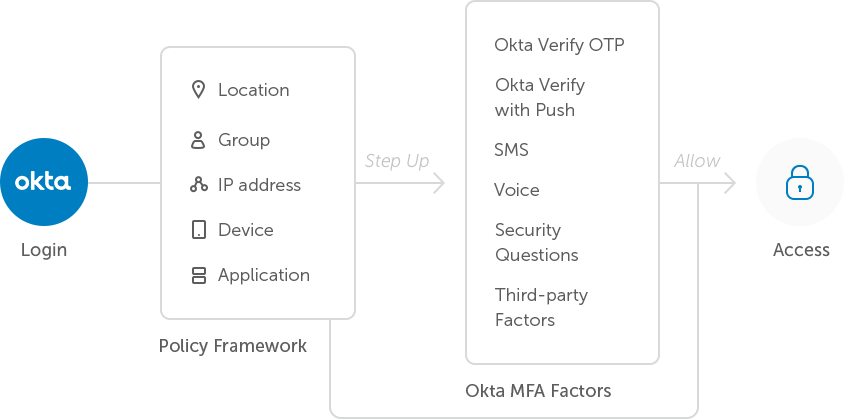 Adaptive Risk-based Authentication
Controls end user access based on historical patterns of behavior.
Detects anomalous activity and assesses risk based on information about device, network, user, geographic location, and past log in activity
Defines authentication policies based on risk scores generated for each session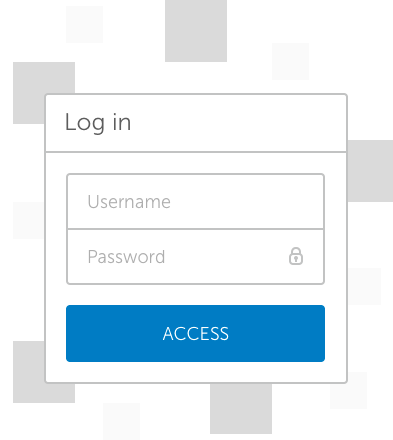 Single Sign-on
Connects users to all their apps with just one user name, one password, and one session.
Leverages Okta's application network of more than 700 SAML integrations 
Constantly tests and ensures your connectors are always up to date
Connects to any SAML, OpenID Connect, or WS-Fed app with streamlined configuration options

User Management
Centralize, store, and manage users; sync user profile data across systems; and keep PII safe.
Universal Directory
One purpose-built, scalable, and secure place to store and manage all users.
Provides a centralized, 360 degree view of every user, with unlimited custom attributes
Standardizes and maps attributes across apps, services, and directories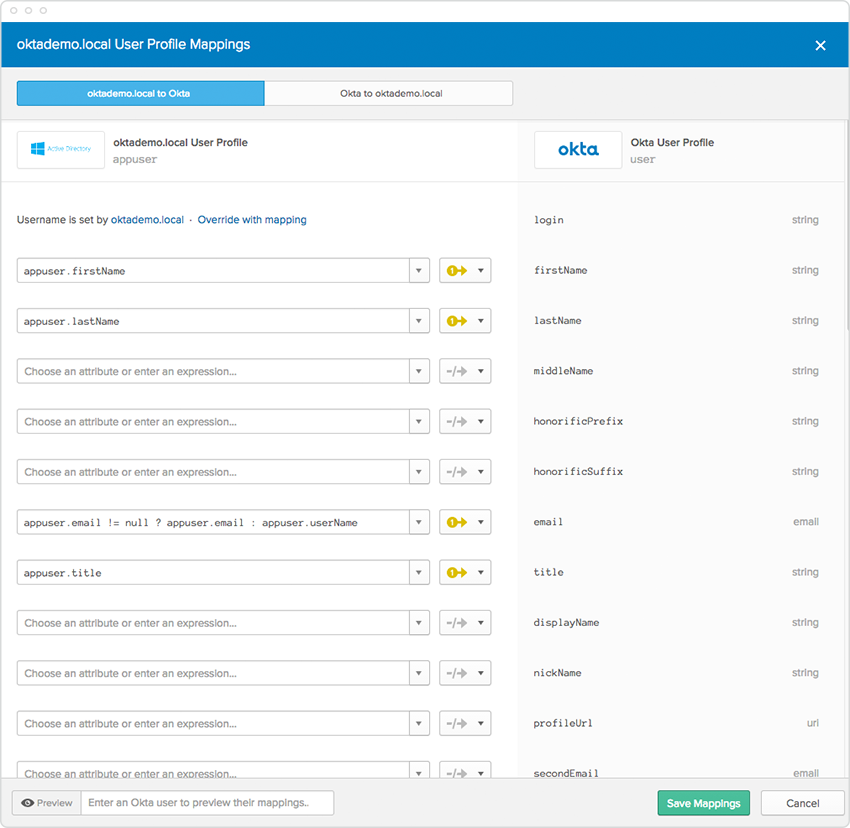 AD/LDAP Integration & Management
Integrates with AD and LDAP for 2-way sync.

Integration
Delegated authentication to AD or LDAP
AD password policy enforced
Any number of directories or domains
Management
Password management
Password push to AD for Okta-mastered passwords
Intelligent Provisioning and Lifecycle Management
Seamlessly syncs attribute-level profile information to and from any application or service.

Rules Engine
Assign access rights dynamically based on profile attributes and group membership with custom logic.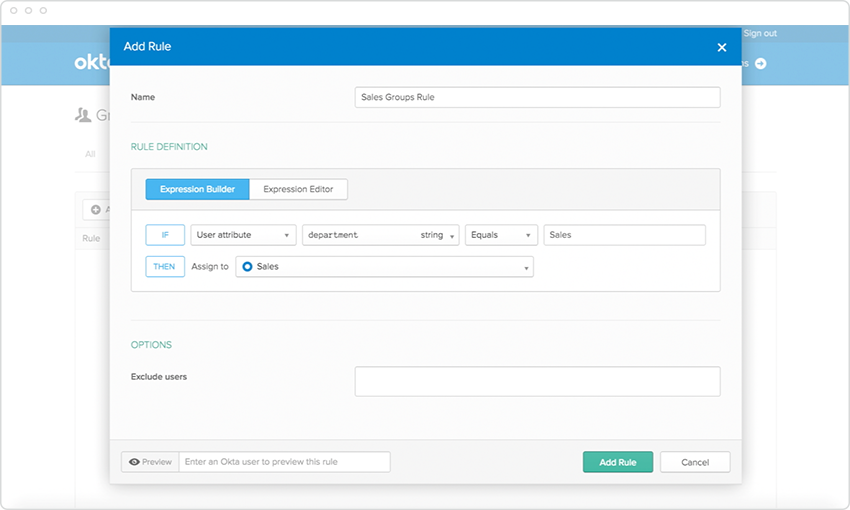 Extensible Network of Productized Integrations
The broadest and deepest network of pre-built integrations for mastering and provisioning.
Integrations to SaaS apps are tested, monitored, and maintained.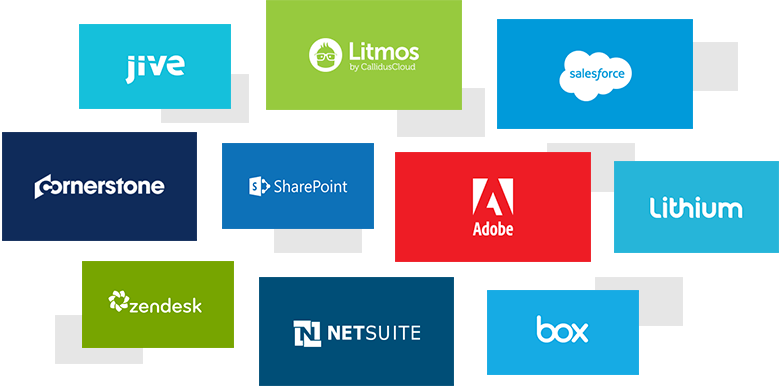 Extensible integration to any service or application.

Flexible Administration
Let partner orgs manage their own users with flexible options for policy and admin delegation.
Versatile Admin Delegation Options
The flexibility to grant administrative control to customers and business partners.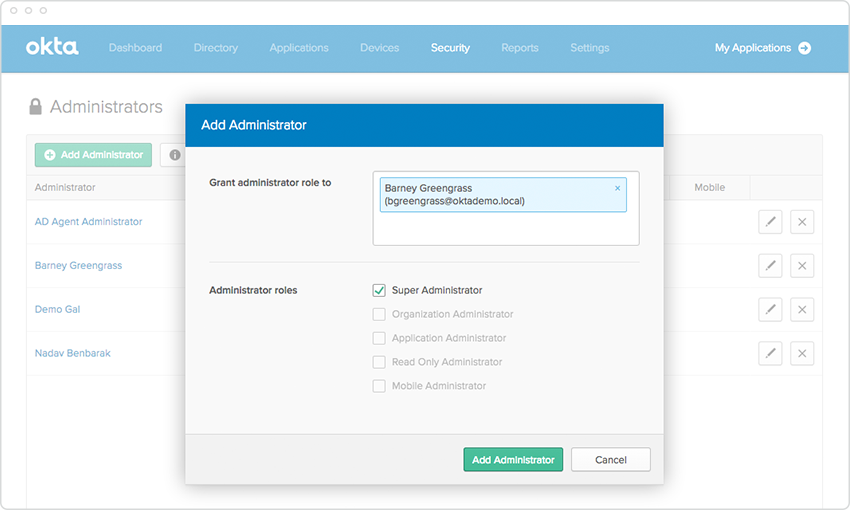 Determines admin privileges based on admin roles
Allows customers and partners to manage their own users
Enables multi-tenant segregation of data and administration
Flexible Policy Framework
One place to manage policy for all connections. Flexibility to create different policies for different user populations.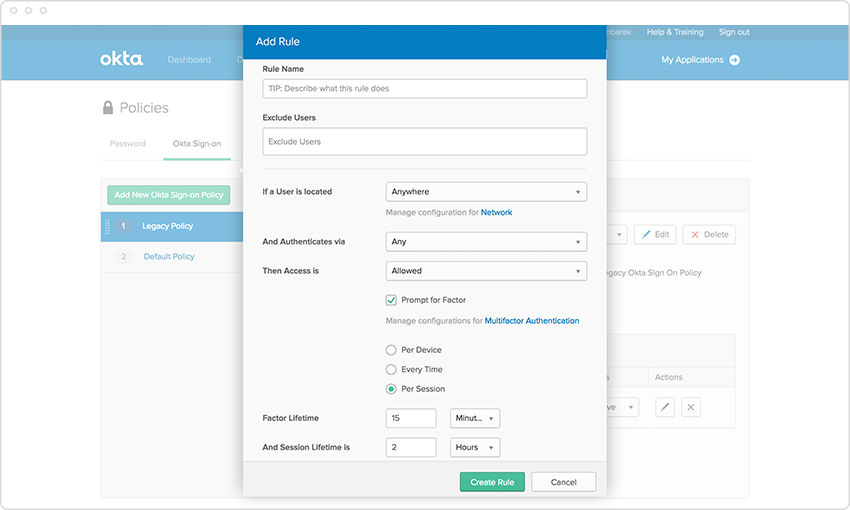 Sign in policies that are conditional upon group, app, IP range, and client 
Offers 3 alternatives: grants access, enforces a 2nd factor, or denies access
Administration APIs
Interfaces for customizable, automated administration of users, groups, apps, identity providers, admin roles, and organizations
API Access Management
Identity-driven authorization for any app or service, with user-friendly and centralized administration across all your APIs.
OAuth 2.0 API Authorization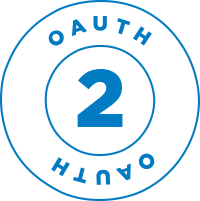 Complete standard-compliant support for OAuth 2.0
Proven compatibility with 3rd party API management solutions
Designed for modern web and mobile applications, and service-to-service scenarios
Flexible Identity-Driven Policy Engine for Any Type of User or Service
Flexible policies that define access based on user profile, groups, network, client, and consent
Instant access revocation or updates to user permissions based on user profile and status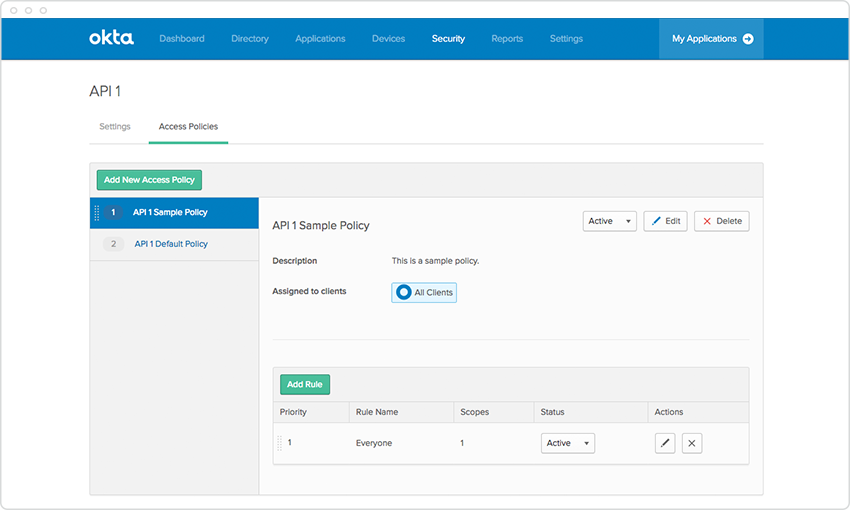 Easy and Centralized Administration Across All Your APIs
Purpose-built, user-friendly console for consistent creation, maintenance, and audit of API access policies based on native identity objects without any custom code.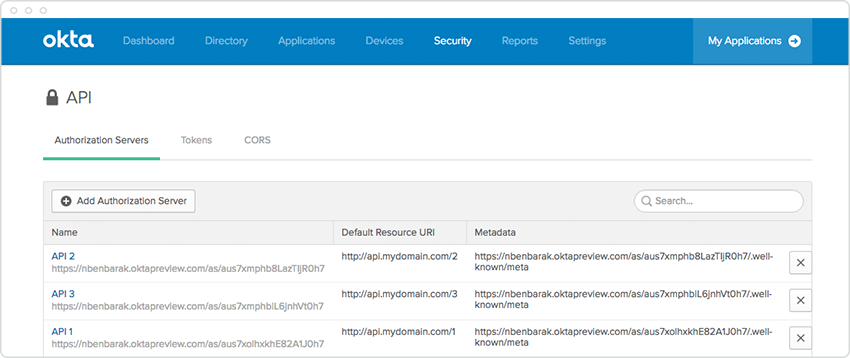 Developer Tools
Launch faster with expert support, guides, code samples, and SDKs.
Reporting and Analytics
Detailed real-time data on user access behavior.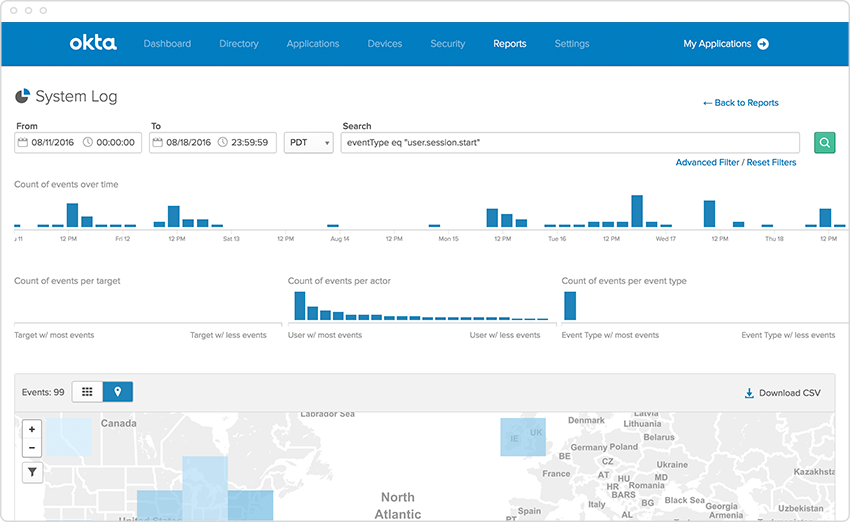 Access and export a complete system log with the Okta API
Integrates with 3rd party SIEMs, including Splunk and ArcSight
Real-time system log displays event list with time, event type, message, outcome, actor, and targets for the past 30 days
All products are priced per user per month, and billed annually.
*Provisioning requires purchase of Universal Directory. Listed price is for typical use cases.
$1,500 per year contract minimum.
Customer Journey
Personalization & Identity: Building Blocks for the Ultimate Guest Experience at MGM Resorts