Okta + Auth0: Powering Identity for the Internet
Okta's vision is to safely enable everyone to use any technology. To achieve this ambitious mission, we've been investing heavily in customer identity — enabling organisations to build secure customer experiences — and transitioning from delivering products to building a true platform to address every identity use case.
Today, we're taking a significant step forward — I'd go so far to call it a "leap" — to enhance the Okta Identity Cloud. We announced our agreement to join forces with Auth0, a leading identity platform for developers.
A shared commitment to customer choice and success
Together, we will shape the future of identity on the internet. I'm thrilled by the choice, flexibility, and value we'll offer customers: Okta and Auth0 address a broad set of identity use cases, and our identity platforms are robust and extensible enough to serve the world's largest organisations and most innovative developers.
Auth0 will continue to operate as an independent business unit inside of Okta. Both platforms will be supported, invested in, and integrated over time. As a result, we'll accelerate innovation, and give organisations around the world more choice in selecting the identity solution for their unique needs.
A shared vision
I've known Eugenio Pace, CEO and co-founder of Auth0, for years now and he is already an enthusiastic ally in establishing identity as a primary cloud. In our discussions, I've shared my vision for a future in which organisations only rely on a few primary clouds: an infrastructure cloud, a collaboration cloud, a CRM cloud — and we're on a mission to establish identity as one of the primary clouds. Okta and Auth0 share the same vision for the identity market, and we know that we will achieve it faster together.
We also recognise the important roles our companies and platforms play in shaping a world in which everyone can safely use any technology.
The COVID-19 pandemic has accelerated organisations' move to the cloud, digital transformation initiatives, and zero-trust security adoption. Both Eugenio and I have devoted our careers to identity because we know that selecting an identity platform is one of the most critical technology investments an organisation can make. With so much at stake for businesses today, it's essential that we deliver trusted, secure and reliable customer-facing identity solutions.
A shared set of values
Eugenio and I have always bonded over our companies' shared values, rooted in customer success, innovation, transparency, integrity, and empowerment. We approach things similarly, which will allow us to collaborate more efficiently and effectively, in turn helping our customers to solve more complex identity use cases.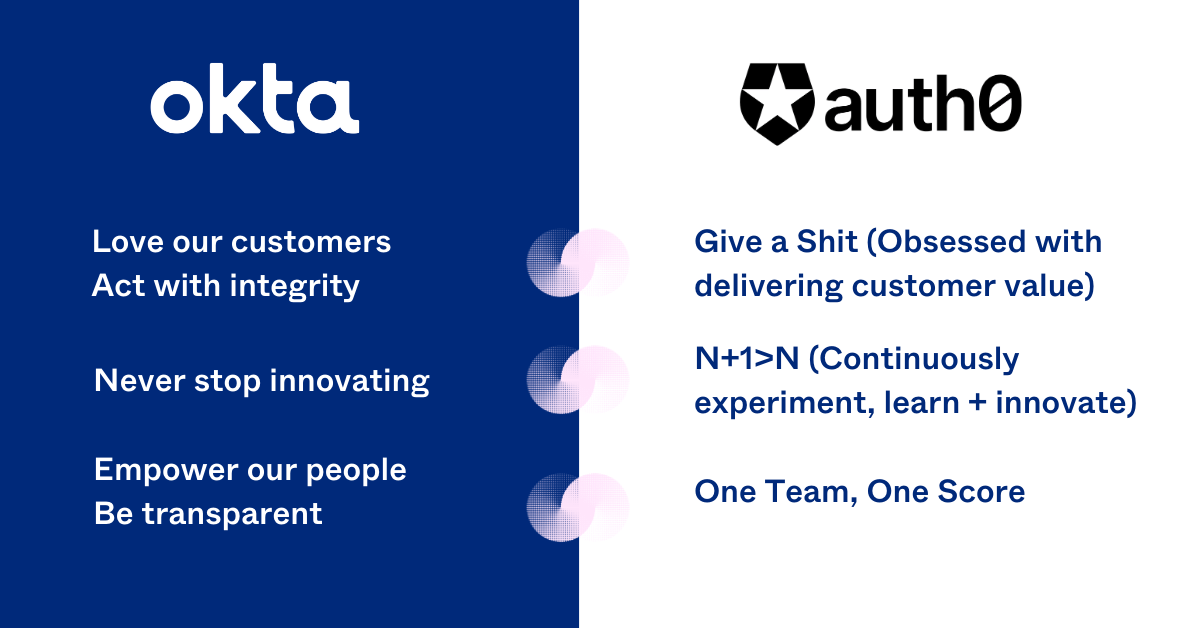 We couldn't be more excited to welcome the Auth0 team as we embark on this joint journey to power identity for the internet and to establish identity as a primary cloud.
The proposed transaction is subject to receipt of required regulatory approvals and satisfaction or waiver of other customary closing conditions and is expected to close during Okta's second quarter of fiscal year 2022, ending July 31, 2021. Until the transaction closes, Okta and Auth0 remain separate and independent companies.