Okta helps Fieldpoint Private raise the financial services bar
happy high-net-worth client families
savings in annual development costs
Identity management for the ultra-high-net-worth

Website as ultimate financial services tool

The goal: World-class services. 100% cloud
Identity management for the ultra-high-net-worth
Fieldpoint Private selects Okta to power and secure their client and employee platform.
Website as ultimate financial services tool
Okta helps Fieldpoint Private connect cutting-edge financial services applications to its website so that clients and employees alike can manage their holdings or do their work.
The goal: World-class services. 100% cloud
Fieldpoint Private makes plans to connect 94 more applications to its website, streamlining workflows even further, and securing client holdings against even worst-case disaster scenarios.
Okta has been fantastic. It's an SSO and MFA platform for both client platform and our corporate intranet, which are one and the same.
Chief Administrative Officer, Fieldpoint Private
Exclusive financial services for an exclusive clientele
Fieldpoint Private, a wealth advisory and private banking firm serving high-net-worth families and individuals, opened its doors in the spring of 2008. Its founders, a group of 31 business leaders comprising a "Who's Who" of the financial community, realized that large, public financial institutions weren't serving them well. So they built something different.
Their timing couldn't have been better. The firm differentiated itself by offering unbiased advice at a time when the investment community was awash in "pay-to-play" deals and proprietary products. The sky was the limit. What they wanted, they built.
One thing Fieldpoint Private clients wanted was to collect all of an individual or family's holdings within a single dashboard tool, so that the firm's advisors could do their work holistically, rather than seeing just part of the puzzle. Along with a client-centric attitude toward financial services, they also wanted a rock-solid disaster recovery plan to protect their financial data.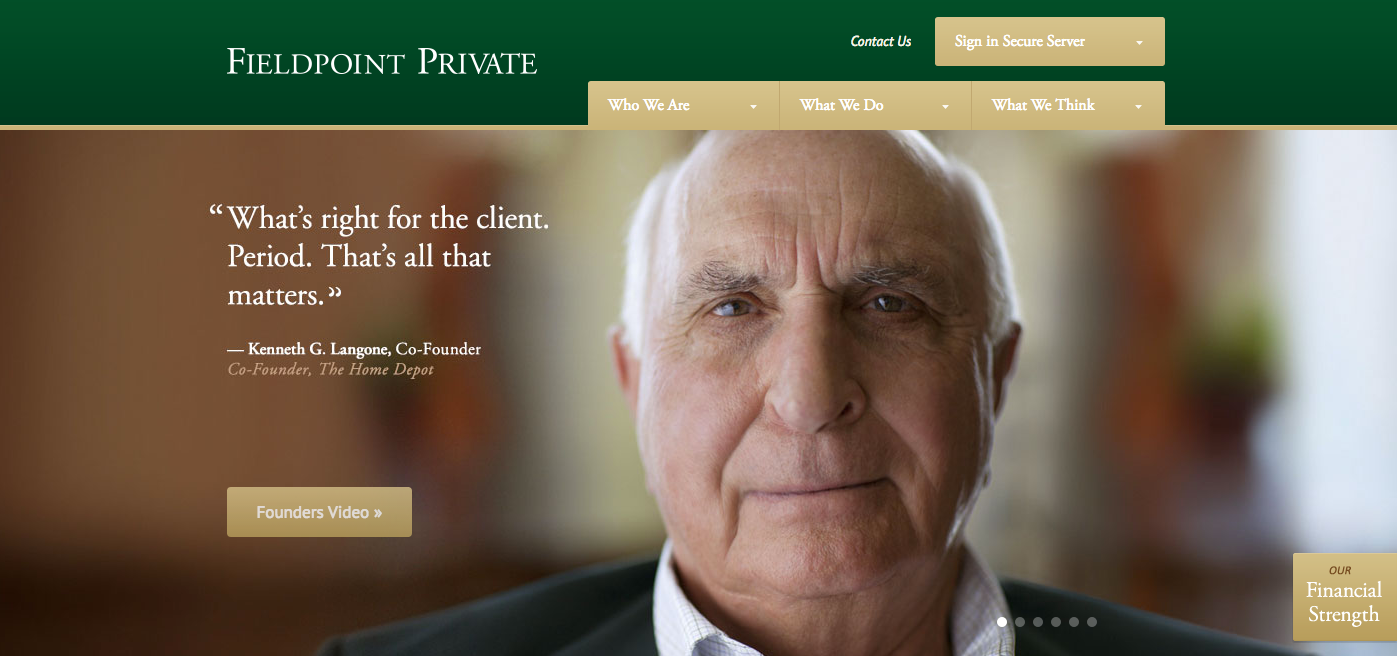 Finding the right partner would be key
When Fieldpoint Private's Chief Administrative Officer came on board in the Fall of 2008, he understood that a single platform for employees and clients would be central to fulfilling the Fieldpoint Private vision. He was convinced he could do it with a small IT team focused on cloud applications, but finding the right partner would be essential.
By 2013, he realized that the SSO provider he had been using wasn't keeping up with expectations. Whenever the team wanted to make changes to the platform, they had to go through their identity provider, and it was costly. They missed the flexibility to innovate. "We realized we needed to switch to Okta to partner with an industry leader," he says. Fieldpoint Private came to Okta with a non-negotiable list of requirements:
Make the Fieldpoint Private customer experience as seamless as possible.
Work behind the scenes, so that the firm's brand and message remained consistent.
Enable Fieldpoint Private to innovate and improve the platform at any time with limited IT resources
Adhere to strict regulatory compliance standards, including multi-factor authentication (MFA).
Allow employees to work from anywhere, any time.
Help Fieldpoint Private streamline operations and provide a single source of truth for every data point.
From corporate website to ultimate financial services tool
The Okta team was happy to partner with Fieldpoint to make the project successful. The Okta team began working with a website development provider, to turn the Fieldpoint Private website into a financial services platform rarely if ever seen in the industry.
The entire site is built on Force.com, a Salesforce application development platform. Stantive used Okta APIs to build out the firm's entire MFA platform. The team integrated seven application partners behind a completely Fieldpoint Private-branded interface. While some of those partners offered SAML as an option, the Okta team worked with others to build customized versions of their applications that could be accessed within fieldpointprivate.com.
Cutting-edge client services, built in
Today, when clients log on to fieldpointprivate.com, they see a Twitter feed and personalized content, sure—but they also have access to a suite of Fieldpoint Private-branded services from some of the most innovative companies in the industry. The investment performance reporting platform comes courtesy of Black Diamond, an Advent Software product. Online and mobile banking applications? From Austin, Texas-based Malauzai Software.
"Our clients can get to all those with a single ID and password," Fieldpoint Private's Chief Administrative Officer says. "We like to compare it to other wealth management firms, where you can have up to five IDs and passwords, depending on what you're logging into." The firm offers Okta Verify, so clients can authenticate access simply by touching "Approve" on their phone or Apple Watch.
An equally impressive productivity story
Enter an employee ID and password, and Fieldpointprivate.com transforms into the corporate intranet. From there, Fieldpoint Private financial advisors can access Black Diamond from the portfolio management side, viewing their entire book of work with a few clicks.
Advisors and other employees also have easy access to Rooftop, the firm's version of Salesforce.com. All the tools they need, in fact, are available right from the website, so they can work from anywhere, at any time. "If you think about it from a disaster recovery perspective," he says, "I could lose my entire IT infrastructure here, and people could be completely productive."
World-class services with a skeleton staff
At its root, the Chief Administrative Officer's job is to build a platform for world-class services at a fraction of the cost. All this stems from efficiency gains made possible by a cloud strategy. With just an IT staff of three people, Fieldpoint provides services to some of the wealthiest (and most demanding) people in the world—to keep their holdings secure, but also to render the customer experience supremely easy to understand and delightful. The firm is down to three servers in its data centre, and plans to connect 94 more applications to fieldpointprivate.com.
Okta plays a big role in those plans, he says. With Okta's comprehensive APIs and SDKs, the team can innovate and improve the platform without recruiting more development resources. The level of reporting Okta provides out-of-the-box would have required multiple full-time resources to replicate in-house. And that's just not something Fieldpoint Private cares to take on.
About Fieldpoint Private
Fieldpoint Private is a wealth advisory and private banking boutique established in the early days of the financial crisis by 31 individuals including former leaders of some of the most well-known companies in America, with a mandate to build a new breed of firm, driven by the values of customization, objectivity, and unquestioned integrity.