The Forrester Wave™: Zero Trust eXtended Ecosystem Platform Providers, 4e trimestre 2019
Okta nommé leader du Zero Trust par Forrester
Okta figure parmi les leaders désignés dans le rapport The Forrester Wave™: Zero Trust eXtended Ecosystem Platform Providers, publié au 4e trimestre 2019 par le cabinet d'analystes Forrester Research. Okta obtient en effet la note maximale dans la moitié des catégories d'évaluation : sécurité des réseaux, sécurité des collaborateurs, automatisation et orchestration, facilité d'administration et d'utilisation, vision et stratégie ZTX, promotion de l'écosystème ZTX, clients investissant dans le portefeuille et taux de croissance du portefeuille.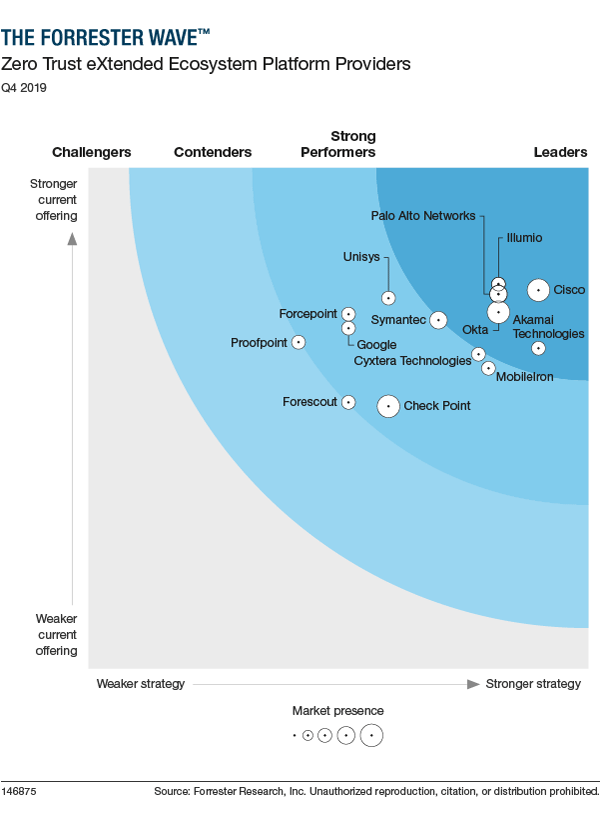 Selon le cabinet, « le framework Zero Trust de Forrester fait partie des modèles de cybersécurité les plus prisés. La sécurité Zero Trust ne renvoie à aucune technologie particulière, elle est le fruit de plusieurs technologies. Cette évaluation insiste sur la manière dont le portefeuille produit de chaque fournisseur cible des composantes spécifiques du ZTX, en vue d'offrir aux professionnels de la sécurité d'entreprise une vision plus claire des solutions qui correspondent le mieux à leur approche Zero Trust. »
Dans un autre rapport centré sur la gestion des identités et publié également par Forrester au 2e trimestre 2019 (The Forrester Wave™: Identity-As-A-Service for Enterprise), Okta est également désigné comme leader et arrive en tête des catégories « offre actuelle » et « stratégie ».
Pour en savoir plus sur l'étude The Forrester Wave™: Zero Trust eXtended Ecosystem Platform Providers du 4e trimestre 2019, téléchargez le rapport complet ou consultez notre blog.