Office 365 Adoption Goes Through the Roof
We've noticed something quite extraordinary happening on the Okta Application Network over the last few months: Microsoft Office 365 is quickly working its way to #1 – meaning the most commonly deployed application in our network of 4,000+. It's also already the most used application (measured by raw number of authentications) across our 2,000+ customers. As Office 365 includes email, collaboration, calendaring and more, if an organisation deploys Office 365, it's often the most commonly used and used nearly every single day.
[Note: The graph below shows application ranking in the Okta Application Network, measured by the total count of integrations from October 2013 to October 2014.]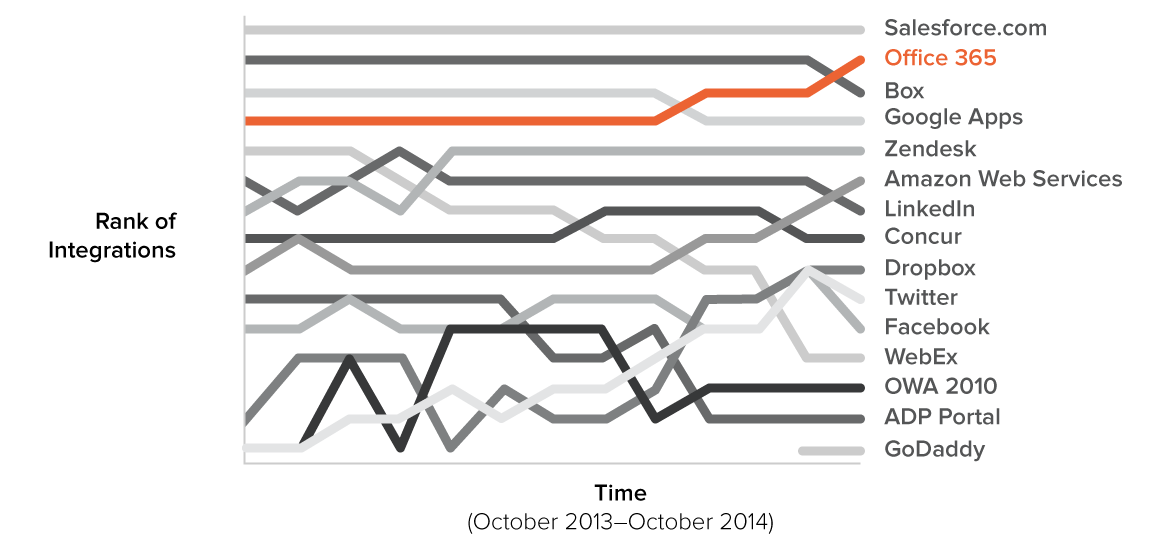 As more enterprises join Okta, we're going to see total cloud adoption grow. (Odds are that if an organisation chooses to deploy Okta, it's very likely they'll add at least a handful of cloud applications soon after.) What's unique here though, is that Office 365 adoption is accelerating faster than any other application in the Okta Application Network!
[Note: The graph below shows the growth in total count of integrations for each application in our customer base from October 2013 to October 2014.]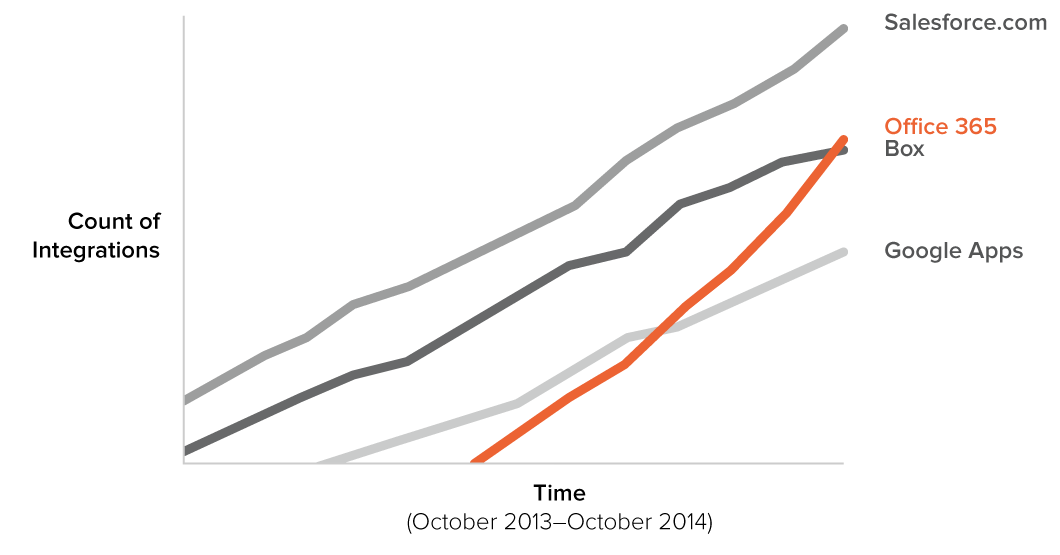 We're looking at one year of data ending in October because we wanted to allow plenty of time for new customers to get fully onboard with their integrations. Most Okta customers are able to onboard all their users from AD into Office 365, enable SSO, and go live in under a month. Many customers can do this in just a week and deploy a test environment in under an hour!
A few other interesting Office 365-related findings:
• Office 365 is used across companies of all sizes. Workday, Clorox, Seton Hall University and DocuSign – all very different organisations in terms of age, size and industry – connect their Okta tenants to Office 365.
• Banking, food & beverage and manufacturing favor Office 365 over Google Apps.
• Consulting and law firms, as well as general technology companies, are more divided with pretty even adoption of Office 365 and Google Apps.
• Google Apps is the clear choice among advertising firms, educational institutions and software companies.
This race is just getting started though. Gartner predicts 33 percent of businesses will adopt cloud-based office suites by 2017, and 60 percent by 2022. The game is on and it's anyone's market.
At Okta, we're just enjoying watching the race as we provide organisations with the flexibility and agility they need to be more efficient – and to choose the combination of apps right for them.
To learn more about Okta for Office 365, please visit: https://www.okta.com/integrations/microsoft-office-365/#overview.