Microsoft Office 365
Overview
Office 365 is more than just Word, Excel, PowerPoint, and Outlook. It provides powerful services like business-class email, online storage, and teamwork solutions that you can access from anywhere. Bring teams and resources together with solutions like Microsoft Teams and that make working together more productive and enjoyable regardless of where participants are located. Easily implement security and privacy controls to help protect business data and devices against malicious threats and help you meet your compliance obligations. Automatic updates ensure your employees will always have the latest features and security updates.
You're embracing the cloud with Office 365, but you need an identity and mobility strategy for successful adoption.
If your goal is complete cloud security, then it begins with a strategy focused on company communication. With over a billion Office 365 users across the globe, it's quickly becoming the standard for keeping employees in the loop. When you start with Okta, you provide air-tight security while rolling out Microsoft Office to hundreds of employees spanning your entire enterprise, all in record time.
An identity foundation for Office 365 + all your apps
You're embracing the cloud with Office 365. This is a big deal. You need to go live. But you don't want to build infrastructure that will limit user access to future cloud applications. Meet Okta, the identity and mobility management solution that gets Office 365 live ASAP while opening up a world of future options.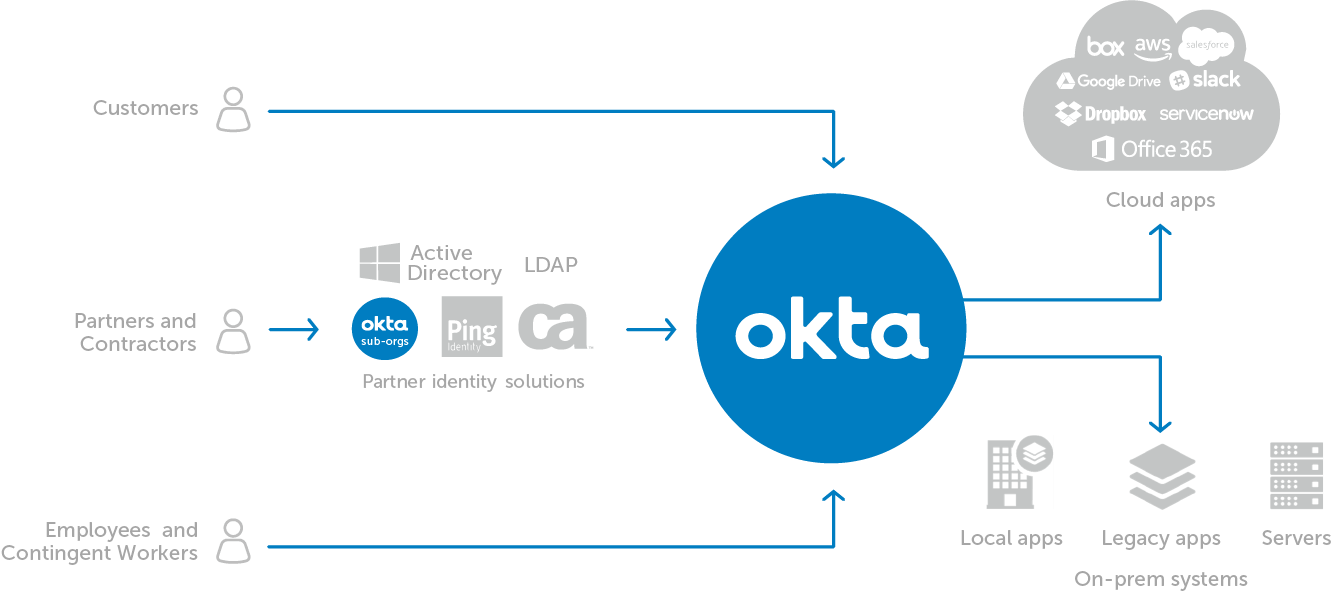 Modern identity management for Office 365 and all your applications
Is struggling with AD FS the most efficient use of your time? Okta is a modern identity service that works in real-time. It minimizes user disruptions and enhances security. And it will help you reclaim your time. Okta enables enterprises with Active Directory to quickly and securely extend employee identity to Office 365 without using ADFS or Azure AD Connect. Okta also easily integrates with your non-Microsoft applications. Stop struggling and get some real work done.
A single modern product delivering a complete solution
Okta is a complete identity management product. It is built as a single cloud-service and designed for both hybrid IT and cloud-first IT environments. The Okta service provides single sign-on, provisioning, multi-factor authentication, mobility management, configurable security policy, directory services and comprehensive reporting – all configured and managed from a single administrator console.
Identity management software has evolved over time. Previous generations of software were built to periodically synchronize data. Okta employs a modern, event-driven approach. This approach enables delegated authentication to AD at the moment a user attempts to log in. It also keeps that user profile data in sync between on-premises AD and Office 365 the moment it changes.
Features specific to Office 365 with Okta
Zero downtime
Zero downtime and instant failover for Active Directory integration ensures continuous efficient operation without requiring IT to manage uptime. 
Role assignment
Automatic assignment of Office 365 administrator roles, with the option to not assign a user license to an administrative account, and the ability to add MFA specifically for administrators.
Connect untrusted domains and forests
Connects multiple untrusted Active Directory domains/forests to a single tenant of Office 365, enabling large enterprises or companies going through mergers and acquisitions to easily add all users without changing their directory architecture.
Quick provisioning / deprovisioning
Real-time provisioning and deprovisioning of user accounts, groups, and group memberships in Azure Active Directory. Rich profile synchronization to easily ensures employees receive access when they need it —and their access is automatically removed when they leave the organization.
Automated configuration
Easy, quick, and automated configuration of Single Sign-on using WS-Fed right from within Okta. This means there's no need for scripts or the command line during configuration. 
Granular license assignment
Automatic assignment of user licenses specific to Office 365 applications, including Exchange Online, SharePoint Online, and Lync Online, reduces manual work and scripting and increases license usage efficiency and accuracy. 
Multi-factor authentication
Multi-factor authentication is fully integrated into the central Okta policy engine and centralized reports. This enables you to choose which factors users can enable, apply a flexible policy when enforcing a 2nd factor (such as by Active Directory security group), and access all reports from one place.
Non-Microsoft apps
A secure, application-neutral identity service that can integrate to 3rd party MFA products, a wide variety of VPNs and clients, and be leveraged just as easily and deliver the same set of benefits for non-Microsoft applications. 
Easy, robust Active Directory integration
To use Office 365, users in on-premises Active Directory (AD) must be connected to Microsoft Azure Active Directory in the cloud. Microsoft provides tools to accomplish this, but each tool requires carries the burden of having to deploy, configure and manage server resources.
Okta takes a different approach – using a lightweight on-premises agent to integrate Office 365 to Active Directory (AD) and to Azure AD. It requires no changes to firewall settings and can run on any Windows machine with read access to the domain controller.
A single agent handles all communication, in real-time, between Okta, Azure Active Directory, and your on-premises AD. It supports delegated authentication, provisioning / deprovisioning, directory sync, and AD password management. When Okta is configured for delegated authentication to Active Directory, no AD credentials are stored in the cloud, and passwords never get out of sync.
Okta's cloud-based platform simplifies and accelerates Active Directory integration, and makes it possible to deploy Office 365 6X faster.
Seamless integration with Microsoft technologies and beyond
Okta can provide seamless access to any of Microsoft's newer online services beyond Office 365. By using Okta as your identity provider to Office 365, you also get the ability to join devices, use Windows Hello facial recognition, and get secure access to non-SSO applications using the Okta Windows Edge browser plugin. More than 900 Enterprises and thousands of users trust Okta for Office 365 every day.
Okta's Identity Platform also manages identity, provisioning, and security for thousands of non-Microsoft applications, providing the broadest and deepest identity and access management solution for the Cloud.
Get started with Okta for Office 365
Office 365 Free Edition
Identity Management for Office 365
12x5 phone support
Knowledge Base
Community Support