Okta Workflows
Automate complex identity-centric processes without code
Okta Workflows makes automating business processes - like deprovisioning a user and transferring their files - simpler. Use our library of connectors that includes Box, Slack, Salesforce, Marketo, OneTrust and more, or call APIs to customize your workflow.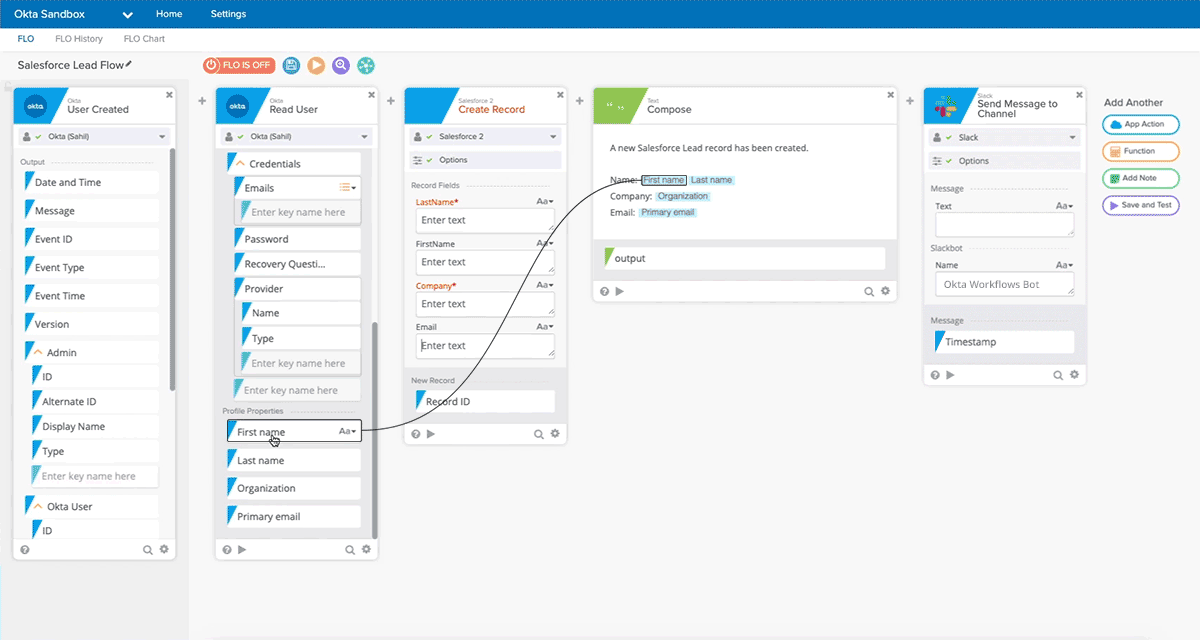 Easily create workflows that run from left to right. In this example, every time a user is created, Okta creates a Salesforce record and sends a custom notification to a Slack channel.

NTT Data automates deployment of 120,000 users with Workflows
Workflows allows NTT DATA to customize automation based on user type and geography, making regulatory compliance seamless and eliminating manual processing errors. This automation has driven cost optimization and allowed the company to focus human resources on other initiatives that can't be automated.
"I can take a project that might have had 50 people associated with it, and bring it down to two, which has given me enormous efficiency gains," Williams says. "For my team, the power comes in how they can automate simplistic tasks in a no-code style environment."
Take granular actions during onboarding and offboarding
Add user roles and permissions during account creation, or convert licenses from paid to free after account deactivation.

Define identity processes based on time and context
Grant provisional access, pause processes, or make actions dependent on specific attributes, such as role, or team membership.

Resolve identity creation conflicts
Catch and fix conflicts during identity creation, such as duplicate usernames or emails.

Distill and share important data quickly
Automatically create tables based on changes in user lifecycle states, and then share them across your organization on a regular schedule.

Learn more about Workflows
If you're interested in Workflows, please reach out to your account manager and let them
know. If you are not an Okta customer, click below to learn more.
Workflows is not currently available in Okta's APAC cell.