As Firms Negotiate COVID-19, New Apps and Services Take Centre Stage
Since March of 2020, organisations worldwide have turned to technology to stay afloat during the interruptions caused by the COVID-19 pandemic. Companies rushed to support remote working, enabling new online experiences to stay connected to employees and to transact with customers. 
Cutting-edge tech solutions, once considered only by "early adopters," became survival tools for firms of every size and industry.
Each year, via its Businesses at Work report, Okta uses a set of anonymised data to discern the technologies its customers use to adapt to this changing environment. Where last year's report explored the apps and tools deployed to carry organisations through this massive disruption, Businesses at Work 2022: Familiar Players in a Changing Landscape offers a window into how they're securing online experiences in the years ahead. 
Now in its 8th year, we again mined Okta's network of 18,800 global customers and over 7,000 integrations with cloud, mobile, and web apps, and IT infrastructure providers—to better understand the apps and services that powered work in 2021. 
The year's top apps include a combination of productivity suites, security solutions, and scheduling software. In APAC, we observed the rise of productivity suites like Google Workspace, Zoom, and Slack—a power trio that continues to win a larger share of customers. 
Firms turn to innovative solutions 
As organisations built digital experiences for workforces and customers during the pandemic, we observed gravitation toward collaboration technologies that enable choice and flexibility. In terms of "number of customers" for APAC, Google Workspace, Zoom, and Slack have grown 68%, 40%, and 37% YoY, respectively. 
APACorganisationss are making investments in protecting remote access, as seen through the growth of the network security client Palo Alto Networks' GlobalProtect. But it can also be noted through supporting applications such as the email filtering tool Mimecast cloud-based business software ServiceNow. 
The rise of multi-cloud platforms
The march to cloud services continues unabated, with organisations choosing to deploy apps using multiple cloud platforms. Globally, AWS remains the runaway favorite cloud platform, showing a 32% YoY growth last year and contributing to a total increase of 152% since 2018. Meanwhile, Google Cloud Platform is boasting an increase of 40% since 2020—a whopping 365% from where it ranked in 2018.
Continued investment in security
Firms are continuing to invest in security-related applications, with Netskope (a network security tool) now the fastest growing app worldwide, by "number of unique users", and VMware's Workspace ONE (an endpoint management tool) also remaining high on the list. 
In addition, businesses are increasingly turning to higher assurance and adaptive forms of authentication, like Okta Verify and WebAuthn, to secure access to applications. Globally, SMS as a security factor dropped from 53% three years ago to 47% today, while security questions dropped 18% three years ago to 13% today.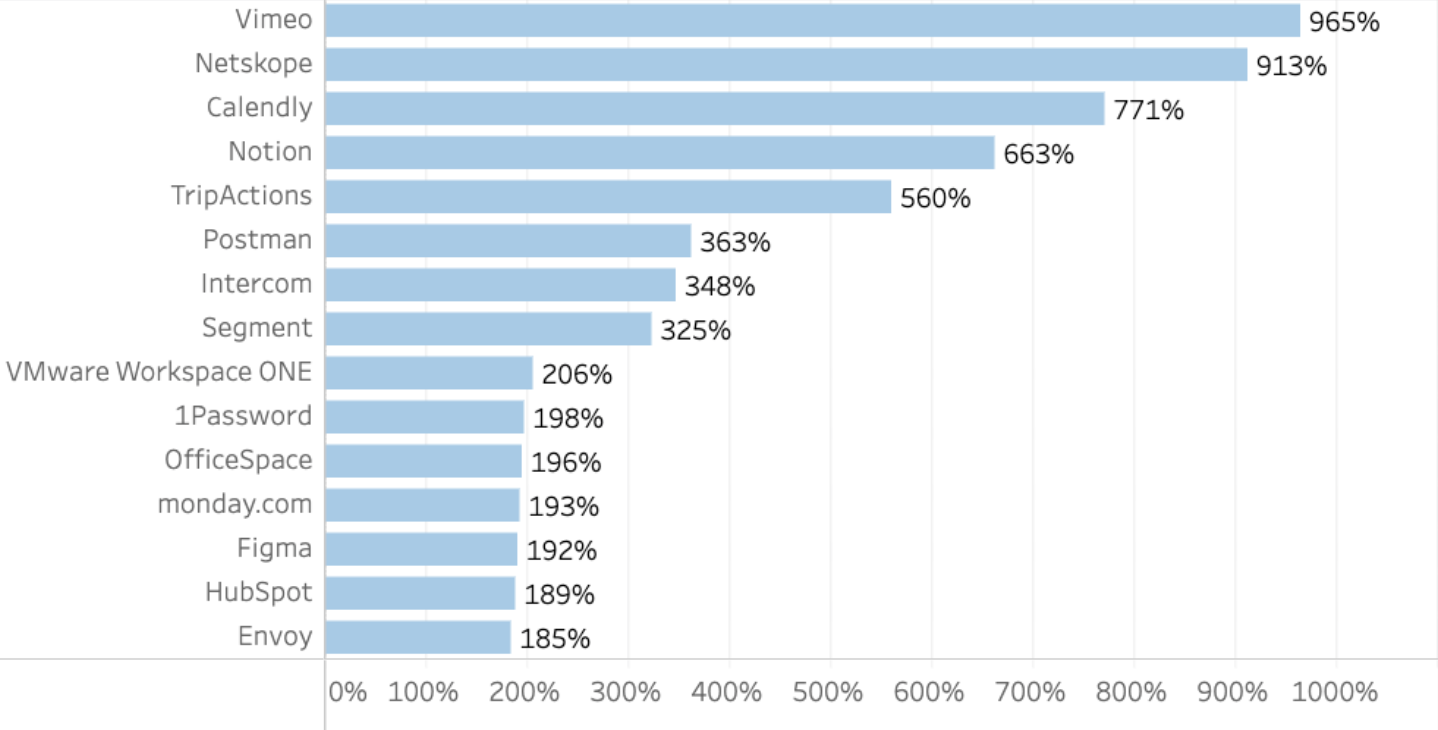 Fastest growing apps by unique users
Choice and flexibility trump loyalty
This year's report shows that organisations across the globe are leaning heavily into two areas: choice and collaboration.
Companies continue to lean heavily into productivity suites but are also increasingly choosing best-of-breed functionality. 
For example, Microsoft 365 remains the most popular app among Workforce customers. That being said, 33% of Microsoft 365 users deploy four or more best-of-breed apps, up from 20% four years ago. This stat highlights the growing importance of flexibility and functionality as employees work remotely. Some 38% of Microsoft 365 customers also deploy Google Workspace, this year's third most popular app by "number of customers". Another 43% use AWS, the second most popular app. 
An increasing number of organisations are broadening the number of vendors they work with, making choices based on functionality, user experience, and performance.
For example, among the Okta customers deploying Microsoft 365,
45% also deploy Zoom
33% also deploy Slack
38% also deploy Google Workspace—up from 36% in 2020
Interested in digging deeper? You can read the full report findings here. 
And don't miss the findings from years past! Sort through them all right here: