Businesses at Work 2021: Driving the Digital Economy Forward
Today, we announced the findings of our seventh annual Businesses at Work report, examining how organizations and people worked in a year of near-constant change. When we released last year's report at the beginning of 2020, we never imagined the critical role technology would play as organizations adapted to the challenges of a global pandemic. The pandemic transformed our world in a matter of weeks, and technology became a lifeline for all industries across the globe. In April, we released Businesses at Work (from Home), which offered early insights into the apps and services that supported the shift to remote work.
Now, we've taken a more holistic look at the year — again turning to our network of 9,400 customers and more than 6,500 integrations with cloud, mobile and web apps, and IT infrastructure providers — to better understand the apps that power our work. The year's top apps include a combination of best-of-breed solutions and remote work winners. For the first time ever, 90% of our fastest-growing apps are new to the top 10. Demand for at-home office supplies launched Amazon Business to the top, with new virtual collaboration and security solutions trailing closely behind. The year's most popular apps followed a similar pattern: Zoom, AWS, DocuSign, and other tools powering remote work made large gains, newly joined by next-gen security tools Fortinet FortiGate and Palo Alto Networks GlobalProtect.
Fastest Growing Apps, Year over Year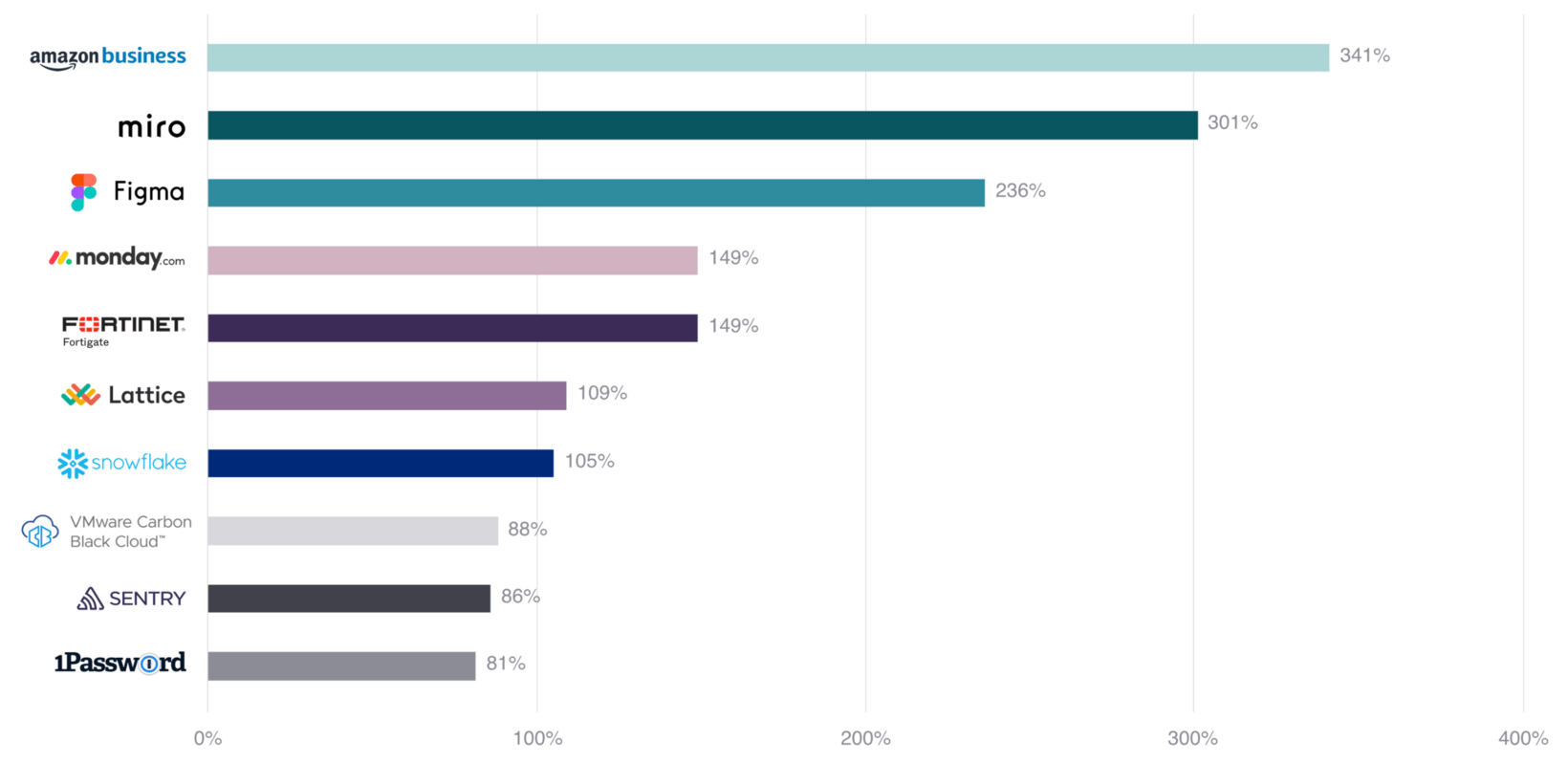 The apps and tools we deployed this year helped us carry on through massive disruption, cementing technology's role as a foundational element of success across every industry. Here's more about what we found.
Remote work demands innovative solutions
The pandemic prompted a rapid shift to remote work and drove companies to adopt innovative ways to keep their workforces connected, secure, and productive. Amazon Business, the year's fastest-growing app that offers employees a platform to buy WFH essentials like quality webcams, saw 341% growth. Hot collaboration tools like Miro, Figma and monday.com also saw a surge in customers throughout the year. Employee engagement tool Lattice claimed a spot in the top ten fastest-growing — the first HR tool to do so since 2016. While Amazon Business might not come as a surprise, Miro and Figma are companies to watch as organizations continue to offer more flexible working environments.
Best-of-breed solutions beat platforms
While network effects amplify the staying power of platforms like Salesforce, Google Workspace, and Microsoft 365, best-of-breed solutions are nipping at their heels. Of Okta's Microsoft 365 customers, almost 10% deploy six or more best-of-breed apps, highlighting the increasing importance of flexibility and functionality as employees work remotely. 42% deploy Zoom, this year's fifth most popular app by number of customers. Another 32% use Slack, the seventh most popular app. Okta's Microsoft 365 customers also double-bundle: over 36% now deploy Google Workspace (formerly G Suite) as well.
Organizations get smart about security
Malicious actors took advantage of 2020's widespread disruption and chaos, generating an unparalleled number of cyber threats. With ill-protected devices and networks, remote workers were easy targets. To secure distributed workforces, organizations invested heavily in people-centric solutions. After three years as a fastest-growing app, security awareness training tool KnowBe4 is now the #14 most popular app by number of customers. Companies seem to be getting smart about security, too. Rather than using simple and traditionally weak two-factor methods, businesses are increasingly turning to adaptive forms of authentication like Okta Verify to secure their workforces. SMS as a security factor dropped from 53% two years ago to 49% today, and security questions similarly dropped 18% two years ago to 15% today. This suggests businesses are taking employee security risks more seriously.
Developers double down on digital experiences
This year, more interactions between end users and brands took place online than ever before. We joined fitness classes, met with doctors, and connected with friends and family, digitally. As a result, organizations have increased their focus on building engaging, user-friendly digital experiences. What apps do developers turn to in creating them? Atlassian Product Suite, which includes a number of developer tools, maintains its spot as the most popular developer app. GitHub and PagerDuty sit in second and third place, respectively. We also collaborated with Twilio Segment, the market-leading customer data platform, to look further into where businesses collect data to drive customer engagement and found organizations build a median of four customer-facing apps, underscoring the importance of seamless digital experiences.
Most popular developer tools among Okta customers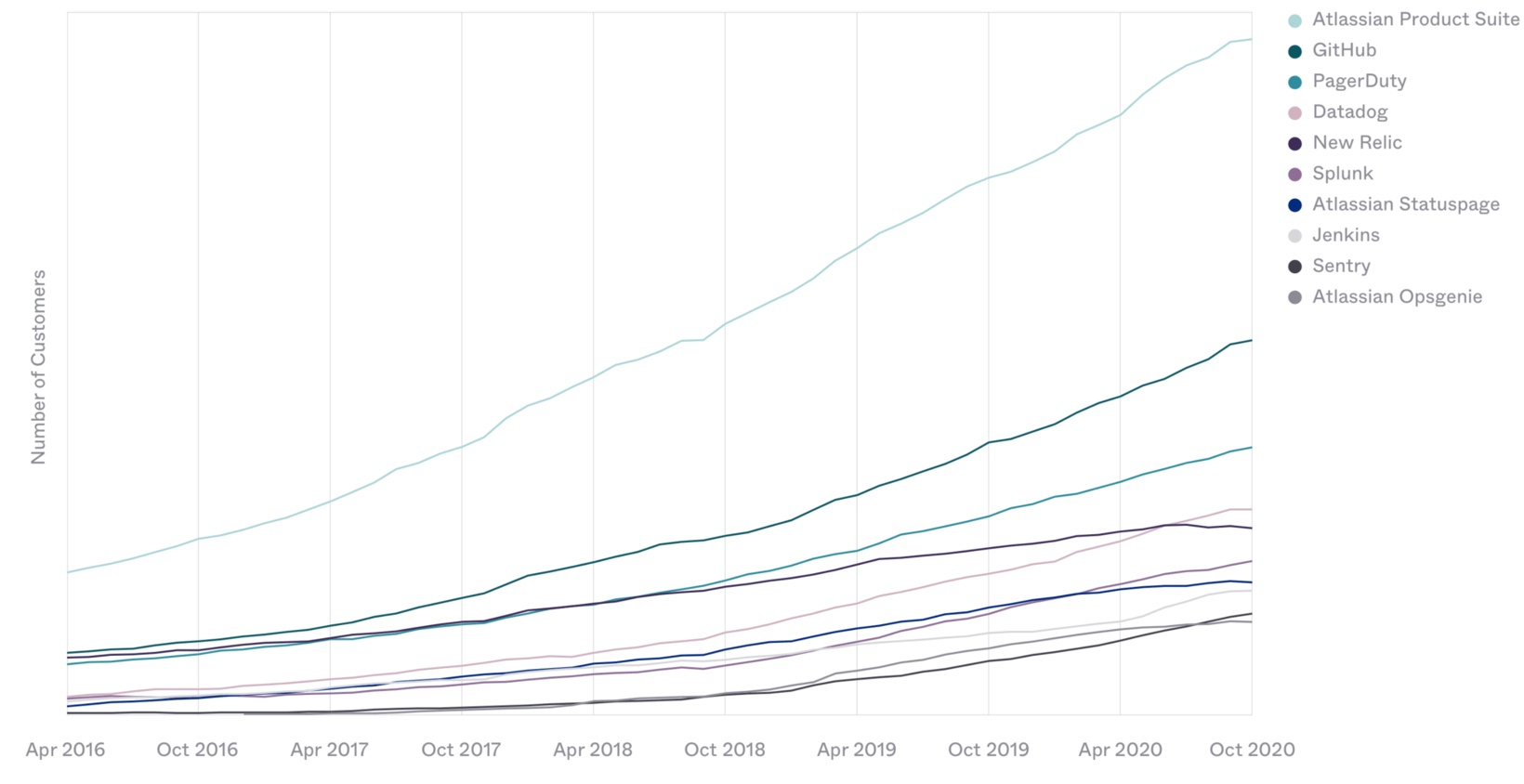 Employees lend a helping hand
Despite the challenges 2020 brought, we were proud to see so many users commit to positive change and helping others. As of this year, companies have assigned nearly one million users to Apps for Good. These allow Okta customers to simply and securely deploy world-class "giving apps" to their workforces, so employees can donate time, money, and expertise in a frictionless way. The number of companies adopting CareerVillage, which connects students with professionals for free, personalized career advice and is the most popular app for social good, grew 91% year over year. Other popular apps for social good include Kiva and Benevity.
While we can't predict what this coming year will bring, we can confidently say that technology will continue to shape how we work and live. You can read the full report findings here.
 
Haven't caught up on the past six reports? Check them out here:
Businesses @ Work 2020
Businesses @ Work 2019
Businesses @ Work 2018
Businesses @ Work 2017
Businesses @ Work 2016
Businesses @ Work 2015