Businesses @ Work 2020: New Decade, New Apps, and New Ways to Work
Today, we announced the findings of our sixth annual Businesses @ Work report, exploring how organizations and people work today. Businesses @ Work paints one of the clearest pictures of how organizations evolve when it comes to technology, and the trend line clearly points to greater adoption across the board; over the past six years, we've seen businesses deploy more apps, for more purposes than ever before. This year, the number of apps per customer is up 6% from last year — 10% of our customers now use 200 apps or more to power productive, secure collaboration.
As more businesses build and protect digital experiences for their workforces and customers, we've also seen a gravitation toward technologies that enable choice and flexibility, with a healthy dose of data usability and security. We saw a shakeup of new apps dominating the workforce, with Snowflake, Atlassian Opsgenie, and Splunk all making the list of fastest-growing apps for the first time. Best-of-breed collaboration tools like Zoom and Slack, absent six years ago, joined the ranks with long-standing collaboration suites like Office 365 and G Suite, illustrating that workers now favor flexibility and functionality across the board.
Today, technology is a core component of every business strategy, no matter the industry, and apps and integrations play a key role in fueling our modern workforce. This report revealed new apps on the scene, the ones we love, and the ones we can live without.
New kids on the block? Security, data, and app development tools: Staying at the forefront of innovation means creating new ways to collaborate and welcoming fresh technologies into existing workflows. Data tools that empowered organizations to make informed decisions faster soared to the top this year, with Snowflake landing the #1 spot on the fastest-growing list. Security stacks are also an increasing priority, with Envoy and KnowBe4 leading the pack. When it came to popularity, developer tools made the biggest waves this year — Atlassian Product Suite jumped to fifth place on the most popular apps list, Github joined the ranks at #13, and Lucidchart earned a spot on the list for the first time. And while we welcomed many newcomers to the ranks this year, we also witnessed the staying power of long-standing incumbents: top list-makers kept their spots, including powerhouses Slack, Zoom, Microsoft Office 365, Salesforce, Amazon Web Services, and G Suite.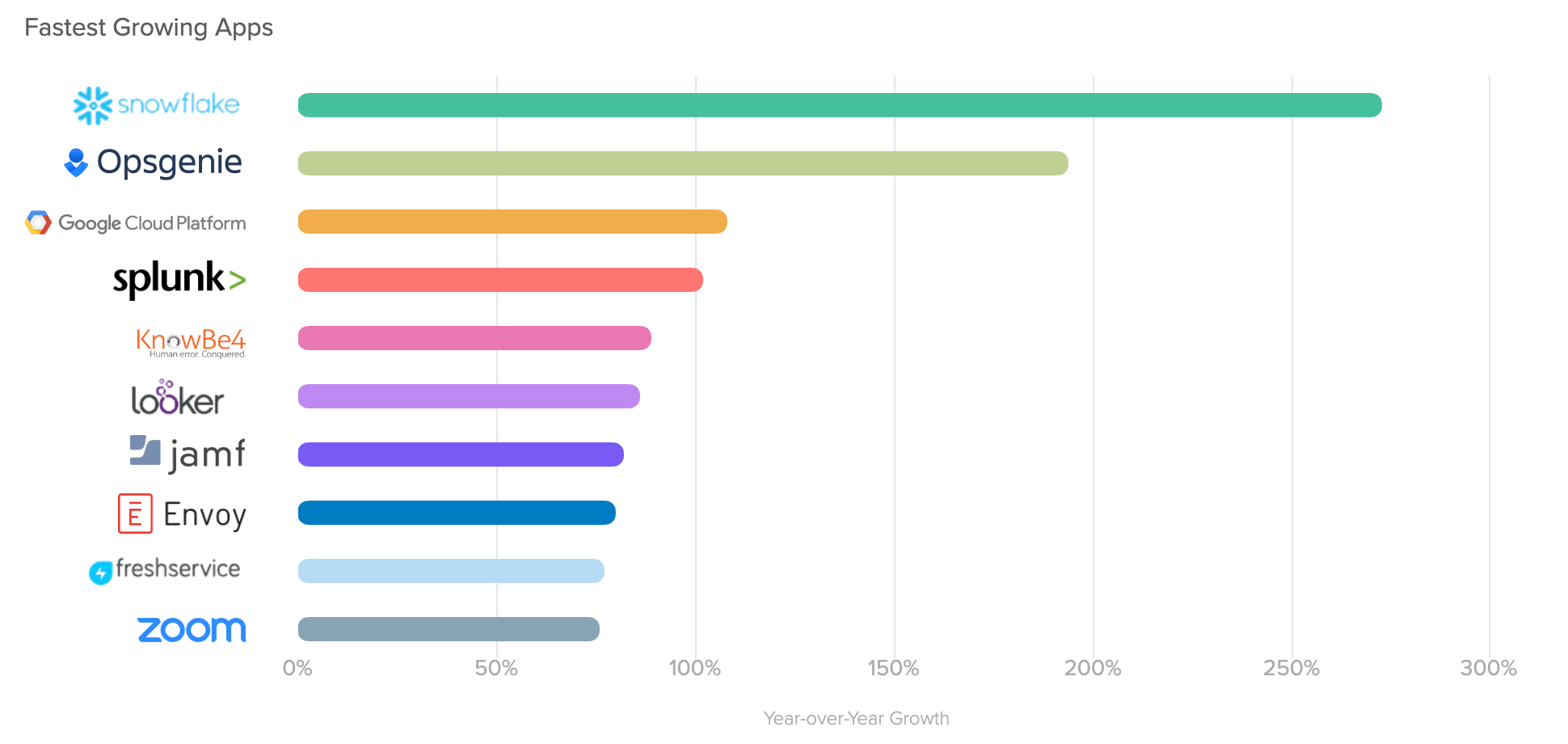 App FOMO is real: More so than ever before, customers are "double-dipping" by purchasing best-of-breed apps in addition to bundles. 78% of Okta's Office 365 customers have adopted one or more best-of-breed apps with the same functionality as the Office 365 suite, up from 76% last year. When it comes to the trade-off between a centralized provider and individual solutions, functionality, ease of use, and employee needs come first.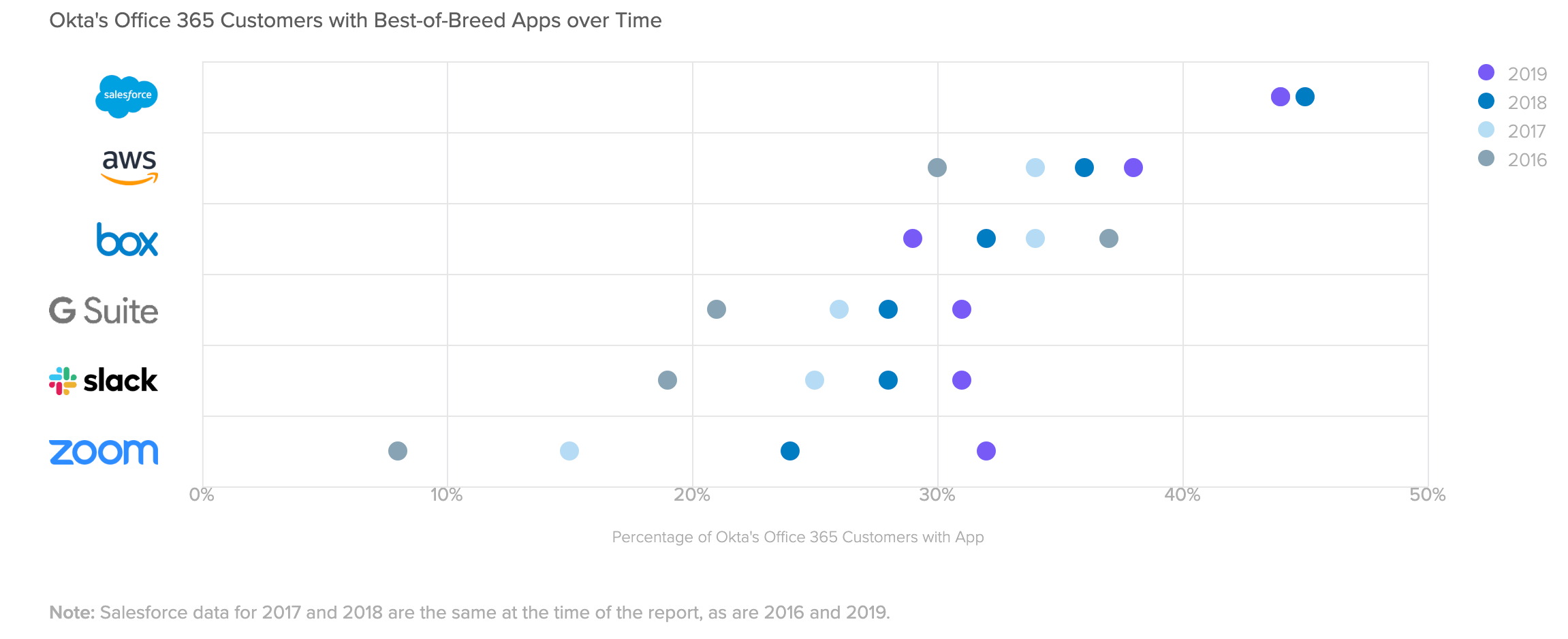 "People" layers dominate the security stack: It's a user-centric world out there. With attackers increasingly targeting individuals and their credentials to gain unauthorized access to accounts, the protection of people is at the center of security teams' strategy. More than 42% of companies now deploy a tool in the people layer, an increase from only 24% three years ago. And when customers adopt their first security tool, more than one third start with a tool focused on protecting their people, as opposed to devices, infrastructure, and network. Considering these numbers, it's no surprise that KnowBe4 and Mimecast — tools focused on securing email against phishing attacks — made the most-adopted security tools list. And despite "123456" maintaining its spot as the most popular password, we were pleased to see most users taking security into their own hands and deploying multiple factors in addition to, or instead of, passwords. This year's report also highlighted the marriage of better security and increased usability: new customers opted for fewer but stronger factors, demonstrating a response to "factor sprawl" and paving a path to a new era of potentially simpler, stronger factor experience.
It's all about convenience: To determine which tools users most frequently integrate into their daily lives, we also looked at personal apps adopted through Okta. We found that digitization has swept nearly every space and whether paying bills, planning trips, or taking classes, consumers now access the digital versions of services businesses offer across many different industries. Key takeaways? Learning is a top priority, and micro-learning is taking off. Employees want low cost, flexible education opportunities they can fit into their busy schedules, and LinkedIn Learning and Grammarly led the way. We also found consumers prefer frictionless banking and finance apps that take the hassle out of managing money, like PayPal and Venmo. And when it comes to travel, Airbnb's user-friendly platform still snags a reservation on the top hotel and lodging apps list, with Marriott Bonvoy checking in at the top spot. Efficiency is critical, and easy-to-use, fast, convenient personal apps reign.
Over the past six years, we've seen the promise of technology enable our customers and workforce to thrive. In the future, we can expect to see more tailored apps drive even more efficiency. No two companies are alike, and the plethora of new apps on the scene will mean more choice and customization for businesses to do their best work.
You can read the full report findings here.
Haven't caught up on the past five reports? Check them out here: