Workforce Identity Cloud
With Okta Device Access, security starts at power up
Introducing an easier way for employees to securely access every device, app, and resource, at first login.
Early access available now.*
A welcome change for the changing world of work
Today's distributed and hybrid workforce calls for a more secure login solution. By bringing MFA and Password Sync to devices, we give employees a better authentication method, and a simpler and downright delightful way to start their workday.
Securing every device
Ensure consistent security access controls at scale, across all your devices, under a single, unified IAM.
Simplifying SSO even more
Single sign-on is now easier and more secure with passwordless and phishing-resistant authentication.
Powering greater productivity
Streamlined access to devices and apps makes work easier for end users and IT, enabling greater productivity.
Learn how Okta now secures devices too
Speak with an Okta team member to find out how Okta Device Access can help your organisation.
Bringing MFA and Password Sync across all devices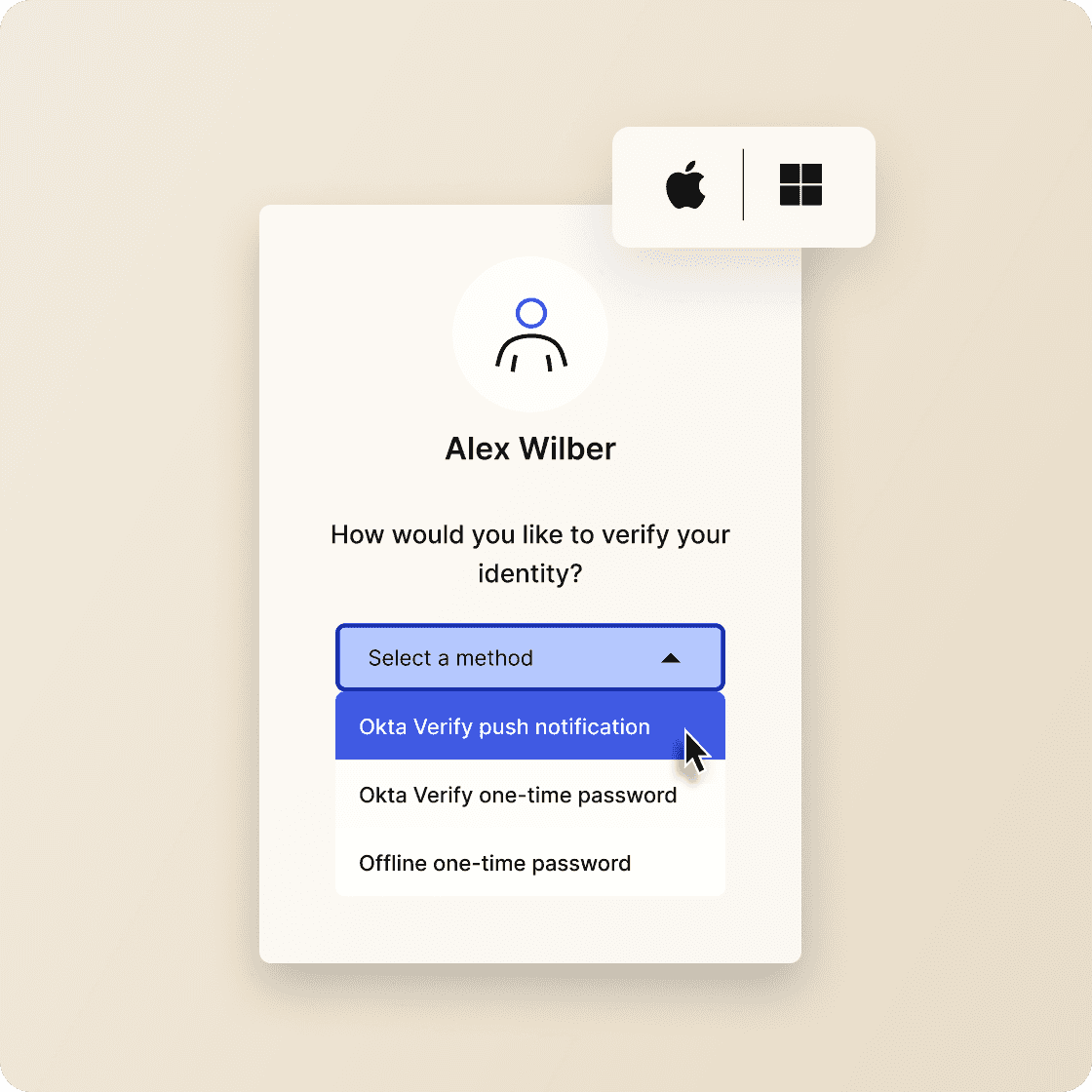 Desktop MFA
MFA for Windows
Bring Okta's MFA to your employees' first vulnerable touchpoint—the desktop login. Available for Windows and coming soon for macOS.
Compliance made easier
By deploying desktop MFA, customers can meet their compliance requirements and qualify for cyber insurance.
Offline authentication and access
Add an offline sign-in method to confirm the user's identity and allow them to gain access without an internet connection.
Read the documentation
Desktop Password Sync
Authentication made easier
Coming soon: synchronise your macOS password with your Okta password and have one less password to remember.
Accelerated access with FastPass
Auto-enroll users into FastPass to provide secure and passwordless access to all their apps.
Stronger password management
Manage device passwords with the security policies of a best-in-class Identity provider.
Read the blog
"Okta Device Access is a natural step on our Zero Trust journey by providing our employees with the seamless access they need to do their best work, while at the same time helping to protect the device."
John McLeod
CISO, NOV
*Okta Device Access will be fully available in October 2023.
Any unreleased products, features or functionality referenced in this page are not currently available and may not be delivered on time or at all. Product announcements do not represent a commitment, obligation or promise to deliver any product, feature or functionality, and customers should not rely on them to make purchase decisions.
---