Workday Driven IT Provisioning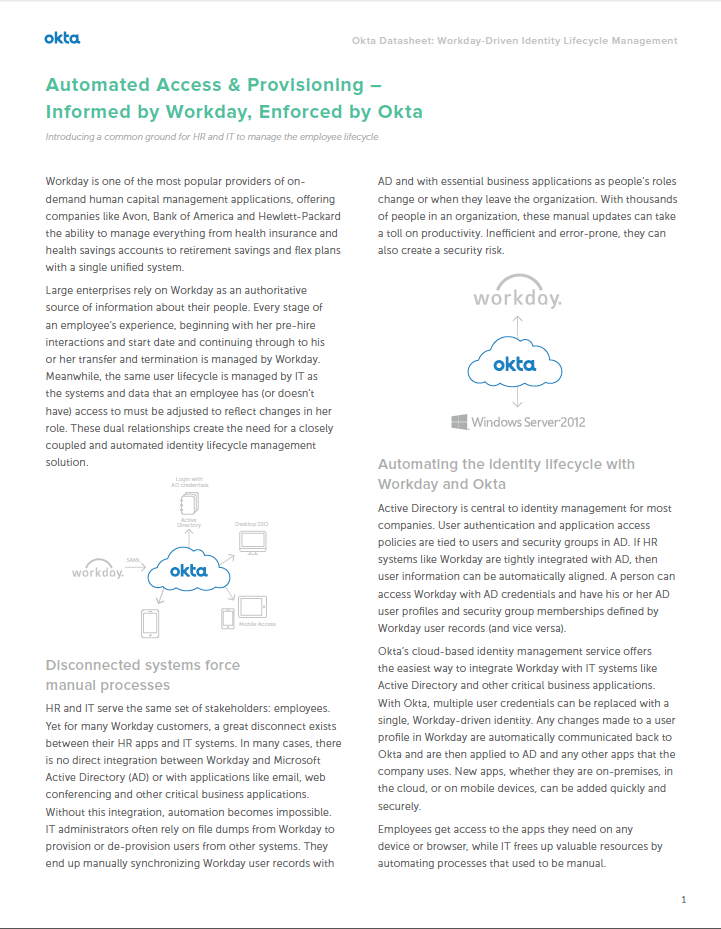 Workday is one of the most popular on-demand human capital management (HCM) applications- providing services such as workforce lifecycle management, and employee benefit self-service that are used by every employee across all organisations. For large enterprises using Workday, the HCM system is the authoritative source of identities. All stages of any identities, including pre-hire, start-date, transfer and termination, are managed and triggered within Workday. Meanwhile, IT is dealing with its own lifecycle of users, primarily triggered by the same HCM changes. Given this interconnectivity, it is necessary for IT and HCM to maintain a tight relationship. However, for many Workday customers, a great disconnect exists between HCM and IT, resulting in a reliance on inefficient and error-prone manual processes, hindering productivity.
As elaborated in this datasheet, Workday-Driven Identity Lifecycle Management with Okta offers easy-to-use HCM-driven automated provisioning and deprovisioning between Workday and IT systems. Additionally, out-of-the-box single sign-on into Workday is also provided to access Workday securely from browsers and mobile devices.