Flex builds an intelligent, connected world. Okta provides a secure foundation.
Watch the Video
top IT initiatives addressed with one identity platform
employees connected to cloud and on-prem apps
of suppliers with fluctuating access to the supply chain
factories connected to the supply chain, customers, and the company
At the epicenter of IoT

A new security landscape

An identity standout

Securing the supply chain

Connecting employees and apps

Engineering a better world
With innovation labs and smart factories, Flex leads the movement towards the Intelligence of Things by designing, building and manufacturing smart, connected devices at global scale.
To protect customer IP, keep supply chains running efficiently, and provide employees global access, Flex IT leaders recognise that they need a reliable identity platform for their entire environment.
Flex leaders identify Okta as a partner that can help address top IT concerns. After Okta passes Flex's rigorous security assessment, the choice is clear.
Securing the supply chain
Okta helps Flex connect the 10 applications in its supplier portal, automate supplier onboarding and off-boarding, and gain control and visibility into their supplier network around the world.
Connecting employees and apps
Flex deploys Okta internally to its approximately 200,000 employees, integrating cloud and on-prem applications and helping bridge communication with thousands of factory workers and the rest of the company.
Engineering a better world
Okta plays an ongoing role as Flex automates factories, connects customers to every aspect of the product life cycle and builds a smarter, more livable world.
A secure foundation for the Intelligence of Things
As Flex grows as a leading designer, manufacturer, and distributor of intelligent, connected objects, customers demand increased security for their data. The company brings Okta on to provide a unified identity platform—securing the supply chain and connecting employees and applications. Together, Okta and Flex build the foundation for a smart, connected world.
Watch the full video
Okta plays a role in all three of my initiatives: Cyber security, business productivity, and best of breed. It fits all three, so it's a perfect match.
Gus Shahin, CIO, Flex
A company at the epicentre of IoT
After a few years of playing around the edges of our lives, the Internet of Things (IoT) is becoming a reality. Connected, intelligent objects are all around—on our bodies, in our cars, in our homes and offices, and in our factories. Flex, a leading "sketch-to-scale" solutions company, is at the epicentre of that proliferation.
Flex dubs IoT the "Intelligence of Things," working with brands as diverse as Ford, Cisco, and Nike to design, build, and manufacture connected objects that interact with humans and other objects in smart, helpful ways—at scale. "Everybody wants all their products connected, whether it's electronics or not," says Flex's Gus Shahin. As CIO, he's intimately involved with providing the infrastructure, connectivity, and security that makes those products possible.
The scale and complexity of Flex's business is enormous. The company employs approximately 200,000 people in more than 100 factories and offices in more than 30 countries around the world. They design, manufacture, and distribute products for more than 1,000 customers in 12 industries, keeping an ever-changing base of thousands of suppliers providing production materials to Flex factories.
As the technology world moved to cloud computing and agile software development, Flex moved in parallel to agile factories and real-time global supply chain management. Today, the company continuously adds factories, suppliers and employees to their portfolio in one part of the world, while also consolidating or redeploying other resources as needed, according to the global market and customer needs.
Flex also runs innovation labs in cities around the world, where individual designers, startup teams, and inventors can work with Flex engineers to take ideas from a napkin sketch to full-scale mass-market production. In this culture of change and innovation, Flex leaders cultivate a transparent, can-do mentality where anything is possible.
Keeping up with constant change
The dynamic nature of Flex's business can create challenges when it comes to onboarding and offboarding suppliers, customers, employees, and the factories themselves. Protecting customer data, keeping suppliers in the loop and securing employee access to critical applications—all present sizable security and productivity challenges.
As Flex CISO Fritz Wetschnig points out, customers' first concern is no longer about the physical security of factory floors—it's about whether or not Flex can protect their IP and their data. "There's more demand on security, which results in more contractual obligations," he says.
CIO Shahin determined early on that he would steer his team toward best-of-breed applications, taking advantage of innovative solutions from forward-thinking businesses rather than sticking with the big names just based on what's familiar.
Wetschnig was on board with that strategy. Agility and innovation, he says, have always been part of the cyber-security landscape. Hackers, after all, constantly adapt their methods to get around protection measures. Whether the "innovation" is positive or negative, processes, solutions, and people must be ready to adapt quickly.
The one thing that should not change, says Wetschnig, is user identity—whether you're talking about a supplier, a customer, an employee, or an IoT sensor. "Identity is one of the biggest, most important topics of the future," he says. For Flex, choosing a partner for the long-haul was of crucial importance.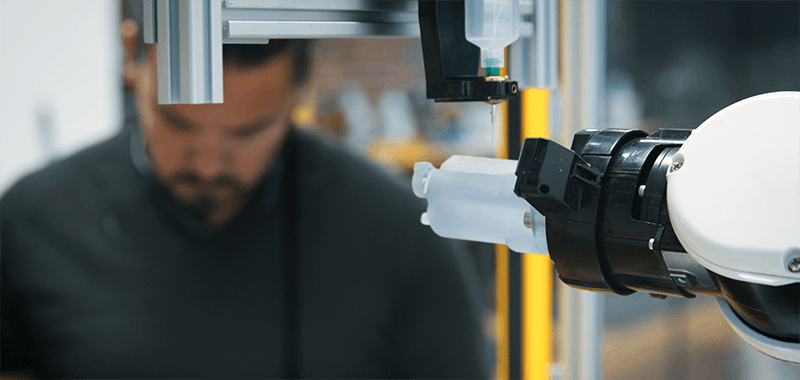 Choosing an identity standard
John Wrenn, Flex's VP of information technology, enterprise applications, brought Okta to the attention of the Flex team. "When I saw Okta, I thought of the transparency it could add to our user base to further enhance access to our applications,'" he says. He saw the potential right away for unifying Flex's system landscape, including ERP, advanced analytics and the supply-chain platform.
In choosing an identity provider, the team had in mind their top three IT initiatives: cyber security, best-of-breed solutions and business productivity. They quickly saw the Okta benefits for all three areas: "It plays a very important role in security, in terms of access management with our supply base and our internal users," says Shahin. "It's very important in the business productivity initiative as well, giving users that look and feel, easier way of working. And of course, best of breed—Okta excels in the identity management space, so that's who we want to use. For me, it's a perfect match."
The rest of the team agreed, but as a cloud provider, Okta had to pass a rigorous, 150-question review of its infrastructure, security processes, and privacy policies. That didn't turn out to be any obstacle. According to Wetschnig, Okta passed the assessment with no major issues. "What we saw was the right focus on security," he says. "Security is central to everything they do."
Securing the supply chain
As product life cycles shorten, speed becomes even more important. Efficient inventory and increased asset velocity through the supply chain means Flex customers can respond quickly to changes in the marketplace.
"We have thousands of suppliers at Flex, with a subset of those active at any given time. The churn in the supply base is continuous and pretty high. It depends on what you're building, when you're building it, and where," explains Shahin. To keep things organised and automated, Flex created a supplier portal comprising about 10 applications that suppliers can log into from anywhere in the world to verify supplies, confirm orders, change dates, and so forth.
The challenge, because of the churn, was how to streamline security for that supply portal: Make sure active suppliers can access their orders, and suspend access for currently inactive suppliers. IT worked with the Okta team to automate supplier onboarding and offboarding, and today Flex has enhanced control and visibility into their supplier network.
Suppliers are happy, as well. Okta's self-service features allow them to reset their own passwords when needed. Improved access to the Flex portal means increased productivity on their end.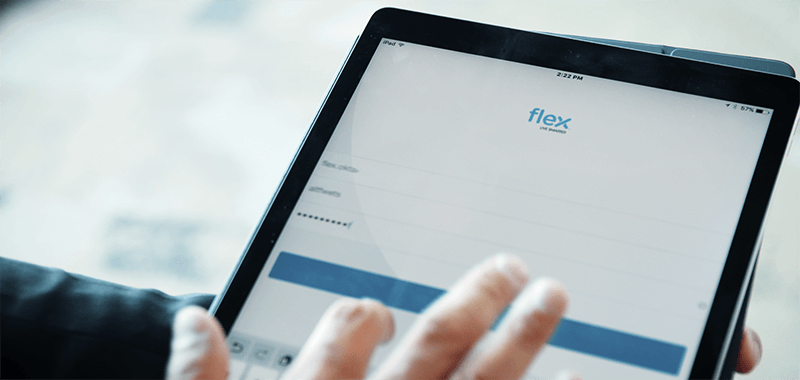 Connecting employees and apps
Shahin's next move was to deploy Okta internally to the approximately 200,000 Flex employees. The goal was twofold: to integrate access to cloud productivity applications, and to enhance employee communication.
"We have a pretty good split between cloud and on-prem for our application landscape," says Shahin. First, the company is integrating Okta with a range of leading cloud applications, including Office 365, Box and Workday. Next comes mission-critical on-prem apps in use within Flex factories. "It's basically the connectivity layer for all our apps," he says.
Okta also makes it possible for the thousands of factory workers who didn't have profiles in Microsoft Active Directory to communicate with the rest of the company. "Now we can more easily reach them and share information with them," says Shahin. "That's important for us." While many employees don't have laptops, they all have smartphones. Okta's mobile capabilities mean they can access company apps and information from anywhere.
Wetschnig appreciates the way Okta just works. "It's a more user-friendly system for our suppliers, for our people. On the other hand, it helped us improve security in terms of how we manage access, how we can attack any inappropriate access."
Engineering a better world
For Flex, getting identity management figured out for applications and people is just the tip of the iceberg. The company at the epicentre of the Internet of Things naturally plans to extend its identity solution to the machines that create those things, and eventually, to the things themselves.
"Everything requires sensors in order to be connected," explains Shahin. "Connect those sensors, and they start feeding you data. Once you start collecting that data, it all needs to be linked to an identity. You need to know where the data is coming from."
Soon, software-defined, fully automated factories will do analytics on the fly, perform predictive maintenance, and build things with robotic precision. Flex customers will access end-to-end solutions that offer them insight and control into every aspect of the design, manufacturing, and distribution of their products. The products themselves will retain identities throughout their life cycles that feed information back to help companies build the next product, make it more useful, and bring it to market.
And what on earth will humans do? At Flex, the idea is to use all that data to create a better, smarter, and more livable world for everyone.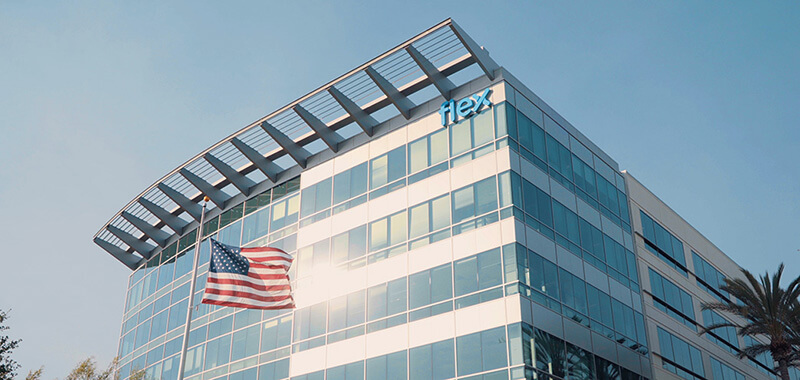 About Flex
Flex is a leading sketch-to-scale solutions provider that designs and builds intelligent products for a connected world. With approximately 200,000 professionals across 30 plus countries, Flex provides innovative design, engineering manufacturing, real-time supply chain insight, and logistics services to companies of all sizes in various industries and markets.