Hybrid IT is a deployment model that combines solutions of different kinds to form the overall IT infrastructure. Most of the time, hybrid IT combines solutions hosted on-premises with cloud services. Hybrid IT is considered the most popular deployment model (especially in larger organisations). Almost 70% of large enterprises use this type of environment.
Why is Hybrid IT popular?
Hybrid IT provides great cost-benefit for organisations that already have critical systems on-prem and want to deploy innovative cloud, IoT, or Edge solutions quickly. By adopting hybrid IT, these orgs combine what works best for them today. Without making the hosting environment the primary decision driver. 
The typical Hybrid IT environment
In its most popular format, Hybrid IT environments combine:
Complex on-prem apps: SAP ERP, Oracle E-Business Suite, IBM Mainframes, Exchange On-Prem, and Microsoft Sharepoint or Active Directory.
Cloud services: Amazon AWS, Microsoft Azure, Salesforce, Office 365, Slack, Zoom, etc.
Some companies will have different combinations of environments based on their core business requirements. Retail, Automotive, and Oil & Gas enterprises are likely combining IoT systems, on-premises, and cloud solutions in their Hybrid IT environments. On the flip side, e-commerce, gaming, and video streaming companies often rely on edge computing and cloud infrastructure as a service (IaaS) to keep up with their latency demands.
In this blog post, we will focus on the most popular type of Hybrid IT for most organisations: the combination of on-prem and cloud environments.
Why is Hybrid IT not the same as Hybrid Cloud?
The Hybrid IT model combines environments of different types such as traditional on-prem environments, cloud environments, IoT, and edge computing. Hybrid Cloud, as the name implies, is a model that combines only clouds – such as public, private, and community clouds – to form the environment. Some people may argue that Hybrid Cloud includes cloud environments hosted on your premises. Still, this term is not as inclusive as Hybrid IT.
Is Hybrid IT a trend (or hype)?
The IT industry expects more organisations to adopt Hybrid IT environments in the next few years. Gartner predicts that, by 2021, over 75% of midsize and large organisations will have adopted a multi-cloud and/or hybrid IT strategy. One of Gartner's key takeaways is that "Hybrid IT environments are becoming the new normal, with many enterprises managing workloads in data centers, in the public cloud and at the edge".
A recent piece of Forrester research commissioned by IBM also asserts that, "on premises continues to play a key role, with 90 percent of IT decision makers agreeing that on-premises infrastructure is a critical part of their hybrid cloud strategies."
The increase in Hybrid IT adoption creates challenges for IT management and requires a change in legacy processes to create, deploy, manage, and govern multiple environments.
What are the Hybrid IT challenges?
Hybrid IT – like Hybrid Cloud, Multi-Cloud, or any other deployment model – requires IT management. However, Hybrid IT is typically more complex to manage due to significant differences between cloud and on-premise systems. The top-3 challenges of managing Hybrid IT are: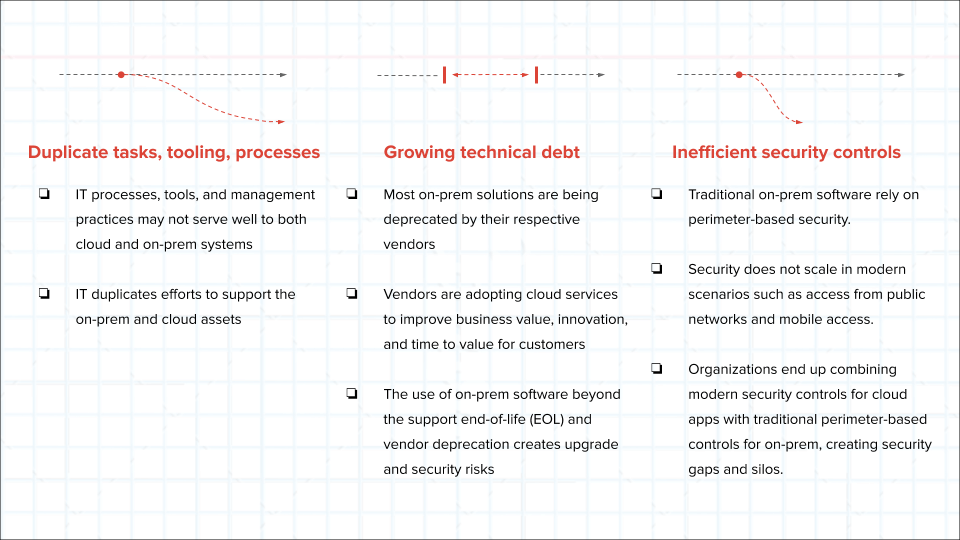 Duplicate tasks, tooling, and processes caused by the differences in on-prem and cloud technologies.
Growing technical debt due to the use of deprecated on-prem software beyond the software vendor recommendation.
Inefficient security controls and security silos across on-prem and cloud resources.
Adopting Hybrid IT without factoring these challenges is like playing 3D chess. The best way to mitigate these challenges is to leverage management best practices.
What are the best practices for managing Hybrid IT?
To overcome the Hybrid IT challenges, organisations adopt proven best-practices that includes:
Reviewing IT management tools and processes to support both all IT assets.
Leveraging Software as a Service (SaaS) solutions to streamline infrastructure tasks such as patching, backups, and operations.
Keeping an inventory of on-prem systems with their respective roadmap informing if the system will continue running, be immediately replaced, retired, or deprecated. This information helps you predict and prevent technical debt down the road.
Adopting comprehensive security controls that can support both cloud and on-prem systems in modern use-cases such as modern remote, mobile access, and multi-factor authentication.
Hybrid IT, combined with management best practices, is the right deployment model for many organisations. With the right mindset, you can avoid silos while keeping your environments safe. To learn how, check our 3 power tips on how to secure the Hybrid IT fast.
And to learn how Okta can help you keep your Hybrid IT safe (without silos), check out this video: