Improve IT Admin Insight with the New Import Monitoring Dashboard
Importing new users into Okta from directories like Active Directory and LDAP, or HR systems like Workday and SuccessFactors, can be a painful experience for IT administrators. Okta Admins had no way of knowing what imports were currently running, had recently completed, or failed, or any way to gage the completion of an in-progress import. 
That state of affairs is over. We're excited to announce Generally Availability (GA) of the Okta Import Monitoring Dashboard for all customers. This new import dashboard provides a single view of all imports currently in-progress, completed or failed in the past week. This improves the admin experience for Okta customers, and will reduce confusion that arises due to a lack of admin information.
Let's go through the specifics of what the Okta Import Monitoring Dashboard is, and how it improves the admin experience for Okta customers who perform frequent imports. 
The problem: admins had no visibility into or control over imports
Previously, admins had no view into the status of in-progress import data such as​
Time initiated​
Phase of completion​
Number of users or groups added, updated, or removed​
Or a single location to see imports from multiple identity sources, so
Finding an Individual import required a search of the system log for related events
There was no holistic view that displayed all identity sources
Benefits
The new Import Monitoring Dashboard solves all of these problems with a centralised view of in-progress and recently completed imports from all identity sources​. Benefits include 
Visibility into the current phase of execution for in-progress imports​
Summary statistics for recently completed imports​
Clear communication of import failure​ data
A link to SysLog for granular information about each import​
Sold! Where do I find it?
You can navigate to the new dashboard in two ways:
Under the Reports menu, scroll down to Import Monitoring.
From your configured import source, find and click the Monitor Imports link.
The dashboard functionality also allows admins to filter by the status of the import and the import source. Check out these views in your own Okta org!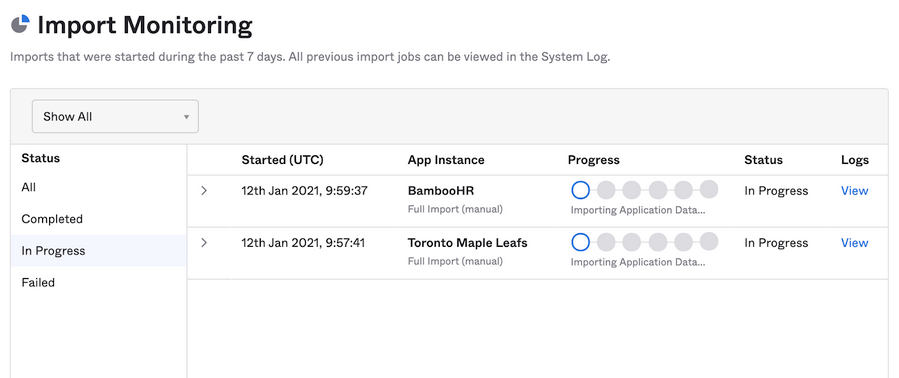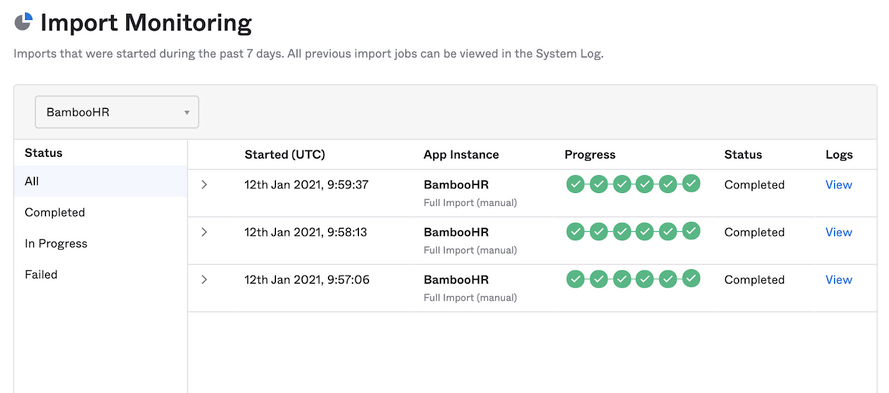 And that's it! You're all set to start using the Import Monitoring Dashboard.
There's more to come!
But we're not resting. We're actively working on improvements that we know will enhance future versions even more, so stay tuned for more exciting things to come!
Interested in more deep dives into Okta features? Check out our blog series The Production Line to learn about features you may have missed the first time around.