Infographic: The Okta Digital Trust Index - Exploring the human edge of trust in manufacturing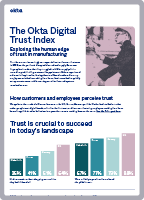 Trust became an increasingly consequential matter for manufacturers in 2020, as the pandemic disrupted demand and supply. The Okta Digital Trust Index surveyed hundreds of office workers across the manufacturing sector in Europe to find out:
What makes customers trust a brand – and what breaks that trust?
How secure do manufacturing employees feel when working remotely?
How big is the risk of cyberthreats and how are employers improving their security in response?