Funding Circle: Peer-to-peer lending marketplace finds investment in identity solution quickly pays off
Watch the video
in loans made possible through Funding Circle
reduction in password resets for Okta-integrated applications
of employees protected with Adaptive MFA
An innovative company seeks identity federation

Identity management for a global lending platform

Internal communication streamlined within seconds

The future: agile, productive, and pure cloud
An innovative company seeks identity federation
Funding Circle started with a cloud-first strategy, but in order to fully embrace the cloud, the financial service needed a reliable and scalable identity solution.
Identity management for a global lending platform
Funding Circle chose Okta to supply SSO, Universal Directory, Adaptive MFA, and Lifecycle Management for 750 users operating the financial service's global lending platform.
Internal communication streamlined within seconds
With Okta Lifecycle Management, Funding Circle was able to deploy Slack for the entire global team in just seconds. This enables employees to collaborate around the world with a consistent identity and reliable security.
The future: agile, productive, and pure cloud
Funding Circle's next part of its journey with Okta is to integrate more applications, and maintain a cloud-first strategy for agility and productivity.
Building secure connections to grow economies worldwide
Find out from Funding Circle's head of infrastructure just how Okta helps the financial service pursue a fully cloud-first strategy.
Watch the full video
We selected Okta because they had better integration, better ecosystem in terms of the apps, and also the user experience.
Ayotunde Obasanya, Head of Infrastructure, Funding Circle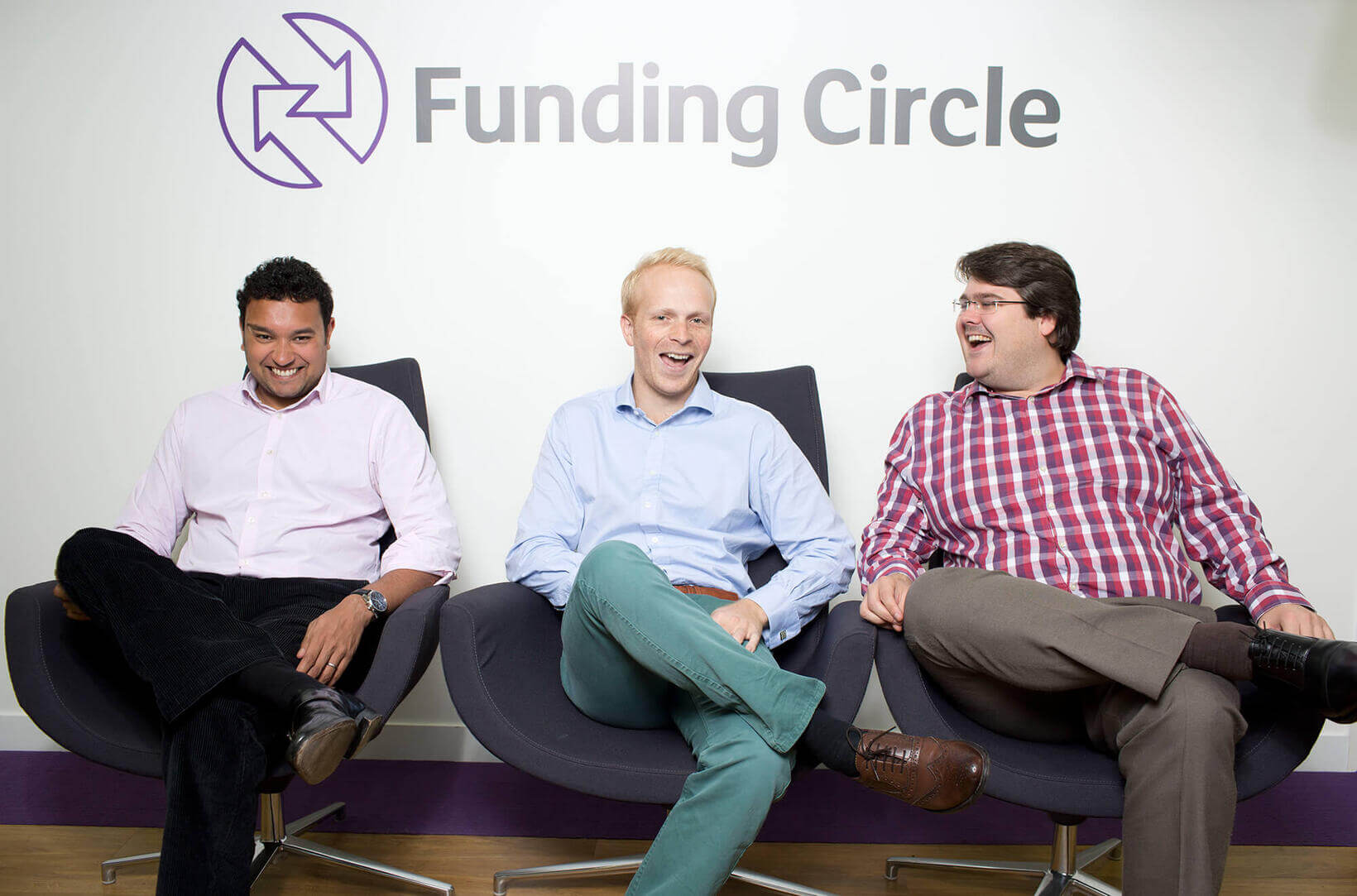 Highlights
Funding Circle employees have Single Sign-On access across multiple applications and platforms
Adaptive Multi-Factor Authentication for enhanced security, with flexibility including SMS push notifications, Google authentication and Okta Verify with Push
Lifecycle Management allows comprehensive control over lifecycle states with automation and customisation
Compliance with complex financial regulations across diverse regions
Consistent user experience globally for customers and personnel
Massive reduction (80%) in requests and calls to IT help desk for Okta-integrated applications
100% of employees protected with Adaptive MFA
An innovative company committed to the cloud
It has been seven years since Funding Circle launched with a big idea - to revolutionise the way small businesses access finance. In that time, more than 30,000 businesses across the UK, US, Germany and the Netherlands have borrowed $3.5 billion from a wide range of investors including 60,000 people, local, national and supra-national government, and financial institutions. The Funding Circle platform is already one of the largest net lenders to small businesses in the UK according to Bank of England statistics.
For too long, small businesses could only access the funds they needed to grow from a small number of high street banks. In the wake of the financial crisis, we saw just how fragile this ecosystem was. When Funding Circle were first thinking about how to better help small businesses, they considered how larger businesses had multiple ways to raise finance and wondered why small businesses didn't have the same choice. What they wanted to create was the infrastructure - similar to a stock exchange or bond market - where any investor, be they individuals, financial institutions or even governments, could lend to small businesses. We're pleased to say this is the case today. Recent research by the CEBR found that since launch, loans facilitated by Funding Circle have contributed £2.7 billion to the UK economy and supported the creation of 50,000 new jobs across the country.
The platform combines cutting edge cloud technology and proprietary risk models with a wealth of credit assessment expertise and experience. To date, investors have earned a 7% average return after all fees and losses. Cumulative returns over the last five years have outperformed the FTSE 100 and are less volatile. By opening up a new asset class that was previously only ever held on bank balance sheets, Funding Circle ensures small businesses can always borrow from a wide range of investors regardless of economic environment, which in turn creates a more stable and sustainable ecosystem.
Tried and true
When Ayotunde Obasanya joined Funding Circle as head of infrastructure in the fall of 2015, he saw that Microsoft's Active Directory wasn't sufficient for all the needs of the company. "We needed a way to federate our identities across to all these multiple applications within the cloud," he says. He had already experienced Okta's benefits at a previous organisation and made the decision to revisit it at Funding Circle.
"Because we started as a startup, we grew very rapidly over the last six years. As a cloud-first company, we wanted to make sure the company was innovative, very agile, and very first to market," says Obasanya. "What that meant for us is we had quite a number of cloud applications that were rolled out. We're not a traditional organisation, so we don't use Office 365 or Outlook—we use Google [Apps]." The challenge for the IT teams, then, was how to support that securely and efficiently, ensure a consistent user experience, and meet compliance standards.
As a cloud-first company, we wanted to make sure the company was innovative, very agile, and very first to market.
"What I think stood out about Okta was the ease and the flexibility and the ecosystem we had with their application network," Obasanya continues. "What that meant was the applications we wanted to integrate today, and potentially applications we wanted to integrate in the future, were already a part of their network. In terms of the security features we were looking for, in terms of the work flow management and automation, Okta [was] spot on."
Once it was time to set up Okta, Funding Circle's IT team did it themselves—and the task was simple. They were able to deploy applications and set up application integrations without needing to rely on Okta's support staff. "It just worked," Obasanya says. "I think that's a true testament of the product in terms of the design, how it's been thought out, and how all of the applications work seamlessly."
Sign-on, security, and Slack
With Okta in place, the advantages have been clear. Employees are particularly happy with Single Sign-On access to the tools they need. No longer are personnel required to memorise multiple long passwords. Instead, each member of the team has just one federated identity provisioned from the cloud, regardless of which application is in use or whether the employee is working remotely or in house. In fact, after deploying Okta, there was an 80% reduction in password resets for Okta-integrated apps.
The security benefits stand out as well. Adaptive Multi-Factor Authentication (AMFA) provides both security and flexibility for Funding Circle. Its IT team can create robust access policies based on user data such as location, IP address or device. Depending on Funding Circle's set adaptive policies, AMFA will then allow access, deny it, or require step-up authentication via MFA factors like Google Authenticator, an SMS push, or the Okta Verify with Push mobile app. Since AMFA applies across the board, Funding Circle's IT team gets the security it needs, while end-users get simplicity—important for a financial organisation.
Like many companies, Funding Circle uses Slack for internal communications, and the gains here are clear, too. It once would have taken weeks to deploy a new application to 750 users around the world. With Okta Lifecycle Management, Slack was deployed within seconds, which means employees were able to securely collaborate right away.
Funding Circle now uses Okta Lifecycle Management for other critical apps including AWS, Github, Office 365, and Salesforce as well. Having automated provisioning in place delivers significant productivity gains and IT savings, which is crucial for a company as fast-growing as Funding Circle. Funding Circle is also able to efficiently offboard former employees through Lifecycle Management. This removes access to confidential company information—critical for security and compliance regulations.
Rest assured
"Our belief is to make the financial world a better place. I think part of our ethos, essentially, is to make sure that small time business lending is available to businesses everywhere to contribute to their economy, to make sure that access to finance is easier. That's what we do best," says Obasanya. As such, the company needs to provide a seamless, secure experience to customers and employees wherever they are—an experience that must also be compliant with regulations in diverse regions. To fulfill these objectives, Funding Circle has to know who people are within the organisation, and know that which applications these users have access to.
Our business can go to bed at night and feel very, very comfortable that we have the right expertise and the right backend to support our applications' delivery.
Okta helps achieves all this. "Our business can go to bed at night and feel very, very comfortable that we have the right expertise and the right backend to support our applications' delivery," Obasanya says. In a world where breaches are commonplace, peace of mind cannot be overlooked.
Today, Funding Circle looks forward to integrating more best-of-breed cloud applications with Okta. With Okta as the foundation for its cloud-first strategy, Funding Circle has the agility needed to scale and support small businesses worldwide.
About Funding Circle
Headquartered in London, Funding Circle is the world's leading lending marketplace exclusively focused on small businesses—more than $3.5 billion has been lent to 30,000 businesses in the UK, USA, Germany and the Netherlands. Today, businesses can borrow directly from a wide range of investors, including more than 65,000 people, the UK Government, local councils, a university, and a number of financial organisations.