What to Look for in a Modern Customer Identity Solution
The right CIAM solution is an asset to any modern business, but how do we identify what makes good customer identity? In this post, we explore the key features and capabilities every modern CIAM solution should offer. 
The right customer identity and access management (CIAM) solution is an asset to any business. It ensures every digital interaction is secure and seamless, and helps organisations better understand how their customers prefer to shop online. Choosing the right CIAM solution, however, can be challenging – especially if you're unsure of what to look for.
To help simplify your CIAM buying process and ensure you make the right choice for your business, this post will explore both the short term and long-term benefits and review all areas – from product and platform types through to infrastructure and brand reputation.
Which CIAM product features matter most?
When choosing a CIAM solution, you should look for out-the-box features that are easily configurable and fast to deploy across your network. Some common examples of these product features include: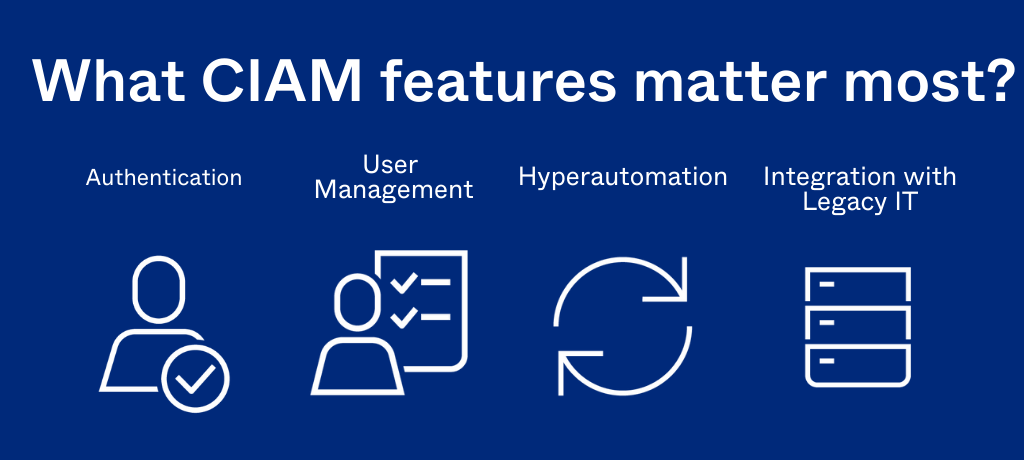 Authentication: Securely and seamlessly verifying users is a critical component of any CIAM solution. Alongside social logins, and single sign-on, a modern CIAM solution should provide strong and intelligent multi-factor authentication that can verify customers across all devices, locations, and apps.
User management: Your CIAM solution should also provide a highly scalable cloud-based user store to manage all your users, groups, and devices; user profiles mapping; and support for your preferred user migration approach (bulk import, just-in-time, existing directory).
Hyperautomation: Automating customer lifecycle management is another huge benefit of CIAM. Be sure to check the solution can provision and deprovision users autonomously to downstream apps and all systems across your technology stack.
Integration with legacy IT: While cloud is the future, many organisations still rely on legacy technologies to run their day-to-day operations. Considering this, be sure to choose a CIAM solution that can integrate with all your IT systems, both on premises and in the cloud.
Which platform should your CIAM be built on?
To get the most long-term value from your CIAM solution, you should look for one that's built on an open, independent, and neutral platform. Here are some of the reasons why: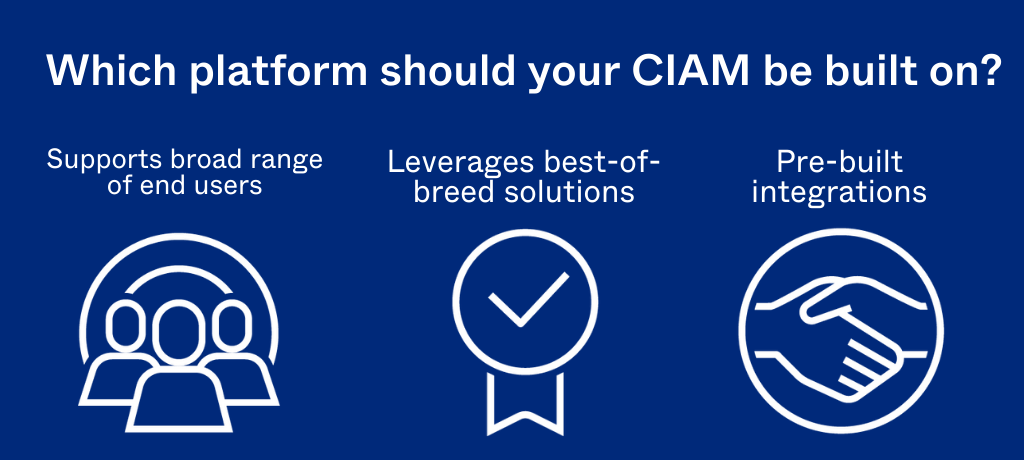 Supports a broad range of end users: While solving customer needs is likely your primary motive, your CIAM solution should also support partners, and even your employees. This way, you have a future-proof foundation that continues to meet your needs as they evolve.
Leverages best-of-breed solutions: Technology is constantly changing. And you'll need an agile CIAM solution that can quickly harness new innovations to ensure your customers have all the best tools on the market at their disposal.
Pre-built integrations: For greater operational efficiency and security, you should also look for a CIAM solution that supplies a large catalogue of pre-built integrations with core apps and services in your tech stack such as API gateways, bot detection, security analytics etc.
What benefits should your CIAM infrastructure offer? 
One of the greatest benefits of a modern CIAM solution is that it is delivered via the cloud – giving you far greater scalability, reliability, and security. When choosing your CIAM solution, be sure to factor the following: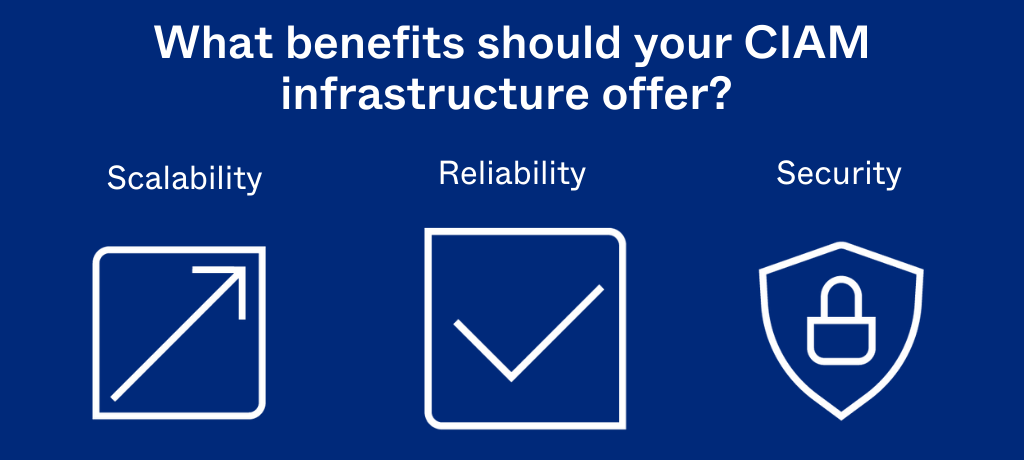 Scalability: Ensure the CIAM solution can scale easily and support your organisation as it grows. While your needs may be small initially, future success depends on you CIAM solution being able to support hundreds of thousands of authentications per minute – so make sure the CIAM vendor you choose is up to the task.
Reliability: Even a small percentage of CIAM downtime can be highly damaging to your customer experience and brand reputation. Considering this, look for a CIAM solution with a proven record for maintaining consistent uptime for every customer whenever and wherever needed.
Security: In today's rapidly expanding cybersecurity landscape, it pays to invest in a solution that promises to protect your customers from all the latest threats. For this reason, you should choose a CIAM solution that provides regular automated maintenance and security updates to eliminate credential-theft and other risks.
What to look for in a CIAM provider?
In today's highly competitive CIAM marketplace, it can be difficult to choose one vendor over the next. Below are some examples of things you should consider when making your decision:
Accreditations: Check that the CIAM vendor you're considering has independent third-party validations such analyst reports and certifications like the Service Organisation Control (SOC), Cloud Security Alliance (CSA) and International Organisation for Standardisation (ISO).
Compliance and regulatory requirements: Ensure they meet all data privacy and regulatory compliance standards such as the General Data Protection Regulation (GDPR) and the Health Insurance Portability and Accountability Act.
Demonstrable customer success: Look for customer success stories from organisations that share similar customer identity needs to your own.
What are the next steps?
Now that we've explained all the key features and capabilities every modern Customer Identity solution should offer, it should be much simpler for you to choose the right vendor for your business. However, if you're still unsure about any of the above, please feel free to read through our CIAM Buyers Guide or contact one of our customer identity experts here for a quick chat.