Magic Quadrant für Access Management (August 2019)
Gartner positionierte Okta im dritten Jahr in Folge als Leader im Magic Quadrant für Access Management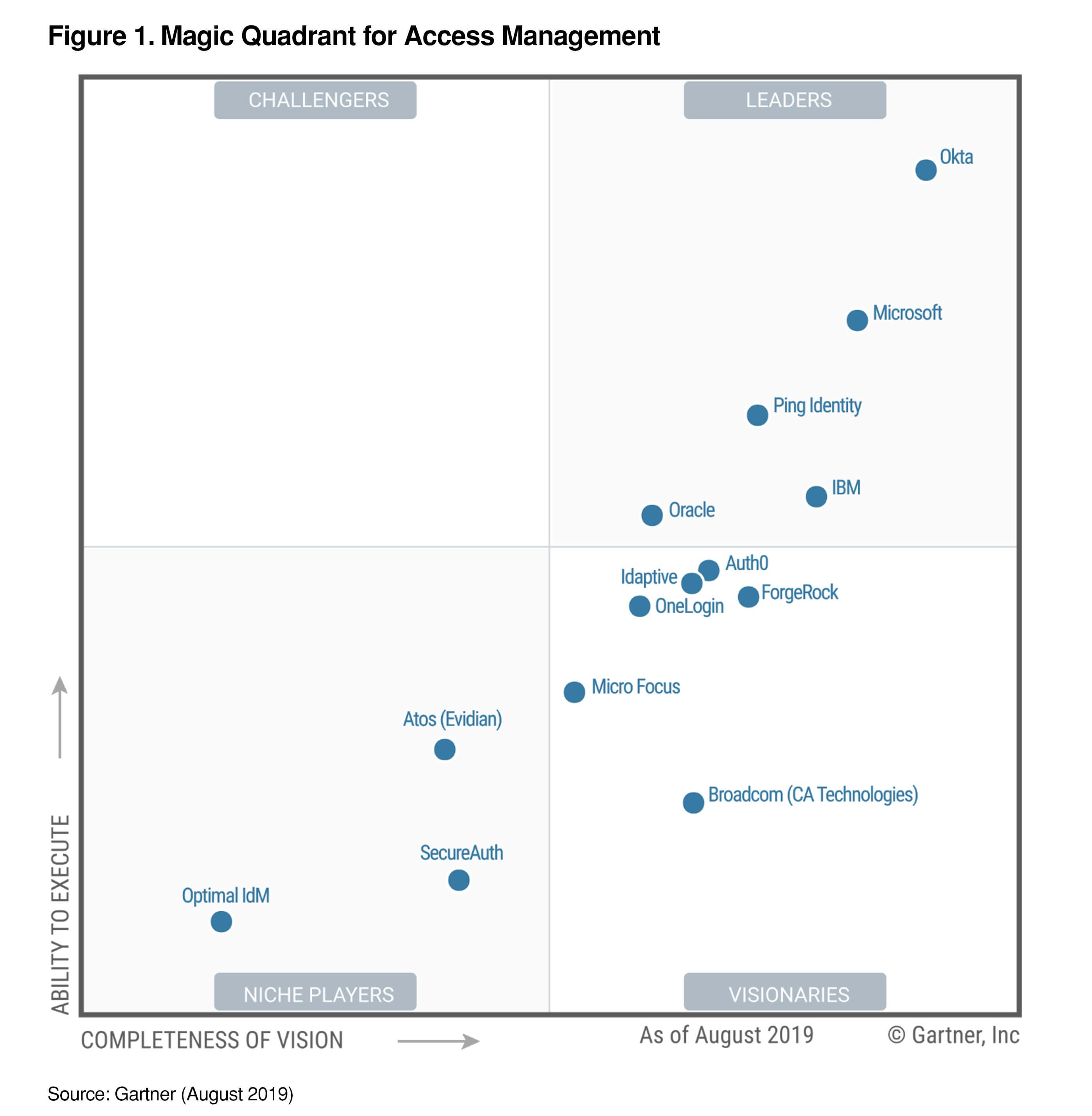 Okta wurde von Gartner kürzlich als Leader im "Magic Quadrant for Access Management, August 2019" ausgezeichnet. Okta wurde im dritten Jahr in Folge in den Kategorien "Ability to Execute" (Umsetzungsfähigkeit) und "Completeness of Vision" (Globales Unternehmenskonzept) als bestes Unternehmen eingestuft.
Im Juni zeichnete Forrester Research Inc. Okta in The Forrester Wave™ als Leader aus: Identity-As-A-Service (IDaaS) for Enterprise, Q2 2019.
Im November 2018 erwähnte Forrester Research in seinem Bericht The Forrester Wave™ Okta auch als einen starken Performer: Zero Trust eXtended (ZTX) Ecosystem Providers, Q4 2018. Die Studie bewertet Okta mit der höchstmöglichen Punktzahl in den Bewertungskriterien "Personen-/Mitarbeiterschutz", "Vision und Strategie des ZTX" sowie "Marktstrategie".
Anfang des Jahres veranstaltete das Unternehmen seine jährliche Anwenderkonferenz Oktane19in San Francisco, wo es neue Produkte und erweiterte Funktionen vorstellte. Im ersten Quartal dieses Jahres gab das Unternehmen bekannt, dass 6.550 Organisationen Okta nutzen, um Menschen und Organisationen sicher mit den richtigen Technologien zu verbinden.
Für weitere Informationen laden Sie bitte den vollständigen Gartner-Bericht herunter.
Bitte beachten Sie der Report ist in Englischer Sprache
Gartner, Magic Quadrant for Access Management, Michael Kelley, Abhyuday Data, Henrique Teixeira, 12. August 2019.
Diese Grafik wurde von Gartner, Inc. als Teil eines größeren Research-Dokuments veröffentlicht und sollte im Zusammenhang mit dem gesamten Dokument bewertet werden. Das Dokument von Gartner kann bei Okta angefordert werden.
Gartner empfiehlt keine Anbieter, Produkte oder Dienstleistungen, die in Research-Publikationen des Unternehmens vorgestellt werden, und empfiehlt Technologieanwendern nicht, nur die Anbieter mit den höchsten Bewertungen oder anderen Kennzeichnungen auszuwählen. Gartner Forschungspublikationen spiegeln die Meinungen von Gartner wider und sollten nicht als Fakten ausgelegt werden. Gartner übernimmt für die vorliegenden Untersuchungsergebnisse keinerlei Gewähr, weder ausdrücklich noch stillschweigend, und schließt jegliche Zusicherung wie z. B. der handelsüblichen Qualität oder der Eignung für einen bestimmten Zweck aus.