What Is CIAM & Why Does It Matter?
To satisfy evolving customer demands and deliver the desirable digital experiences that keep customers coming back, many organisations now turn to customer identity and access management (CIAM) for a solution. But what is CIAM and why does it matter?
In today's rapidly evolving and highly interconnected digital world, identity and access management lives at the heart of every customer journey. From banks and retailers to government agencies and healthcare providers, identity helps organisations build trust and satisfy growing consumer demands for faster and more secure digital experiences. 
But what is customer identity access management (CIAM), who needs it, and how do you choose the right CIAM solution provider for your business? In this post, we'll answer the above and give a quick run-down of all the ways CIAM can help improve your customer experience to drive future success.
What is CIAM?
If you're still uncertain about the CIAM definition, don't worry! You're not alone. While many people struggle to explain what CIAM is, the fact is that you probably already use it every day without even realising. From fingerprint ID or facial recognition to signing up to new websites using social media, CIAM exists all around us.
Though it has many different use cases and benefits, CIAM is best described as a digital identity layer that organisations can embed into their customer facing apps, websites, and portals to verify who their customers are and manage what they have access to. The three main capabilities that every effective CIAM technology must deliver are:
Authentication – this ensures that the people logging into their accounts are who they say they are to prevent data theft and fraud
Authorisation – this ensures that only the right customers have the right access to the apps, tools, and services they need based on their unique user profile
User management – this simplifies customer identity management across complex IT environments to streamline digital experiences for the end user
Who needs CIAM?
Whether you are a B2B or B2C company, customer satisfaction is always the key priority. As digital transformation continues to spread, finding a way to keep up with evolving customer demands by delivering secure, seamless omnichannel access across all apps and services is critical to future success – and CIAM offers a simple solution to this complex challenge.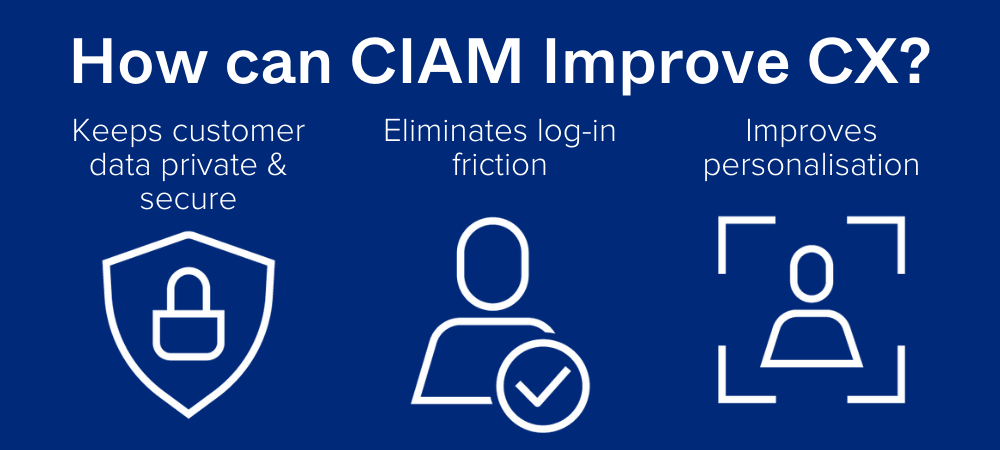 How can CIAM help improve your customer experience?
Customers today are more demanding than ever before. They expect organisations to meet their demands without question. Trust, security, and accessibility all rank high on their list of priorities, and failure to meet them increases the risk of customers abandoning their carts and moving on to the nearest competitor. Here are some of the ways CIAM stops that from happening:
Keeps customer data private and secure
Doubts about data privacy and surging cybercrime are a huge concern for customers today. By verifying every login with strong Multi-Factor Authentication (MFA) and eliminating the need for vulnerable usernames and passwords with Single Sign-on (SSO), CIAM technology can reduce the risk of security breaches by up to 75% (Making A Business Case for IAM, Forrester 2019)  and helps organisations build trust with every customer interaction.
Eliminates log-in friction
Nothing drives customers away faster than a slow and frustrating log-in or sign-up experience. By replacing multiple usernames and passwords with one single, secure password less authentication to access all accounts on any device, SSO allows our customers to log in to apps up to 50% faster.
Improves personalisation
In the modern digital world, customers reserve their trust and loyalty for the organisations that know them. By unifying data across all IT systems into one central, secure location, CIAM allows organisations to gather valuable insights on login behaviours and gain a deeper understanding of what drives positive customer experiences.
How do you choose the right CIAM solution for your business?
In a highly competitive CIAM marketplace, selecting the right CIAM provider can be a difficult decision. To help make things simpler, here are some key questions to consider when making your choice.
How reputable is your CIAM provider?
When in doubt, always trust the voice of the customer. Be sure to look for organisations that share your goals and pains and note how successful the CIAM solution provider was in helping them solve those challenges, in both the short-term and the long.
Does the CIAM solution support apps both on-prem and in the cloud?
While cloud is the future, many organisations still rely on legacy systems to support their customers. Considering this, you should look for an agile CIAM solution that can easily integrate with both cloud and on-prem apps and adapt to suit your needs whenever necessary.
Is the CIAM solution scalable?
What solves your organisation's customer identity challenges in the present day may not solve the challenges of tomorrow. Considering this, it's key to choose a CIAM solutions that can scale with your business and continue building great customer experiences as you grow.
For further information on what CIAM is and how it can benefit your business, download your copy of Wiley's CIAM for Dummies eBook or contact one of Okta's friendly experts now for a chat.