Securely Enable Remote Work
Enable productivity without compromising on security

FedEx rapidly deploys the Okta Identity Cloud to secure its remote and essential workforce
"Due to the increased work-at-home environment that we've had the last few weeks, we actually had to accelerate some of our plans and over a 36-hour period, we actually moved Workday, Office 365, WebEx, Check Point VPN, and Zoom to Okta SSO."
–Trey Ray, Manager, Cybersecurity
Benefits
Ensure business continuity and resiliency by using Okta as the foundation for your remote work strategy
Enable seamless access for all users
Provide access to all applications within a single, user-friendly portal, regardless of device and location.
Deploy technology with ease
Support business innovation by quickly and securely deploying best-in-class technology to distributed users, leveraging Okta's 7,000+ pre-built integrations with cloud and on-premises systems
Secure access for your global workforce—employees, partners, and contractors
Unify access across your cloud and on-prem apps for all users, ensuring the right users have access to only the resources they need, and at the right time.
Additional security layers, when and where you need them
Protect against credential-focused attacks like phishing with adaptive, context-based multi-factor authentication. Enable a secure passwordless experience for your end users.
Integrations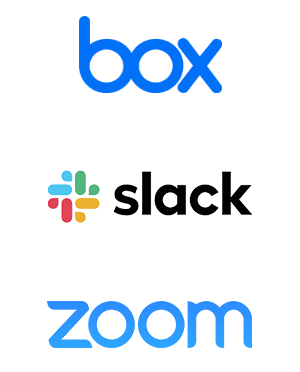 Best-of-breed productivity apps
Flexible best-of-breed technology that works together: Okta, Box, Slack, and Zoom.
Organisations large and small trust Okta to securely enable their remote workforce Hewlett Packard Enterprise