Next-Level Customer Experiences are Built on Digital Trust
What consumers expect from businesses that sell products and deliver services online is radically different today than it was even one or two short years ago. When pandemic-related shutdowns forced employers to embrace remote work, educators to adapt to distance learning, and shoppers to turn to digital channels, we all learned that we're more flexible than we'd previously thought. We also learned that our world is ready to capitalise on the benefits of technology-driven transformation. 
Today's consumers are spending more time and money in the digital space, and they're more comfortable sharing their personal data with public and private sector organisations. As our research reveals, they're also more cognisant of the value of that data. 
As a result, people are now more likely to think that the companies they buy from have a strong responsibility to protect the customer information that's shared with them. Increasingly, doing business online is an act of trust.
To earn and retain that trust, organisations must do three things well. One is to provide the seamless, convenient digital experiences that consumers are always looking for when they turn to digital platforms and services. Another is to put robust security in place to ensure that the data with which they've been entrusted isn't vulnerable to compromise or theft. The third is to respect customers' privacy: according to Gartner, 65% of the world's population will have its personal data covered by privacy regulations by 2023, a rapid increase that reflects growing insistence that businesses handle customer data responsibly and ethically.
The key to modern digital business success lies at intersection of customer experience (CX), privacy and security. And it's absolutely essential to get all three of these things right: over-emphasising any one part of the triad at the expense of the others will mean that you won't be able to satisfy consumer expectations in today's world. Security protections must be present, but they shouldn't be onerous, and they shouldn't make it harder for customers to complete their transaction or interact with your organisation.
How can you create these kinds of seamless, friction-free digital experiences? What does your organisation need to do in order to promote customer loyalty and earn trust?
Identity Is the Key to the Modern Customer Journey
The modern customer journey is built on a technology backbone that facilitates interoperability and the seamless sharing of data between traditionally disparate business units and development teams. A secure identity solution enables all of these capabilities, forming the foundations of digital trust.
Every digital customer journey begins with sign-up. Sign-up should be frictionless, and the information gathered from the customer should be used to provide a 360° view of that individual user — a unified view that can serve as a single source of truth across all platforms and touchpoints in the modern omnichannel ecosystem, allowing you to tailor the experience to that customer's preferences and give them exactly what they're looking for. At the same time, security and privacy should be front-and-center throughout the entirety of the customer journey, with risk-based detection used to secure logins and transactions, and consent and privacy requests handled automatically and centrally.
Identity underpins every aspect of this digital customer journey. When a secure identity service is fully integrated into your technology ecosystem, it provides core functionalities that stakeholders across the business need — from digital and product teams to marketers, and from DevOps practitioners to IT and security professionals. And it ensures that you're able to deliver the security, privacy and CX that today's consumers demand.
The 4 Pillars of Digital Trust
When people shop or consume services online, they do so primarily because they're looking for ease and convenience. Being able to provide that ease and convenience – and doing so consistently and efficiently across an increasingly complex technology landscape – is what enables leading brands to earn and retain the trust of today's consumers. 
Having a secure identity service positions an organisation to win market share, unlock competitive advantage and boost its ability to innovate. It does so by supplying four core capabilities that make it possible to give your customers the trustworthy experiences they crave with the real-world resources that you have on hand. 
These pillars are: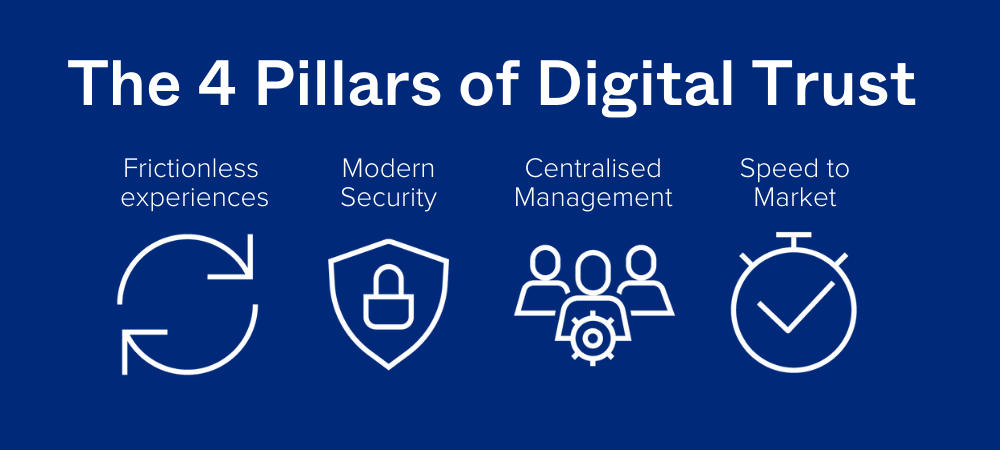 Frictionless experiences. You can earn the trust of your customers by providing consistent, reliable login experiences that extend strong user authentication across all of your digital properties, no matter what devices are being used. By making registration and authentication simple, you save time and remove roadblocks for your users. With adaptive, context-aware access policies, you can reduce friction for users leveraging single sign-on (SSO) or using known devices, while stepping up requests for additional assurance factors when more risk is present.
Robust, modern security. Protect your customers — and their valuable data — across the entirety of the identity lifecycle for all of your apps. Secure accounts at registration and authentication as well as during in-app activities to prevent breaches, mitigate fraud risk and meet compliance requirements. When customers are able to interact with your business online without the worry of identity threats, you'll earn their trust throughout the entire customer journey.
Centralised management. Centralising access management company-wide empowers your IT and security teams to work more efficiently by providing enhanced visibility and control across the extended enterprise. This allows you to bring user profiles from multiple identity sources together in one place, which serves as a single source of truth for the entire organisation. It's a place where policies can be enforced, passwords and user attributes managed, and monitoring and reporting capabilities maintained — and where you can automate a full complement of identity-centric workflows. In turn, this speeds ROI and decreases total cost of ownership.
Speed-to-market. In today's fast-moving digital business ecosystem, a secure identity service that enhances efficiency can also unlock your ability to innovate. Customers expect modern digital businesses to deliver new features and services at an accelerating pace. Integrating the right identity solutions into your technology environment will free your development teams to focus on your core business, so that they can work more efficiently, maximise productivity, and meet project timelines.
For a more in depth look at these pillars watch Jiong Liu's (Director, Product Marketing - Customer Identity, Okta) session from our Forum21 Europe event.
Nowadays, identity touches on nearly every aspect of the customer journey. To reduce friction while enabling the right access to the right resources at the right time, you need to integrate data and insights from the entirety of your technology ecosystem. This includes everything from business, marketing and customer relationship management (CRM) tools to security and fraud prevention solutions all the way through the components in your DevOps toolchain. 
At the heart of digital trust is consistent, top-notch customer experience. Being able to deliver this requires extensive pre-built integrations. It also demands low code, no code and pro code development options to suit the needs of diverse teams.
Want to learn more about how Okta Customer Identity solutions are helping organisations cultivate digital trust in the real world? 
We're leading the way with a secure customer identity & access management solution that more than 14,000 customers trust to help them deliver digital customer and workforce experiences that stand out from the crowd. You can also download our new report, Identity: The Digital Trust Accelerator, to explore more of our research findings.