Security & User Experience: No More Compromises
No one enjoys making compromises.
Yet, when it comes to developing new experiences for their customers, product teams are often forced to make trade-offs between security and user experience.
This dilemma is fuelled by the evolving expectations of consumers. With brands like Amazon and AirBnB leading the way in digital experience, customers now expect all of their digital interactions to be secure, convenient and protective of their data's privacy. 
In the past, stakeholders have struggled to reconcile these objectives. 
Tighter security typically involved the addition of friction – in the form of passwords and other authentication factors – into the user experience. 
Likewise, the desire to create seamless, personalised experiences – driven by customer data –  has made it difficult to comply with privacy laws. 
This is no longer the case. 
With modern tools and processes, it's possible to achieve the perfect balance of security and convenience. Identity is the key enabler of this "best of both worlds" approach, facilitating smooth and easy online interactions and helping companies build long-term, trust-based relationships with their customers .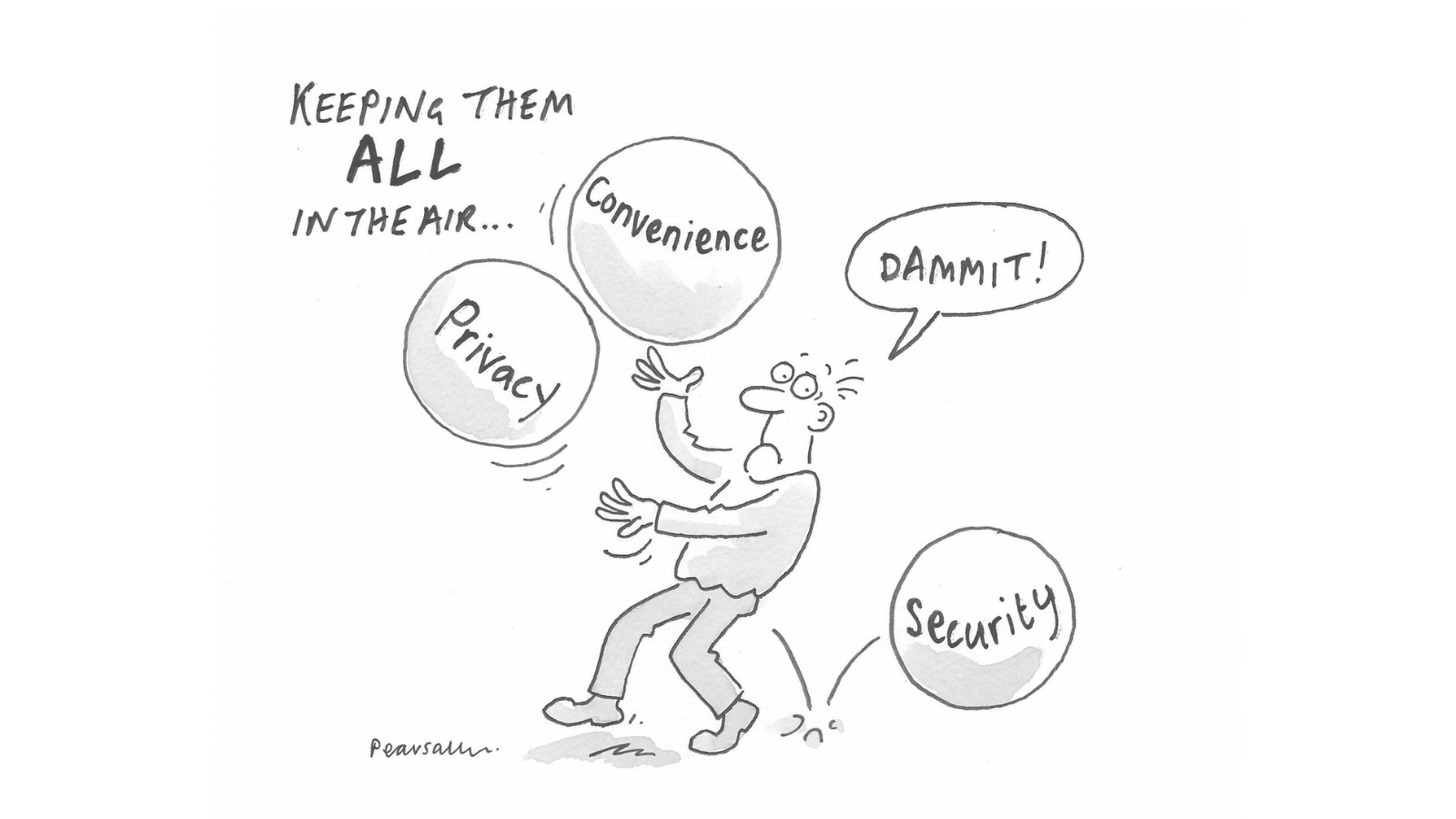 Every company is a convenience company
"Every company is a software company" has become a familiar saying if not an outright cliché in today's digital-first world.
It rings true but doesn't account for the underlying reasons that major enterprises are producing such prodigious amounts of software. Companies aren't developing software just for the sake of building something new, they're deploying apps and creating digital services to give their users what they want most: convenience.
Not only are consumer expectations constantly evolving, but in recent years they've been doing so at an ever-accelerating pace. 
Let's take customer experience in the hospitality industry as an example. 
Even a few short years ago, people expected that they'd have to wait in line at the front desk to check into a hotel, no matter how tired they were after a long flight. They'd access their room using a plastic key card, even though these cards could get demagnetised, lost, or even (in the very worst-case scenario) stolen. Travellers had never known anything better.
Recently, hotels have revolutionised the check-in process by making it possible to check in via a mobile app and use your phone as a room key.
It's no longer necessary to stand in line, you'll know which room you're getting in advance (and can easily request a switch if it doesn't meet your needs). You'll be offered your preferred perks like loyalty points or a free breakfast. Plus, the process is faster, easier and more secure than using yesterday's key card.
This innovation has transformed expectations.  
The same thing is taking place across industries ranging from healthcare to aviation to e-commerce. People buy from Amazon not because they're the biggest company or they have the best technology, but simply because Amazon makes our lives easier.
Kalpana Singh delivered the session: Security vs User Experience: A False Choice at Forum22: Europe in London. To watch all Forum22 keynote sessions on-demand click here.
Security and convenience need to go hand-in-hand 
Although today's consumers are eager for convenience—and are willing to switch brands to get it—they also understand that their personal data has value. They prefer to buy from companies that they can trust to keep their information secure and not use it for purposes they didn't authorise, or with which they're not comfortable.
In the example that we've been discussing—hotel check-in via a mobile app—hotel guests aren't giving away their personal information carelessly or without thought. Of course, to use the app, they'll need to supply their name, email address, phone number and location, as well as information about their preferences. But in return for doing so, they gain access to easier, more secure, convenient and personalised check-in experiences. 
It's an exchange. 
Modern consumers are willing to trade their personal information for better digital experiences. That's why 72% of respondents to our 2022 European Digital Trust Survey said that they'd be willing to create an online account with a new company if promised perks or an easy, streamlined process. But they also need to trust the brand to protect their data. 
No need to compromise with Identity
Business stakeholders should no longer accept trade-offs between security and convenience. With Identity solutions from Okta and Auth0 forming the foundation of your customer experiences, you gain the freedom to choose both without a need to compromise. But how do you build these experiences?
Frictionless and secure logins & registration
Account registration and login are your digital front door and represent the  first impression of your brand.  Arduous experiences with convoluted password rules, unnecessary data requests, and excessive MFA prompts will only serve to alienate customers before they have a chance to access - or even sign up to - your services. 
By working with an Identity provider like Okta and Auth0, you can streamline login and registration experiences with passwordless authentication fusing biometrics, magic links, factor sequencing and WebAuthn as building blocks.
Features like Adaptive Multi-Factor Authentication add an extra layer of security with minimal friction for the user with prompts determined dynamically via contextual factors like device, location, or user behaviour.
Consent management and data compliance
As previously mentioned, consumer awareness of data privacy is increasing and governments are cracking down on non-compliance. 
Okta's Consent Management solutions allow you to automate the management of your customer's personal data, ensuring consents are correctly requested, stored and updated. What's more Auth0's Breached Passwords and Credential Guard capabilities help you stay ahead of data breaches and account takeover attempts.
With these solutions you can create a secure, single source of truth that links data to identity across systems, providing you with the visibility and record keeping you need to address your compliance requirements.
Seamless omnichannel experiences
Too often, users' identity data is stored in disparate silos, leading to disjointed experiences and customers needing multiple logins to access different services and applications.
Customer Identity Management from Auth0 unifies this data to create a single source of truth for every customer. It provides a centralised, 360° view of their journey through all your apps, allowing you to provide personalised experiences where you can upsell and cross-sell effectively.
Want to deliver security, convenience and privacy for your customers? Read our whitepaper: How to Create the Identity Experience Your Customers Want which explores:
How current customer identity strategies fail to meet customer demands
What modern consumers expect from future identity experiences
How customer identity minimises consumer frustrations and improves security
Discover more about the customer identity solutions available from Okta and Auth0.