Okta: Maximising efficiency at UBM
Watch the video
users connected to key apps including Office 365, Jive, Box and Salesforce
Growing up

UBM does it better

Making it work

Identity, improved
Over the past century, UBM has evolved from a newspaper company to a leading B2B events organiser. This journey included standardising various UBM platforms to single systems where possible using Software as a Service (SaaS).
Before UBM moved its office and collaboration applications to the cloud, it wanted security and identity solutions in place. Specifically, UBM wanted to secure its infrastructure with multi-factor authentication and improve the user experience by adding single sign-on and password management solutions.
After looking at a few options, UBM decided that Okta was the clear leader in identity management. The company decided to purchase Single Sign-On, Lifecycle Management, Multi-Factor Authentication, and Universal Directory and rolled out the Okta Identity Cloud to more than 3,000 users in approximately 2 months.
UBM's Okta solutions have improved productivity by making it easier for users to sign on to any UBM app, reset passwords on their own, and authenticate with the click of a button. UBM's next objective? To roll out Okta globally so all colleagues have seamless access via the Okta Identity Cloud.
Providing More Secure and Seamless Experiences
Find out how Okta formed the foundation of UBM's standardization project of all technology infrastructure to ensure the security of all of their platforms, whilst helping them to simplify the authentication process for internal users so they have a more seamless experience.
Watch the full video
Our business recognises the importance of technology. Recently, it's recognised my group by giving us the Collaboration Technology of the Year UBM Award for our email delivery platform, and Okta played a role in that because it allowed people to authenticate much easier.
Loukas Vrettos, Head of Infrastructure at UBM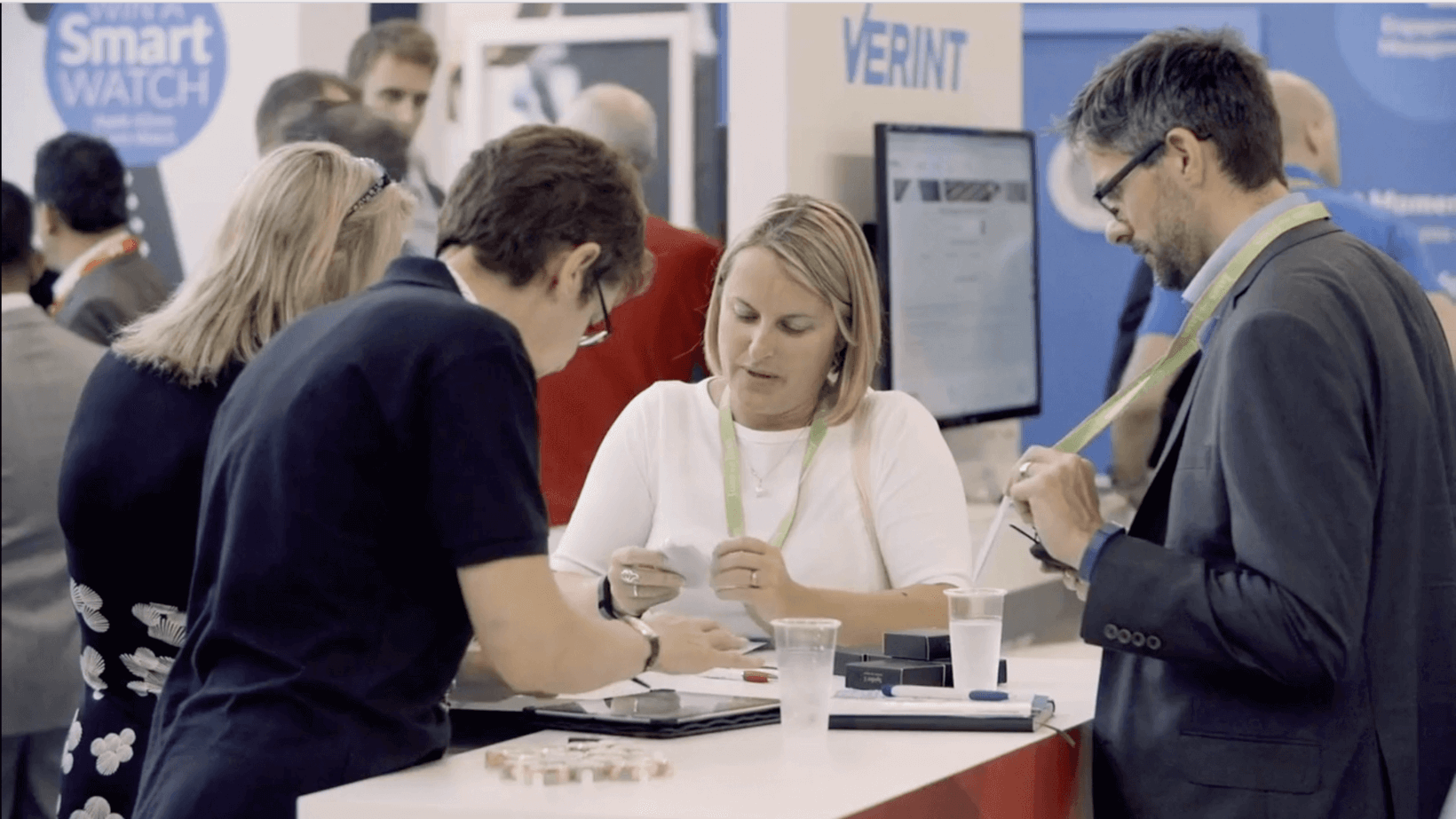 A history of transformation
UBM is a leading B2B event management company that organises over 300 events every year. The company, which works with over 50 different verticals, including fashion, technology, and advanced manufacturing, is focused on bringing business people together—in person—so they can make new connections, learn and grow their businesses.
UBM's long history didn't always include event management. The company was originally incorporated in 1918 as United Newspapers Limited. A series of sales, mergers, and acquisitions that happened throughout the last century made UBM what it is today.
In 2014 UBM launched its Events First Strategy to become the leading B2B Events organiser globally. To achieve this ambition the company focuses on five key strategic priorities: agile growth, customer insight and innovation, operational excellence, high performance culture, and standardised technology and data. This last priority presented a challenge for IT—because the team needed to find a way to bring multiple, separate pieces of technology infrastructure together on one platform.
"UBM wanted everyone to operate with the same technology infrastructure in each region," says Vrettos. "And we needed to accommodate them. Merging about seven email platforms into a single platform was one of the things we had to do. We needed single cloud storage and standardised data centres across each region."
But before UBM could do this, it needed to address two different concerns. "First, we wanted multi-factor authentication for all the systems we were putting on the cloud," says Vrettos. "Second, our users were constantly having to use different passwords for various systems. We wanted single sign-on to improve user experience."
That's when UBM realised it would need an identity provider. "We embraced the cloud, but as soon as we deployed cloud storage, we realised that we couldn't expose our users to single-factor password access. We had to find a solution to address that. And Okta is the leading supplier when it comes to identity service."
Gathering the pieces
Addressing the main IT challenges required two different strategies. One was creating the standardised infrastructure with single email, authentication, and storage platforms. But UBM also wanted to increase visibility by unifying their CRM, which would provide all regions with a global view of the whole ecosystem, including customers and finances.
"In both cases, Okta was the link in terms of authentication," says Vrettos. "We chose Okta because of its integrations with various other solutions like email platforms, CRMs, and remote access solutions."
We chose Okta because of its integrations with various other solutions like email platforms, CRMs, and remote access solutions.
UBM decided to integrate Okta Single Sign-On (SSO), Lifecycle Management (LM), Multi-Factor Authentication (MFA), and Universal Directory (UD) with all of their cloud services. In fact, it actually decided that it would only use cloud services that were compatible with Okta. "We started with cloud storage, then we moved to our remote authentication, our email authentication, our CRM authentication, and the list goes on," says Vrettos. "We make sure that we set up Okta on all our platforms, because it ensures the security of our platforms and it also allows us to simplify the authentication process for our internal users. They used to have a password for all sorts of things. Now, they have just one password, Single Sign-On kicks in, and there are no problems."
UBM set up Multi-Factor Authentication for mobile users as well, in an effort to maintain security and provide users with a seamless experience.
Building the foundation
UBM took a simple approach to its initial Okta deployment; it started with UBM EMEA and UBM Americas first which, combined, has 2,600 employees. UBM initially rolled out the first app to about 600 employees.
Because UBM started small, it was able to get the deployment done in two months. "It was fairly simple," says Vrettos, "but it's an ongoing process for us. We're now working with our Asian colleagues to bring them onto the platform, so that changes the design and the architecture. But we have a foundation in place—we're just adapting to incorporate more places, more applications."
Vrettos says that it helped to have "a very talented team" with a strong understanding of how to implement technology, but he adds that having access to Okta's documentation and Professional Services team kept the process running smoothly. "There were times that we needed additional help from Professional Services, but the product really allows you to do things without too much technical engagement with Okta, which I think is a good thing—because that allows us to be more agile."
Looking to the future
The Okta deployment has increased productivity at UBM all the way around. By implementing SSO, Lifecycle Management, MFA, and Universal Directory, the IT team has helped users get more done by making it easier for them to interact with UBM's technology. "The ability to reset passwords without IT is a great feature," says Vrettos. And automated user provisioning of UBM's SaaS applications helps free up the IT team even more.
UBM has rolled out Okta Verify with Push as its primary MFA factor, which allows for seamless, secure authentication for its mobile, remote workforce. "I also like the authentication approve-deny, so you don't have to enter digits—you just click on the button, which is great," says Vrettos.
Vrettos is also happy with the easy integration process and the straightforward directions provided to keep everything running smoothly. This role is particularly important in an organisation that's so dedicated to using tech to keep people connected that they have a Collaboration Technology of the Year UBM Award. In 2017, UBM's IT team received it for their email delivery platform, which relies on Okta's MFA and SSO products.
"Users want to have things work, that's the key thing," says Vrettos. "That's why we're employed, just to make sure that the technology works. We focus on making their lives simpler and I feel they do recognise that. Overall, the feedback is great, which kind of confirms that we do something good for them."
Ultimately, UBM plans to make Okta its global identity service, making it easier to keep employees connected online—while those employees keep clients connected in real life.
About UBM
UBM is a leading global B2B events organiser. Its purpose is to help customers succeed through the power of market-leading live events and the human-scale interactions that ignite and activate global trade, knowledge and networks.