Okta Application Network
Okta's Application Network comes pre-integrated with thousands of applications, including the business applications you need, and the consumer applications your users want. Find all your applications now.
Whether your web application is in the cloud or behind the firewall, Okta identity management service supports the broadest and deepest set of integration options to enable single sign-on and user management so you don't have to worry about how your vendor supports these features — it just works.
And because the Okta Application Network is an on-demand service those integrations are continuously validated, always up to date, and constantly growing both in number and capability.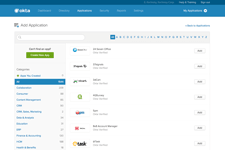 The apps IT needs, and your users want
Apps IT Needs & Users Want
The Okta Application Network includes all of the key business applications you need from vendors such as ADP, Big Machines, Cisco, Citrix, Concur, Google, Microsoft, Oracle, and Salesforce.com. Whether you are subscribing to those web applications as a service, or running them behind the firewall Okta's identity management service can help.
For your end-users and their single sign-on needs Okta also supports the key consumer applications and websites they use on a daily basis such as LinkedIn, Facebook, Paypal and Twitter.
Deepest application integrations
Deepest App Integrations
Okta supports the broadest set of integration options across the applications in the network. For single sign-on, we support Security Assertion Markup Language (SAML) - version 1.1 or 2.0, any proprietary protocol that a particular vendor has implemented, or we will integrate Okta's Secure Web Authentication Technology. Independent of the method the vendor supports, Okta will do the integration work so you don't have to.
In addition to single sign-on, we also support robust user import and management across the widest number of applications such as Box.net, Echosign, Google Apps, Salesforce.com, Webex, Citrix GoToMeeting, Postini, and Workday. With user import you can quickly onboard accounts from across your target applications and integrate them into Okta. Broader user management support across applications enables you to automatically add, update, deactivate, or remove users and their accounts in an automated fashion.
Password synchronization is also supported across a growing number of applications so that you can easily manage credentials centrally for those applications that don't support a standard such as SAML.
Download our whitepaper, "Building a Well Managed Cloud Application," a developer guide that provides real world, actionable steps ISVs can take to address customer identity management requirements in their applications.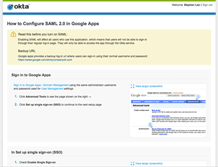 Application specific instructions
Application Specific Instructions
At Okta, ease of use is a top priority — and that priority encompasses not only our application — but also extends to configuring the applications that we integrate with.
We do the heavy lifting up front to integrate an application into our identity management network, and continually validate that integration, but our job does not stop there. For each application we also provide a robust, easy to follow set of instructions — complete with screenshots from that application —that will walk you through the step by step process for setting up and configuring single sign-on or user management within that application. Even a deep SAML integration is possible to complete in under 15 minutes.
Continually Validated, Constantly Updated
SaaS applications are constantly changing. In the past, to centralize single sign-on and user management each IT organization had to build integrations with all of their applications and maintain those integrations over time. Maintaining a collection of connectors across this constantly changing landscape is just not possible for the vast majority of organizations.
Okta's on-demand service keeps pace with changes across your applications and makes sure that the integration, and thus your access, is always up to date and functional. No more tracking dependencies between connectors and application versions.
The on-demand nature of Okta's Application Network also means that new applications and integrations are added constantly giving you access to a rapidly growing list of applications, no professional services required.