With provisioning delegated to the robots, Pivotal IT can focus on the business
Watch the Video
Six companies merge

Cloud headaches

Automated provisioning

A new philosophy

An HR connection

More value from IT

Next stop mobility
After EMC purchases Pivotal Labs in 2012, they partner with VMware to combine six different companies and spin out Pivotal Software, Inc. in 2013. The new Pivotal focuses on transforming the development platform space.
Pivotal prefers hosted solutions over internal ones, but it struggles to tie the two together and to manage the rapidly growing number of touchpoints. Provisioning becomes complicated.
Pivotal engages Okta to set up automated provisioning for the company's primary work suite, Google Apps. The initial integration takes all of 10 minutes and the full implementation is finished in a few weeks, trouble-free.
IT gradually takes a hands-off approach to new-hire onboarding, and Pivotal sees a dramatic reduction in the time it takes to set up, maintain, and deprovision accounts.
Six months after Okta implementation, HR requests Okta integration with its suite of employee services. Soon, Pivotal employees have easy access to company benefits.
Rather than focusing on support, Pivotal IT now has time to partner with the business, helping the company live up to its innovative mission.
As the demands of Pivotal's increasingly mobile and distributed workforce grow, Pivotal will continue to rely on Okta as its backbone to meet those needs.
Pivotal Software relies on Okta to streamline productivity
With a rapidly growing workforce, Pivotal Software needed to find an efficient way to manage its global employees' identities for their numerous hosted solutions. Okta was the answer. Pivotal uses Okta Universal Directory, Lifecycle Management and Multi-factor authentication to make employees more productive, reduce the burden on IT, and enhance security.
Watch the full video
The deep integrations that Okta had with Google Apps made it really simple. … I think the first integration in our test instance took me ten minutes to set up.
Colin Deeb, Head of IT, US West, Pivotal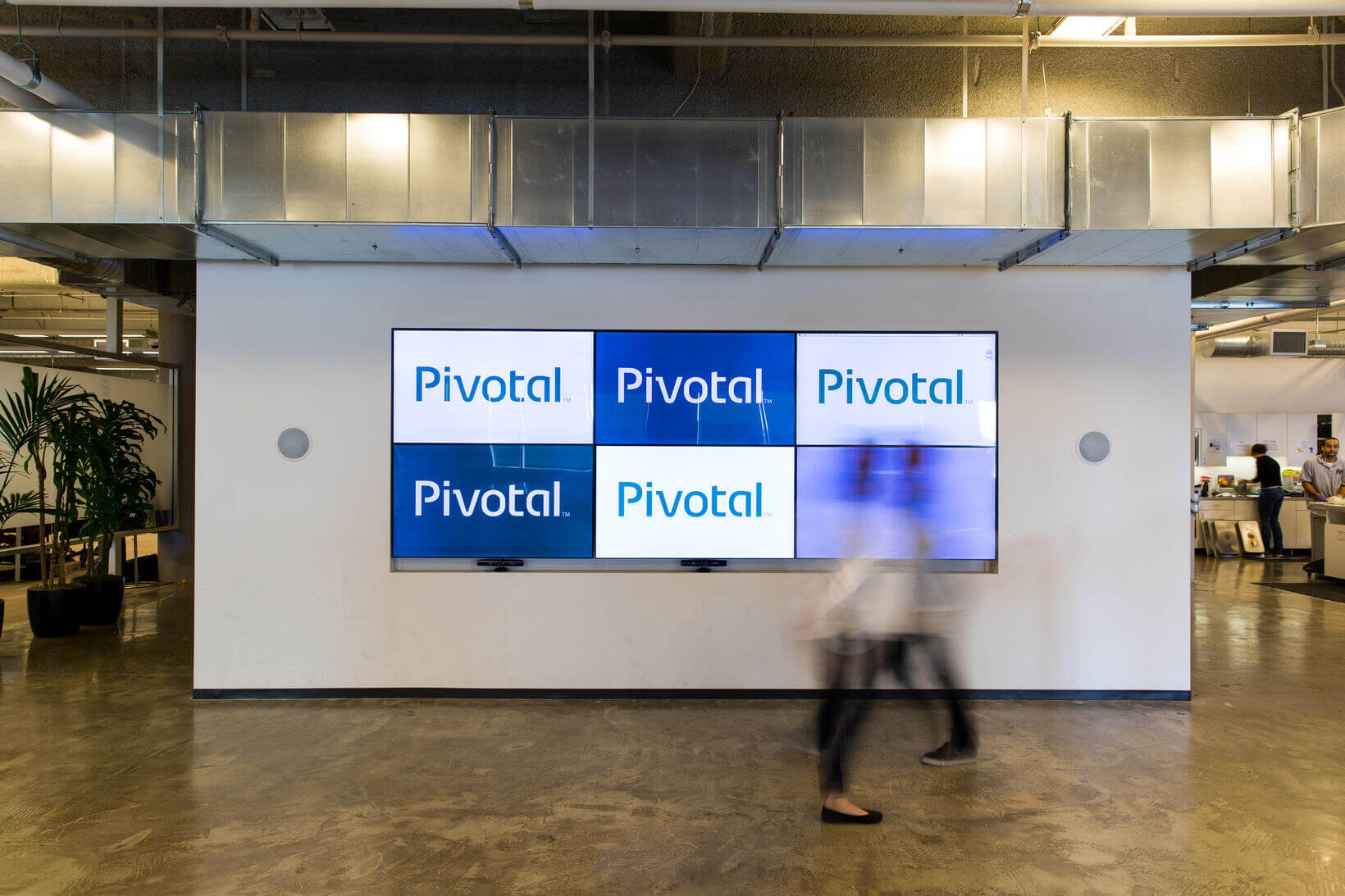 A tech pioneer grows up
People at Pivotal are used to pushing the boundaries of what's possible. As Pivotal Labs, they pioneered agile software development back in the 90s and today, they help traditional companies like Ford and GE embrace a digital future that includes Internet-connected cars and home heating systems.
Today's Pivotal is a result of a complex merger. In 2012, EMC purchased Pivotal Labs, and as the group started working within the EMC partner ecosystem, the possibilities became clear. EMC, together with its partner VMware, decided to combine Pivotal with parts of five other small companies they had acquired.
The new Pivotal is a cloud company bent on transforming the development platform space. "We have a philosophy: 'Don't reinvent the wheel,'" says Colin Deeb, head of IT product development. Pivotal builds many of its own IT tools, but when someone else is doing it better in the cloud, they're more than happy to climb on board.
In the early days, that philosophy meant a ballooning number of employee cloud app accounts and the challenge of bringing everyone on to one domain. Deeb had a full-time job managing hosted applications for the initial 1300 employees. As the company grew, IT staff spent a growing number of hours clicking on checkboxes manually to provision and deprovision apps, update profiles, and troubleshoot issues.
Automated possibilities
When the team first looked at Okta in 2013, Universal Directory immediately caught their attention, along with Okta's Provisioning solution. With a single master for profile information, an extensible network of provisioning integrations and lifecycle management features, they realised they could completely automate provisioning tasks.
The idea fit right in with Deeb's personal philosophy—that human time is much more valuable than robot time. With Okta, Deeb saw a future where they could let those tedious, repetitive tasks go. He also wanted to make it easier for people to access their applications while meeting basic security requirements, and he wanted more visibility into the applications people were accessing.
Delegate provisioning to the robots
It was the beginning of a rewarding relationship. Pivotal engaged Okta to provision Google Apps accounts first, so that everyone would have easy access to the company's primary work suite. Implementation was extremely simple because of the deep integrations Okta has with Google.
Pivotal IT soon developed a completely hands-off approach to provisioning and today, HR owns the process with little to no input from IT. Employee profile information flows from two different on-prem HR systems into Universal Directory via the Okta API. Okta Provisioning populates users and groups automatically to the appropriate apps and manages user lifecycle states. On Day one, a new hire has all the apps she needs, ready to go.
"We've now added 20 applications as basic integrations for Okta," says Deeb, "which means that's 20 applications we don't really have to think about. Whenever somebody leaves the company, we know their accounts are going to be turned off."
That kind of efficiency and security makes a big difference for the business. Deeb estimates that Pivotal realises annual benefits of $400K in security improvements, $1M in productivity, and $300K in IT efficiency. Before Okta, password resets were a $200K problem. Today, they hardly happen. And the 800 hours each year spent maintaining and synchronising multiple user stores? That task has been delegated to the robots also.
The benefits go beyond the bottom line, to support the careers and morale of Pivotal IT staff. Because they're not focused on support, they've elevated the level of problems they solve, developing new skills in project management and software development. They're partnering with the business to consolidate workflows, create smoother processes for "edge" cases, and integrate new applications. These are things humans excel at, says Deeb.
Simplicity gets free reign
Six months after Deeb's team implemented Okta, the HR team approached them asking to put their suite of services onto the platform. It made sense, and now Pivotal employees no longer have to think about how they access benefits like their 401K. It's all right there on their Okta dashboard.
The same goes for getting everyone onto a single company domain. "When it came time to switch everyone over to pivotal.io," says Deeb, "Okta made it really easy." One minute, people were logging into two old domains. Fifteen minutes later, they were logging into pivotal.io. "You didn't have to think about which domain you were going to," he says. "You didn't have to think about a different URL. It was all just right there."
Pivotal also implemented Okta Multi-factor Authentication, including Verify with Push. The company and its clients appreciate the additional layer of security. Users can comply with a single tap on their phone.
Next stop: Mobility
Pivotal is spread out across the globe, so mobility is high on the priority list. "One reason we went with Okta is that it lives in the cloud, so as long as you have an Internet connection, you can get access to your tools," says Deeb. "Being able to access applications on your phone is critical, especially for our sales teams."
To that end, Deeb knows Okta will provide solutions to meet Pivotal's mobility needs. "Being able to not impinge on people's personal data while putting some good security around the things we're building for ourselves, that we're building for and with other people—it's critical," he says. "I'm curious to see where this goes."
Pushing the boundaries
True to its cutting-edge mindset, Pivotal still builds many of its own tools and Okta integrations. The two companies maintain an animated dialogue, with Pivotal suggesting directions they'd like to see Okta go, and Okta rising to the occasion.
"Okta's continuing to improve the integrations they have from HR systems to different applications, and it's really exciting for our team," says Deeb. "Every time we hear that we can replace an automated process we built with one that will get updated automatically, you can see the glints in people's eyes: 'Oh wow—we don't have to maintain that anymore? That's awesome.'"
"Okta's one of the better vendors we've worked with," says Deeb. "From Day One we've said, 'We want to push this as far as we can go. We want to be on the edge of this.'" We would expect nothing less from the Pivotal team.