Accelerating Enterprise-Grade App Development with Provisioning Workshops
Enterprises are increasingly demanding that software vendors offer single sign-on and provisioning. That's why Okta is launching a series of workshops to arm developers and ISVs with the tools and support needed to build provisioning into their applications and adopt uniform user management standards for enterprise-grade security and identity management.
Tackling the Provisioning Problem
Okta's provisioning developer program includes hands-on workshops, step-by-step documentation, QA tools, and dedicated support to help ISVs easily add user provisioning, based on SCIM standards, to their applications. This is one of the many ways in which Okta is taking a proactive approach to partner with ISVs and developers to add identity to applications and raise the standards of enterprise-grade security.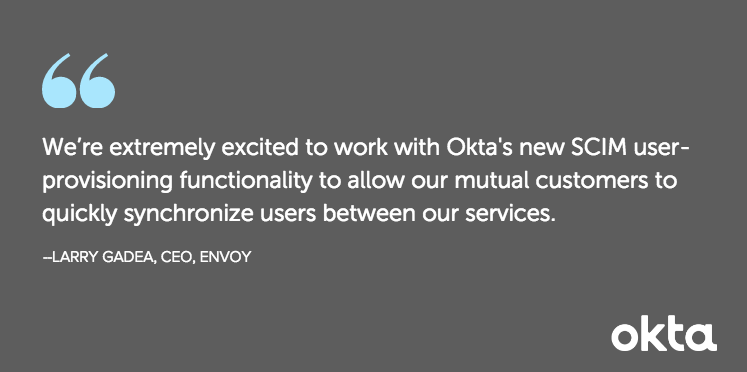 By rooting our program in the SCIM standard, we're providing developers and ISVs with an enterprise-ready identity framework for automated user provisioning and deprovisioning to satisfy customer security and access requirements while making it as easy as possible to adopt and deploy best-of-breed apps. Our program is the fastest way for ISVs to add user provisioning to their app, enabling ISVs to implement uniform user data management across their app portfolios. Once more, unique to Okta, SCIM-enabled apps can be provisioned and deprovisioned to mobile devices through Okta Mobility Management.
Join our Summer Provisioning Developer Programs
With provisioning continuing to be a hot issue for developers and customers, there's no better time to take advantage of our provisioning workshops and tools. We're inviting interested ISVs and developers to join our summer provisioning developer programs to benefit from new curriculum, detailed documentation and developer support to get their apps enterprise-ready. During the workshops, Okta experts will review SCIM code samples and best practices and then dive directly into implementing SCIM with your app. You can sign up for the developer program here.
Developers ready to implement user provisioning can also register for the provisioning developer program for a free Okta tenant for testing, dedicated expert support, QA tools, and automatic qualification for the Okta Cloud Connect (OCC) program. OCC helps ISVs more quickly and broadly deploy their app by giving their customers a free Okta instance to connect their app to Active Directory.
The summer developer program is in session, so register now. And stay tuned for more news on how Okta will support ISVs and developers with additional resources as we get closer to #Oktane16.