Flexible best-of-breed technology that works together
The most basic choice in selecting a software for your business is not between one brand or another, but between types of software, either best-of-breed or fully integrated enterprise solutions. A simple way to define the best-of-breed is that it is a leading product or software tool in a particular market segment. Best-of-breed focuses on providing the best features and functions for one component in the value chain, whether accounting, sales, marketing, HR or legal.
The Challenge
Traditionally, organizations have relied on a single, legacy suite for their workplace technology stack. This approach poses a number of challenges across an organization including:
Employees are unable to collaborate efficiently and waste time navigating complex systems to identify and access content critical to their jobs
As employees seek out additional technology to make them more productive, IT struggles to manage the impacts of shadow IT, including duplicative tools and security gaps
IT leaders are forced to allocate resources to manage an increasing number of processes and technologies for both internal and external transactions
The Solution
As the workplace environment intensifies, organizations are increasingly looking to IT as a business enabler. Outpacing competitors, retaining talent, and supporting a distributed workforce all while thwarting off attacks requires a best-of-breed approach to workplace technology. The category leaders across workplace technology solutions - Okta, Box, Slack, and Zoom - have partnered to enable organizations to avoid the pitfalls of legacy suites and improve productivity with best-of-breed solutions.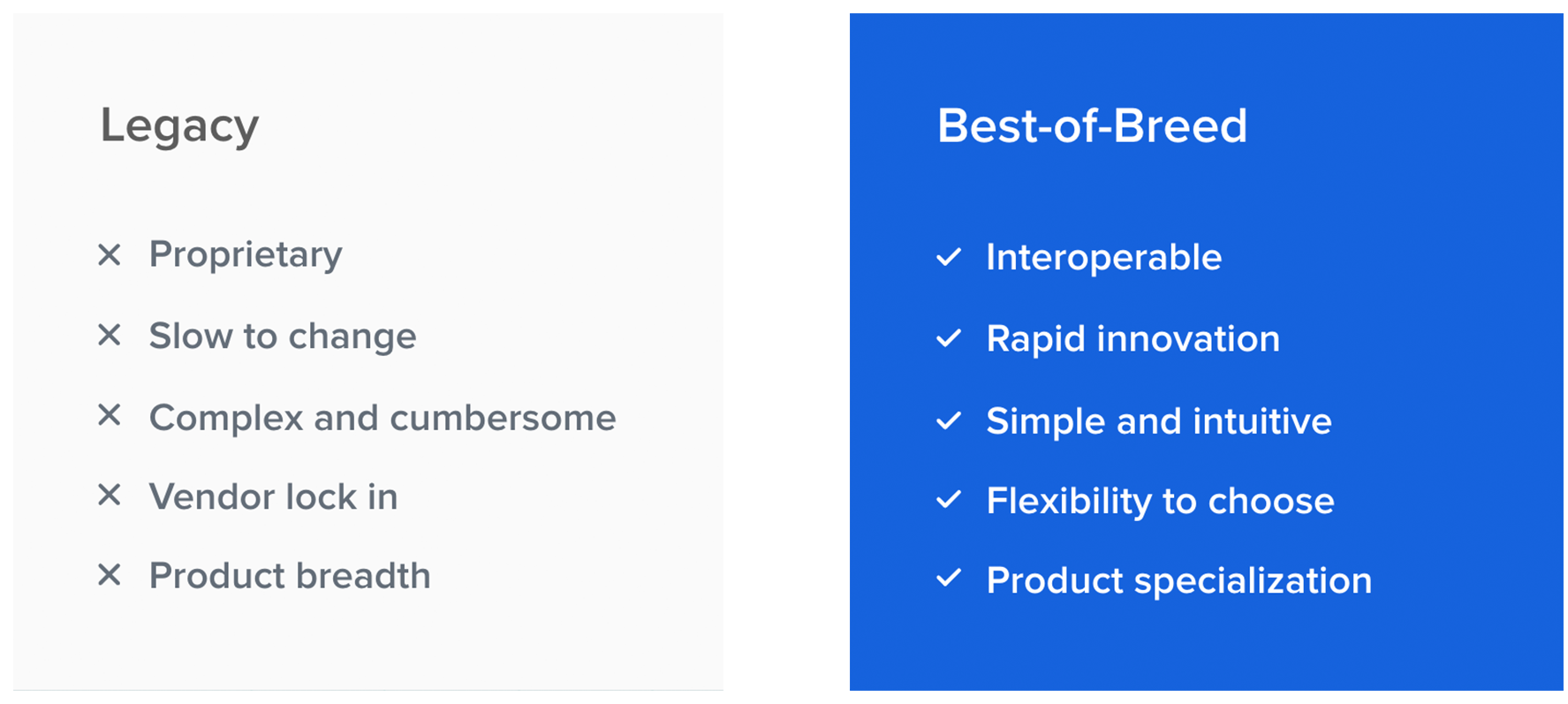 Specific business functions can gain greater productivity and collaboration with a best-of-breed system, contributing to a fully aligned organization.
Sales
• Sales content hub
• Mobile field enablement
• Account collaboration
Marketing
• Agency collaboration
• Event planning and coordination
• Marketing collateral reviews
• Campaign execution
HR
• Centralized employee record repository
• Manage hiring process and feedback loop
• Manage employee onboarding
Legal
• Collaboration with outside counsel
• Virtual deal room
• Contract and proposal creation
Key Benefits
Best-of-breed specialized platforms from Okta, Box, Slack, and Zoom help IT and business leadership support their workforces and increase efficiency, while maintaining control and security.
Improve employee satisfaction and retention by providing employees with the tools they want to use
Accelerate productivity by making collaboration and content access ubiquitous
Enhance security and usability with single sign-on and multi-factor authentication across all applications
Retire costs associated with managing redundant tools and maintaining legacy systems, like file shares, that rely on expensive infrastructure
Questions?
Please fill out this form and tell us a little about yourself and the project details, and we will respond within 24 hours.
Contact Us
All Fields Required