CyberArk + Okta
Strengthen Privileged Account Access Controls
The Challenge
Managing authentication for Individuals with privileged credentials, who have access to sensitive data
Securing these privileged credentials, which are a constant target because of their sensitive information
Securing the enterprise without putting too much burden on individuals with privileged accounts
The Solution
Okta + CyberArk provides secure and centralized authentication to sensitive resources throughout the organization and reduces the attack surface for identity-based cyberthreats. Okta's best-in-class SSO and MFA solutions make it easy to verify privileged user identities and give them the access they need. The integration with CyberArk provides additional visibility and insight into user access details through reporting and API integrations.
Seamless and secure authentication and provisioning via SSO and MFA
Customizable and adaptive access policies reduce the verification burden on authorized individuals
Real-time access event reporting and API integrations provide additional visibility into behavior
Privileged accounts are the "keys to the IT kingdom"

Strengthen controls for unauthorized access to sensitive data with Okta and CyberArk
Okta seamlessly integrates with CyberArk to prevent cyber attacks on privileged account user credentials
Single Sign On
SSO reduces password proliferation where possible, for ease of use for privileged end-users
Multi Factor Authentication
MFA hardens security around sensitive data, thwarting illicit attempts at privileged access
Easily Customizable
Customizable user experience and access flexibility lets admins tailor policy to their environment
Control and Monitor on-Prem & Cloud Activity
Admins can proactively monitor and contol privileged account activity, on-prem or in the cloud
Full Range Support
Full range of step-up authentication factor support for security and usability
Realtime Reporting
Realtime authentication/access reporting makes suspicious behavior easier to spot quickly
Reducing the Attack Surface with CyberArk
Comprehensive privileged account security controls

Lock down
credentials
Protect privileged passwords and SSH keys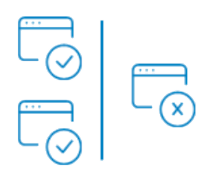 Isolate and
control sessions
Prevent malware attacks and control privileged access

Continuously
monitor
Implement continuous monitoring accross all privileged accounts