Okta + SailPoint
Add end-to-end identity management and governance to protect all your users, apps, and data.
The Challenge
Organizations are using more applications than ever, deployed both on-premise and in the cloud
Apps need to be accessible to external users, such as partners, contractors, and customers
Managing secure, non-burdensome access to apps can be taxing for IT resources
Maintaining access audit trails for compliance can skyrocket in complexity
The Solution
Secure access driven by SSO and MFA
Simplified compliance and policy enforcement
Detailed behavioral tracking and reporting
Direct connector between Okta and Sailpoint, plus support for AD as a compliance bridge
Easy provisioning and deprovisioning for apps and data


Securely manage
identity
Okta provides secure identity tools to safely authorize access, delivering capabilities for access management, user authentication, single sign-on, MFA, and password reset.

Ensure governance
and compliance
SailPoint provides governance and compliance tools, so you can manage and document enterprise behavior. You get tools for access requests, access certifications, separation of duties, entitlement provisioning, and password management.

Simplify provisioning
and deprovisioning
Okta and SailPoint work together to determine the best approach to provisioning and deprovisioning, depending on the unique requirements of your enterprise and other local data.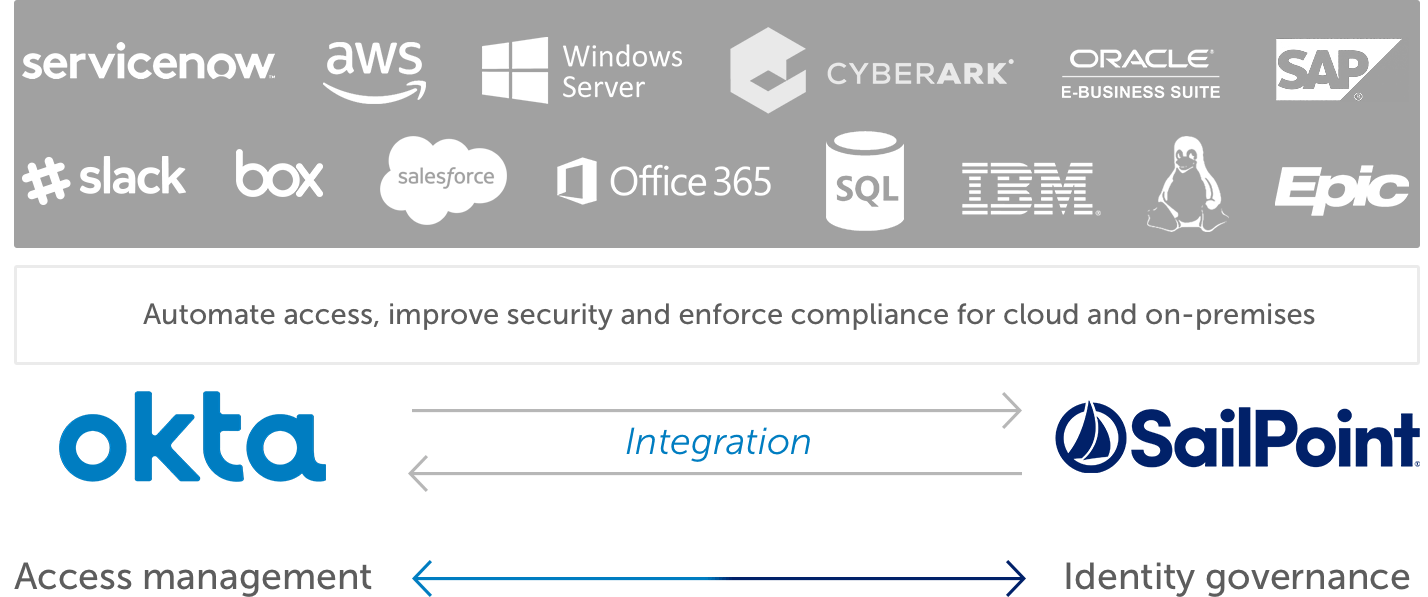 See How SailPoint and Okta Deliver End-to-End Identity Access and Governance
Make Identity Management Easy
Ensure that key identity functions are secure and automated
Easily enforce authorization policies
Document user access activity to ensure compliance
Maintain a high level of user productivity, without compromising security