Enterasys Networks' Dan Petlon Named 'Enterprise CIO of the Year'
At Okta, we work with some of the most innovative CIOs out there. Some have led their companies almost completely to the cloud, and others are helping balance a mix of cloud and on-premises apps, accessible from every device. Dan Petlon, CIO at Enterasys Networks, one of our earliest customers, certainly falls into the first camp. Dan and his team at Enterasys are true cloud believers.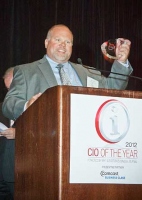 Dan Petlon accepting his 'Enterprise CIO of the Year' award
Last week, The Boston Business Journal and Mass High Tech announced Dan as its Enterprise CIO of the Year. They had this to say: "Petlon is introducing technologies that improve IT systems, procedures and performance at the company, taking Enterasys and its employees to a new level."
Absolutely.
Dan has been instrumental in leading Enterasys to the cloud. The company's cloud strategy began with a salesforce.com license in 2003. Today, Enterasys has more than 1,100 employees accessing 20+ business critical SaaS apps. Dan and his team have certainly been ahead of the curve in recognizing how the cloud's bringing big changes employee productivity — and IT.
Congrats on the award, Dan! It's much deserved.