Introducing 'The Okta Thought Cloud'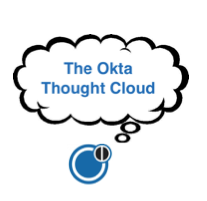 Here at Okta, we're always having interesting conversations with our customers and partners around what's going on in the enterprise. In light of some of these recent conversations around the evolution of IT and the CIO role, we're introducing "The Okta Thought Cloud," a blog series that will explore customer, partner and broader Okta community thoughts on hot topics such as the evolution of the CIO, the challenges faced in adopting cloud applications, enterprise security concerns in our interconnected world and much, much more.
Every few weeks, we'll promote a new topic on Twitter and LinkedIn. We'll ask the broader Okta community to submit a paragraph or two on their thoughts, and once we've collected a few great ones – and included ours too – we'll share the discussion right here on the Okta blog.
To get things started, we're posing our first question below along with our own thoughts. We'd love to hear yours!
What is the most difficult challenge of being a CIO in today's hybrid world?
At Okta, we know abandoning on-premises applications in favor of the cloud is hardly a walk in the park. (Of course, we try to make it as easy as possible.) While the benefits are numerous, the transition itself is a challenge in more ways than one. As a result, it's unsurprising that hybrid environments are the dominant strategy across enterprises today. But are they here to stay? What is the outlook for IT in the modern enterprise – and what are the biggest challenges facing CIOs who are leading the charge to the cloud, yet must simultaneously maintain legacy systems?
Let us know what you think, and we'll share your thoughts in an upcoming Okta Thought Cloud post.
[To submit your answers (whether one sentence or two paragraphs), please email: [email protected]. Not feeling the topic this week? Keep an eye out on our social channels in the coming weeks for more opportunities to participate.]