Top 5 Reasons to Attend Oktane13: Identity Management Conference
The countdown has officially begun. That's right, there's fewer than 75 days until Oktane13, our inaugural user conference! Whether you're a customer or thinking about becoming one, a partner, or simply an identity enthusiast, Oktane13 is the place to examine the increasingly critical role of cloud and hybrid identity management in the enterprise. From networking with forward-thinking IT professionals to industry-leading speakers, there are countless reasons to attend Oktane13. Here are our top five:

1) Keynote Speakers: It would be an understatement to say we're excited about the visionaries on the agenda for our Monday and Tuesday keynotes. We'll kick things off on Monday with Okta CEO Todd McKinnon, then welcome Geoffrey Moore, business advisor and author of Crossing the Chasm. On Tuesday, Ben Horowitz, co-founder and partner of top VC Andreessen Horowitz will share insights on the changing role of the CIO, new and evolving trends in technology, and how to build an industry-leading organization.
2) Hands-on training with experts: Ready to dig deeper? Get hands-on training from our engineering and product experts at the Okta Expert Bar. We'll share architectural deep-dives as well as learn best practices from industry thought leaders, IT professionals and experts across a variety of areas.
3) Networking: We're bringing together hundreds of IT professionals who share a common goal of evolving IT in the enterprise. These professionals are transforming the role of the CIO and, as a result, they're all making a much larger impact on the business than they ever had before. Oktane13 will give you the chance to share and hear best practices, war stories and tips for solving the challenges modern enterprises face.
4) Content-rich breakout sessions: Choose from over 30 sessions featuring visionary IT leaders embracing cloud computing. We're designing sessions to showcase new perspectives on cloud and mobile adoption, identity management strategies for internal and external users, and all the very latest in enterprise security. Speakers include IT leaders from LinkedIn, Rosetta Stone and AMAG Pharmaceuticals as well as visionaries from Constellation Research, Accenture and Deloitte.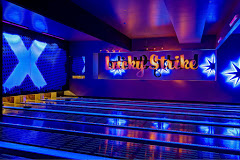 5) Night out in San Francisco: Just in case the one-on-one training, networking and chance to hear from Ben Horowitz doesn't convince you, let us entice you with bowling, games, and music at Lucky Strike. Lucky Strike is the premier location for a night of fun, featuring live music from San Francisco entertainment band PopRocks.
We look forward to seeing you there! And don't forget, Early Bird Registration expires August 31, so register now to save $100 with our special discount OKTA100 — exclusive to our loyal blog readers (a.k.a. you!).