Okta and SharePoint: Simple, Secure Enterprise Collaboration
The modern enterprise is more open and complex than ever before. Global teams, virtual workplaces and increased enterprise collaboration among customers and partners is the new norm in business. This increased collaboration means that IT departments must manage both internal employee identities across multiple divisions, as well as the identities of external users.
The Okta Application Network has kept pace, helping companies easily adopt new applications. Our roots are in the cloud, but Okta is increasingly supporting on-premises applications for the hybrid enterprise. Our latest addition to the network is on-premises Microsoft SharePoint Server 2010 and 2013. Our integration uses WS-Fed for authentication, and allows the SharePoint "People Picker" to query Okta's directory, enabling user management within SharePoint.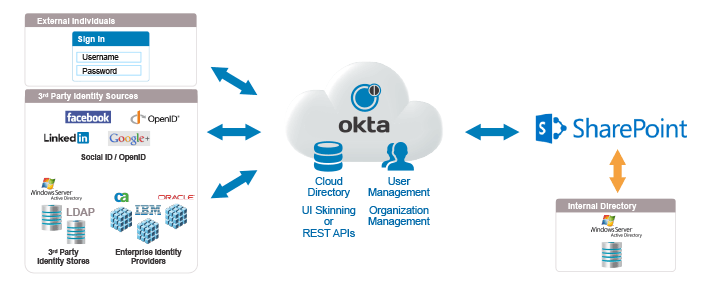 By integrating SharePoint into its cloud identity service, Okta now enables enterprises to more securely and seamlessly collaborate with their customers and partners. In the past, these integrations were difficult, costly and time-consuming. No more. By integrating SharePoint into Okta's cloud identity service, we eliminate the identity challenges associated with enterprise collaboration so companies can get more from their SharePoint investments. All users, whether internal employees or external customers and partners, can access SharePoint and collaborate on the same platform — all through Okta. And Okta's built in the cloud, so companies can limit costs while preparing for future cloud adoption.
Interested in learning more about how Okta's SharePoint integration could benefit your business? Register for our webinar on September 12.