JiveWorld 2013: Changing the Way We Work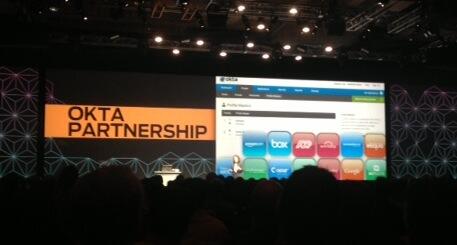 Last week Okta sponsored JiveWorld 13 for the first time. Not only were we Gold sponsors, but we were also able to interact with 20 Jive partners and 2,000+ attendees. And the timing of the show couldn't have been better, as the week before we announced our strategic alliance with Jive to help our joint customers and future customers increase how and where they interact by leveraging Jive Cloud and Okta.
We were expecting to have some great conversations with the JiveWorld attendees (some who are Okta customers, many who are not), but we were overwhelmed by the caliber of discussions. It's likely because on the first day of the show, Jive CEO Tony Zingale discussed how companies like Jive, Box, and Okta are "re-platforming" the enterprise creating a "new cloud stack" in his keynote. On day two, as part of the product previews coming in the Jive 2013 Fall Release, Olivia Teich, VP of Product Management at Jive, showed how both organizations are working together to change who, how and where people get work done. That's Jive's agenda – change the way work gets done – and we're working with the folks there to make that mission a reality.
As part of the integration between Jive and Okta, we're helping Jive customers take the value of their enterprise identity directories and integrate those directories into the Jive Cloud platform, allowing users to have richer profiles, making it easier for those users to find the right people to collaborate with in a meaningful way.
We had hundreds of conversations with Jive customers at companies varying in size from 2,000-60,000 users – all of whom were eager to leverage this integration within their internal Jive communities. They saw the value of leveraging Okta to not only integrate their enterprise directories, but also how we can help IT automate and deploy Jive to thousands of users instantly across an organization. After all, we not only help IT deploy Jive – we also manage those users and how and where they access Jive and provide the same benefits to other applications like Workday, Box, Salesforce or SAP.
And this is just the beginning of the joint integration. We're more than strategic partners – we're also each other's customers, and between us we're building the enterprise standard for social business and identity management.
We loved meeting the Jive team, joint partners like Box and JCS, and Jive customers. A big thanks to the Jive team and attendees for making Okta feel so welcome at our first JiveWorld. We're already looking forward to JiveWorld 2014.