Oktane13 Session Spotlight with Post Holdings: "The Bad Place," Passwords and Identity Management
Guest post by Brian Hofmeister, director of enterprise infrastructure for Post Holdings, Inc.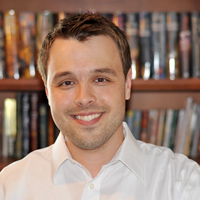 Brian Hofmeister, director of enterprise infrastructure for Post Holdings, Inc.
If you've been involved with information technology for any amount of time, chances are you've dipped your toe into the vast sea of ambiguity we call the "cloud," where identity management can be a challenge. Like many other companies, we at Post Holdings faced concerns when making the move: we wanted to provide an on-premise experience without introducing complexity that drives users to "the bad place." You know that place — it's where:
Passwords are written on sticky notes, permanently adhered to the bottom of their laptop
Passwords are set to 'Password4' because it's the fourth time they've had to reset it
An entire department uses the same password because it's easier to access information if someone is out of the office
What if every company in "the bad place" could secure all applications using the same credentials, even across multiple Active Directories? What if those credentials could be silently transmitted behind the scenes so no user interaction is required? What if those credentials could be hardened with two-factor authentication? A solution that makes these "what ifs" possible would be just as easy as having your password on a sticky note – and much more secure. That's the kind of solution Okta provides for us.
Okta's taking identity management to a new level. They understand that even though people want to easily access their applications while keeping their data safe, access will almost always trump safety concerns for most users — which is why those sticky notes seem to be omnipresent in the office. Okta's solution doesn't compromise safety for access, and makes managing identities seamless and secure.
That's why my colleague Larry Woods and I are excited to speak on the topic of Active Directory and Okta integration at Oktane13, Okta's first conference on identity, security and mobility. We'll discuss the challenges of identity management with shrinking budgets, staff, and project timelines. We'll also spend some time walking through our most recent O365 implementation, providing lessons learned and advice for IT leaders and system integrators involved in cloud deployments.
Looking forward to seeing you there!
Come see Brian Hofmeister present 'Building a Cloud Foundation: Working with Acquisitions, AD & O365' at Oktane13 on Monday, November 4, 2013 from 10:45 – 11:30am in San Francisco, and don't forget to register here.