Top 10 Ways that Okta Makes IT Simple & Successful
By Arun Shrestha, vice president of customer success at Okta.
Today's the final day of our first user conference, Oktane13. It has been wonderful to be surrounded by so many successful customers and partners, with diverse IT environments. Customer success is everyone's job at Okta — and as vice president of customer success, I've been thrilled to experience the broader Okta community. From large companies with legacy architectures to startups that are all-in in the cloud, our customers choose Okta for similar reasons: Okta helps them navigate the big changes occurring in enterprise IT and deliver experiences that end users love. Here's how: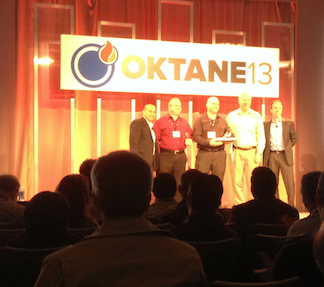 Mel Sorrels and his team at MGM Resorts International won the Lightning Award at #Oktane13. The event, Nov. 3-5 in San Francisco, also features sessions from Okta customers, partners and product.
Time to Value: Unlike legacy software, Okta is built in the cloud so deployments take days or weeks, not months or years. Our customers are often surprised by how quickly and easily they can deploy Okta. MGM Resorts International, for example, rolled out Okta

to its more than 62,000 employees in just five days. The speedy rollout earned Mel Sorrels (director of security automation) and his team the "Lightning Award" at Oktane13. The prize? Lightning bolt-branded Chuck Taylors. Congrats!

Enterprise Security, Without the Hurdles

: Okta works with any IT environment. Flip a switch to get applications in the cloud or on-premises with the right level of security and multi-factor authentication. No fuss and no drama, which is important for companies such as Splunk.

A Productive Habit

: Once users try Okta, they love it. In fact, most of the requests for applications to add to our

network (we have thousands right now) come from end users. They want to add apps beyond what's required to do their jobs, or bring apps into the corporate fold. That was National Geographic's experience, and it's why Okta truly is the one-stop shop for access to all the apps that people use. And now, companies can build their own integrations

to the apps that matter to them.

Less Effort, More Impact

: No more password resets, or helpdesk requests for forgotten passwords or denied access. They're among the biggest complaints at call centers, and among the least strategic use of IT's time. With Okta, it's easy to access any application, from any device or location. And IT can automatically provision and deprovision access to applications with little effort.

White-Glove Service

: Our service is always on, 24/7/365. Customer success, before and after deployment, is priority #1. Okta's service exceeds standards for enterprise security, and our

zero-downtime architecture

has maintained perfect availability for the past 19 months.

Strategic Partnerships

: We are truly an extension of our customers' IT departments. And it's not an obligation we take lightly. We make our customers' problems our problems, always. When Nate McBride, vice president of IT at AMAG Pharmaceuticals, decided to move entirely into the cloud, we worked with his team to make that goal a reality.

IT Heroes

: Our customer IT partners are hailed as heroes for what they do for the company's employees (and for external customers and partners). After rolling out Okta, Appirio's IT department received high-fives from employees who no longer had to remember endless passwords throughout the day. We are fortunate that any of our customers accomplish so much, in so little time and without disruptions or inconveniences.

Great User Experiences

: Great experiences are essential in enterprise software, and an identity solution must be at the center of the equation. We work hard to win the hearts and minds of demanding users, who just want technology to work. For School of Rock, that means that staff across the world can do what they do best: teaching kids how to rock 'n roll.

Complete IT Visibility

: There are apps for everything these days, and it's more difficult than ever for IT departments to balance governance with flexibility, while not getting in the way of their users' productivity. IT should be in the driver's seat when it comes to app adoption in an organization. And this starts with having visibility into all of the apps users rely on, whether sanctioned or not.

External Customers, Partners

: Business is no longer conveniently conducted behind the firewall. Collaboration across organizations and dispersed workforces are huge opportunities for businesses. But it also means that enterprises must manage exponentially more connections among people, devices and applications. Customers such as Informatica, Rotary International and ServiceSource are leveraging Okta to easily connect with their external customers, partners and users to get business done.
To hear more about Okta's commitment to our customers' success, visit our site — or take our customers' word.