Without Further Ado, The Finalists for Our 2014 Oktane Awards
We're in the thick of it. Whether you check our Twitter handle, our homepage, the email signatures from our team or recent blog posts, you know you're in Oktane mode. We're just one month out from kicking off #Oktane14 – the culmination of a massive year for our company – and also from our second annual Oktane Customer Awards.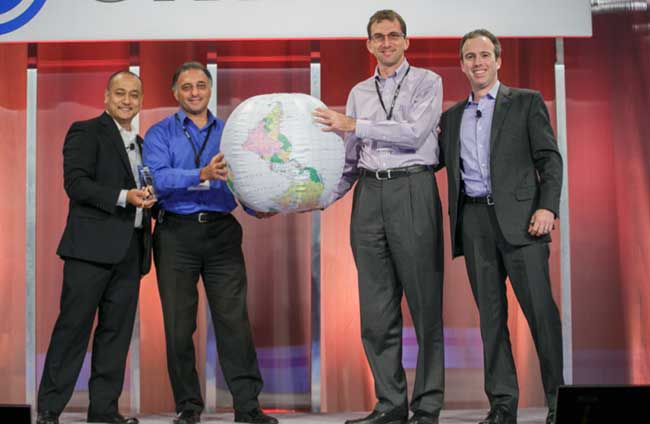 And let's just say tripling the size of our customer base since our inaugural program last November made selecting the finalists for each of these seven achievements even more difficult. We work with 1,500+ organizations worldwide that use Okta to empower their teams to worry less about technology, and focus more on innovative ways to drive value for the business – so choosing a select few to honor in San Francisco was hardly a simple task.
Without further ado, the finalists for our 2014 Oktane Awards...
IT Pioneer Award
These customers push Okta to blaze new trails. They challenge the status quo and drive great technological advancements for their companies – and for Okta. The finalists are:
Intel, Carlton Ashley
Xactly Corp, Bob Genchi
Evangelist Award
We're always excited to have a new fan of Okta (we've accumulated quite the base in 2014) – but some of our customers take advocacy to a new level. These finalists have earned frequent flier miles on our behalf, referred friends to our service and completed many other "random acts of evangelism" for our company. The finalists are:
Overstock, Clint Sorenson
LinkedIn, Chris Niggel
Rosetta Stone, George Hegedus
ServiceSource, Amrith Nambiar
Lightning Award
Many of our customer have succeeded in rolling out Okta to hundreds (even thousands) of users in a matter of weeks. Any seasoned IT professional knows that fast deployments are no easy feat (even in the cloud), so this award celebrates the speed and agility necessary on both our parts to speedily and successfully move an entire organization to Okta. The finalists are:
DayNine Consulting
Jones Lang LaSalle
RMS Technologies
Innovator Award
This award is inspired by the organizations that have been around for nearly a century – yet move quickly and adopt new technologies to drive modern approaches to IT. These companies have taken big challenges head on and championed cloud- and mobile-centric strategies to advance their legacy environments. The finalists are:
Rotary International (founded in 1905), Peter Markos
Western Union (founded in 1851), David Levin and Mike Bartholomy
Builder Award
This award recognizes developers using Okta as the identity layer for their products and applications. Finalists in this category using our platform to to handle all IDaaS challenges so they can focus on building the features their customers care about most. The finalists are:
Advent Software, Greg McClellan and Ken Schaff
School of Rock, Jonathan Frankel
Connectifier, Ben McCann
Believer Award
This award recognizes beyond loyal customers and true believers in what we do every day, our service and the what's to come from Okta down the road. It also acknowledges customers that have brought the power of Okta with them to a new company and those that have been successful with more than one deployment. The finalists are:
Twitter (and formerly Workday), Johan Dowdy
Cubist, Matt Dattilo
Partner Impact Award
Our partners go above and beyond when using our service to add value to their business, scaling across new industries and geographies. This award recognizes those that are committed to sharing and improving Okta's services, in order to spread the benefit to users new and old. The finalists are:
Slalom, Rick Koppin
Concur, Kelly Colman
Box, Daniel O'Leary
Softchoice, Eric Broekhof and Jeremy Baynes
Atlas Award
If you're familiar with Greek mythology, you know Atlas was the primordial Titan who held up the celestial spheres on his shoulders. This category is for the customer teams that have effectively extended Okta and are "doing it all" – taking it all on their shoulders – to cover the identities of their employees, customers, partners or other external users alike. The finalists are:
We'll announce our winners on November 12 at Oktane. Good luck to our finalists!