Securing a Mobile Workforce: Webinar with Carlisle Construction
Let me throw a few numbers at you: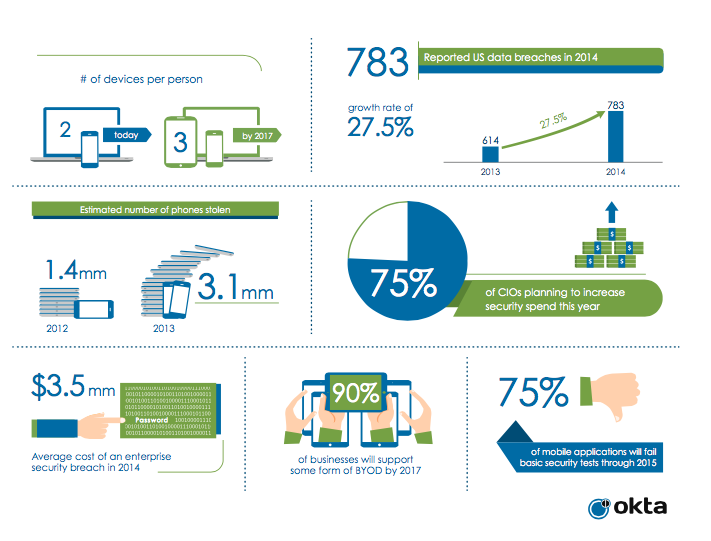 They're numbers that likely won't surprise you – but what does it all mean? End users are frequently accessing data outside of the corporate firewall from a new generation of mobile devices – which is great in the sense that it allows more flexible work environments, with people getting their work done wherever and whenever makes sense for them. But that increased access can also mean higher risk of security breaches, which is why we're here to help.
Interested in learning more about how? Tune in to our webinar tomorrow, May 28 at 11:00am PT to hear Jeff Janovich, software analyst at Carlisle Construction Materials, speak about the challenges of securing a mobile workforce, why traditional enterprise mobility management (EMM) tools feel short, and how his deploying Okta Mobility Management has provided a new, user-centric approach to protecting mobile access to cloud apps and data.
Jeff's team at Carlisle Construction Materials, the corporate building manufacturing and distribution division of Carlisle, has been growing its mobile device usage across the company and needed a way to support its Office 365 deployment to those devices. Jeff evaluated various MDM solutions and selected Okta Mobility Management to ensure that his field workers could easily access their important apps on the go – and he will share insight into the deployment, user feedback and the impact for both IT and the business. Register for the webinar here.